Fabric and Thread are Not Simply for Sewing!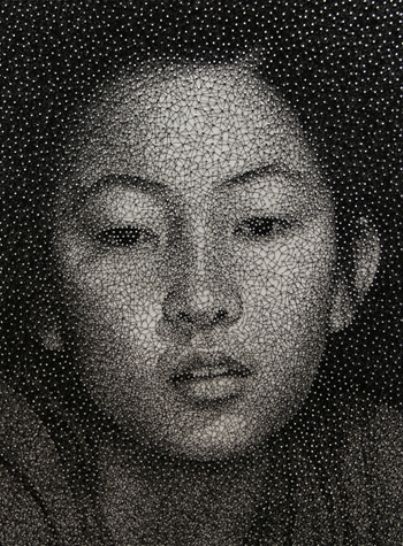 AMAZING ARTWORK
I recently searched the Internet for information pertaining to Threads. In my search I found some absolutely amazing artwork, and as I delved further into the artists and their work, I became more and more impressed and flabbergasted by what I saw.
WORKS OF ART USING BRADS, THREAD AND DENIM?
My first encounter was on the Colossal Art and Design website in a blog written by Christopher Jobson. I saw several pieces of artwork in a technique called "thread and nails." The realistic art pieces were done using only thread and nails. I was curious and had to learn more. Some of the work featured on the Colossal website was done by artist Pamela Campagna, but the artwork that impressed me the most was by Kumi Yamashita, a petite Japanese woman who now calls New York City her home.
ONE CONTINUOUS PIECE OF THREAD
I contacted Kumi's Studio Manager, Erik Maahs, to obtain permission to use a few photos in this blog, and to arrange for an interview. I learned that when Kumi does a "thread and nails" piece, (her thread and nail collection is aptly called "Constellation") she uses only one, continuous piece of thread and as many as 10,000 small nails (woodworkers will know them as brads). From a distance her artwork looks like a pen and ink drawing, but upon closer investigation, one can see the brads and the meticulously wrapped thread, weaving contours and shadows in an extremely realistic manner. Erik mentioned a new series of artwork that she's been working on called "warp & weft." In this art form, she begins with a piece of regular denim and meticulously removes small or large pieces of warp or weft thread from the fabric to create an image on the fabric. It's hard to believe the final product was once just a piece of denim!
AN INTERVIEW WITH KUMI
I asked Kumi several questions, and I was amazed at some of her responses. I tried to ask the things our readers would ask! Here's the gist of our conversation.
April: Where do you find your best inspiration?
Kumi: It seems that being in a state of joy triggers inspiration. This could be listening to my favorite composers or feeling the breeze, or simply being excited with no apparent reason. Often this is when an image will pop into my head, and if it feels right, I will start working on it without trying to analyze it too much.
April: What led you to this type of artwork? Is this the kind of work you've done for most of your career, or did your career evolve in this direction?
Kumi: I began working on thread and fabric portraits about six years ago. I wouldn't consider this to have evolved from my other previous work such as the sculptures that I create utilizing light and shadow. There is, however, common ground with my other works in that I find myself choosing materials that are integrated in our daily lives. I find it enjoyable and also surprising to see how these everyday materials and objects can be transformed into something not-so-daily-life like!
April: Do you start with a photograph as the basis for your work?
Kumi: Yes, I use either existing photos or I photograph the subjects as a starting point. The photo becomes simply a reference point for scale, shading, etc. It's the actual piece that I focus on and that I work and rework until it looks right as a work in itself, and not as a facsimile of the starting photograph.
April: Where do you begin? Do you roughly sketch your subject on a board (for thread and nail) or on the denim (for warp & weft)?
Kumi: Yes, I draw very fine guide lines but have to keep them to the very minimum since I cannot erase them.
April: Do you ever use colors?
Kumi: I have recently begun experimenting with dyeing the fabric different shades for my Warp & Weft series.
April:  How long does it take you to complete a thread and nail work? How long for a warp and weft work?
Kumi: It depends on the style and scale of each work. For a Constellation work such as Mana, I worked for two months. It takes about ten days to just prepare the panel with drilling holes and pounding in over 7,000 – 10,000 little nails (brads) before the thread work even starts. A small Warp & Weft can take a couple of weeks. It's not the kind of work I can easily do for long stretches of time at a sitting because of the wear on my eyes focusing on removing little bits of fine thread.
April: Have you ever had a near "disaster" when creating a new piece of work? If so, what happened, and what was the outcome?
Kumi: I wouldn't say "disaster" but heartfelt sighs do occasionally happen, especially with the Constellation series. There are times in the process where I have to undo days or even a weeks worth of work unwinding thread trying to get back to an area that I feel needs adjusting. And once I start unwinding of course, I don't know how many yards will come off to reach the problem area. It can be heartbreaking to see hard work disappearing but I have no other option!
Warp & Weft is less forgiving because if I pull out too much of a portion of thread or a wrong thread, I can't just put it back. The entire work could actually be ruined. Thankfully that hasn't yet happened.
April: Do you sew? (I couldn't help myself with this question!)
Kumi: I really wish I knew how to sew. However, my mother (who studied fashion design) used to sew all the clothes for my two sisters and me when we were little.
KUMI'S ARTWORK IS KNOWN WORLDWIDE
Kumi's artwork doesn't always utilize sewing "products." Her style is extremely varied and broad. Her work has appeared in numerous museums and other locations around the world. There are also several videos of her work that will amaze you. Much of her work has been referred to as magic.
WHAT AMAZES YOU THE MOST?
What do you find the most amazing about Kumi's work?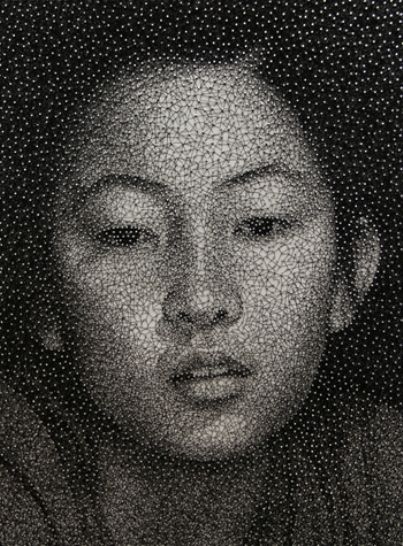 Mana from Kumi Yamashita's Constellation series. This pensive portrait is made from one piece of thread and many small nails. (2011) H40, W30, D3cm - Wood panel, brads, single sewing thread.
Close up of Mana. You can just make out the small brads and black thread creating the portrait's shadows and shading.
(2011) H40, W30, D3cm - Wood panel, brads, single sewing thread.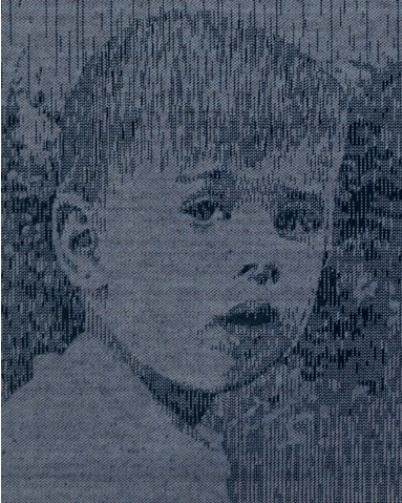 Erik from Kumi Yamashita's Warp & Weft series. This portrait was formed when Kumi removed threads from the denim fabric she began with. (2006) H31, W23cm - Blue denim.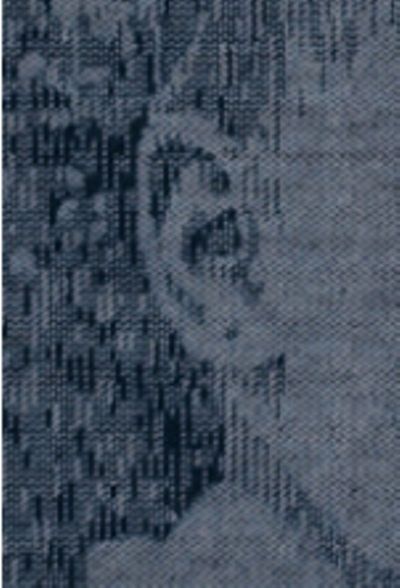 Close-up of Erik's ear. (2006) H31, W23 cm - Blue Denim.