McCall's latest collection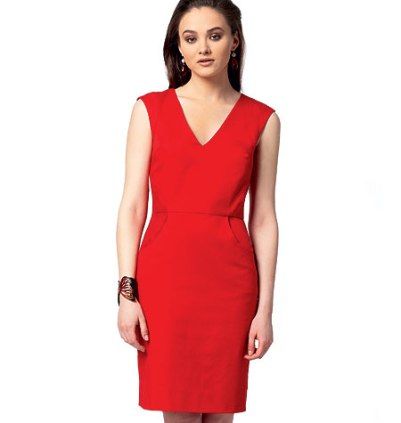 In a recent blog I asked, "How early do you start your fall sewing?" Many of you responded saying fall wasn't on your radar yet. I understand–it's hard to sew with a heavy wool fabric while the air conditioner is fighting off blistering hot days! So, as I started to look through McCall's fall collection, I was happy to see many multiseason items. Check out a few highlights below and be sure to browse their full fall pattern line.
Pattern 6609, from the Fashion Star collection, is an easy to sew fitted dress. The shoulder seams on the V-neck bodice extend over the shoulder creating slight cap sleeves. Jointed to the bodice at the waist seam, the straight skirt ends just above the knee and has a back kick pleat. A rounded side-front panel makes this dress stylish and unique. This pattern is perfect for color blocking or combining different fabric types–both extremely popular styles this summer and fall.
Pattern 6612 is a cowl-neck dress or tunic. This sew-in-a-night pattern has great options for any season. Choose a simple, cut-on cowl or a more dramatic fuller cowl that is attached separately. Hem lengths range from low hip to ankle and sleeves vary from sleeveless to long sleeves. Make it in light jersey for summer or in a cozy sweater knit for fall or winter.
From Nancy Zieman, pattern 6607 is a loose, sleeveless top with various hem length options. The low-cut cowl neckline makes this a great garment for layering–in the summer wear it over a cotton tank and in the fall layer it over a long-sleeve turtleneck top.
What's more multi-season, than a pair of jeans? Pattern 6610 offers straight or boot-cut fitted jeans in both misses' and miss petite sizes. For summer, cut the hem to a Capri length and make it in a bright, fun color.
When you go pattern shopping, which patterns attract you–season-specific looks or styles that can be adapted for any time of year?