What influences helped to shape your current sewing hobby or career?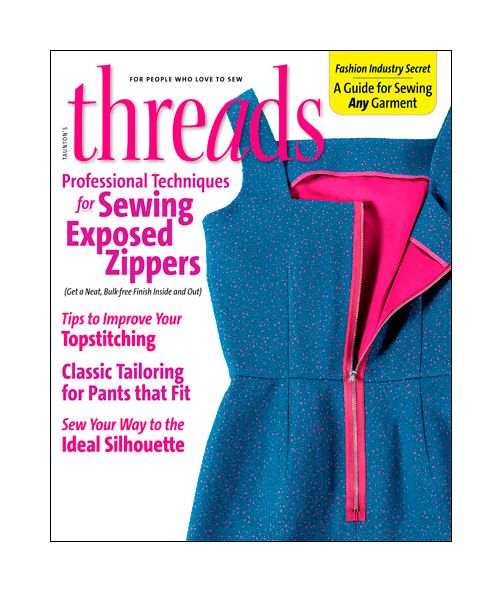 WE ASKED OUR CONTRIBUTORS
The paper edition of Threads (Aug./Sept. 2012) goes on sale today, but those of you who have already become Threads Insiders have had the advantage of reading the digital edition of the issue for about a month already! On the Contributor's page of the issue, we asked the featured authors: "What influences directed you toward your current career?" As one might expect, the author's responses were varied. Carol Ahles ("Fundamentals: Fine Topstitching"), Susan Lazear ("Get the Ideal Silhouette"), Judy Barlup (co-author of "Tailored Trousers"), and Joyce Simons Murphy (co-author of "Tailored Trousers") were the featured authors. It's always interesting to see how the same question can be answered in so many different ways!
I DIDN'T PLAN A CAREER INVOLVED WITH SEWING
Although I don't work as a professional seamstress or sewing educator, working at Threads is the next best thing. I started working at Taunton Press in the Operations Department, but my boss knew I loved to sew. When a position opened up at Threads, he encouraged me to apply, and I've been here ever since! Not only do those of us on the Threads staff write and edit sewing topics, we also share our personal sewing challenges and successes over lunch, while waiting for a meeting to begin, and whenever we can find a spare moment. I don't find as much time to sew as I'd like to, but just working among people who love to sew as much as I do is a joy.
YOU COULD WIN THIS MAGAZINE ISSUE!
What influences helped to shape your current sewing hobby or career? Share your thoughts in a comment, and you'll be entered into our drawing for a copy of this issue. Just leave your comment prior to the deadline–11:59 pm EST, Wednesday, July 25. The winner will be randomly selected and announced during the week of July 30. The winner will also be notified via email.