A New Sewing Machine Concept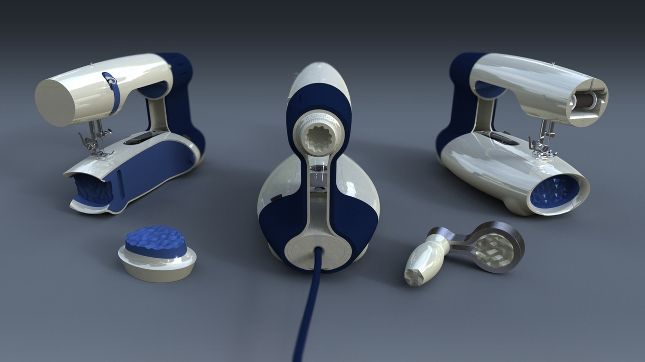 I recently came across an online news article explaining new product concepts created by graduating industrial design students, one of which was a very attractive and interestingly conceived design for a sewing machine. For his final-year project, freelance industrial designer James Wood, who lives and works in the United Kingdom, not only gave his sewing machine a fresh and aerodynamic exterior, he completely re-engineered the machine's functions and operation from the ground up. He dubbed his machine "Sue."
James decided to design a sewing machine after visiting a sewing shop with a friend. "It was obvious to me that many aspects of industrial design had been entirely neglected in modern sewing machine design and I felt it would be a great challenge to tackle this," he says. "The idea was to create a machine that could possibly make a new user feel more confident to take up the hobby." He evaluated the features available on modern sewing machines, and then stripped them back to the bare necessities to avoid overwhelming new users with functionality.
This video on Vimeo shows exactly how Sue would differ from traditional home sewing machines. James focused on creating a user friendly, intuitive operation. "I felt a lot of controls in current machines benefited the mechanics of the device, but were impractical to the user. For example, holding a lever down to sew in reverse whilst using the pedal in the same motion associated with sewing forwards-so not only is the user an arm down, but the controls also instantly lack intuition," he says. Instead, James gave Sue a pedal that the user would push forward to sew forward and pull backward to sew in reverse. The foot pedal is also cordless and nests into Sue's frame for storage.
Sue's slick, modern design is visually interesting and would definitely hold some aesthetic appeal to users of cutting-edge electronic devices. James says he has no plans for the machine to become a reality, but it's a great combination of form and function, and definitely offers a different vision of sewing machine usability.
What do you think of Sue's design? Do you think its an interesting concept?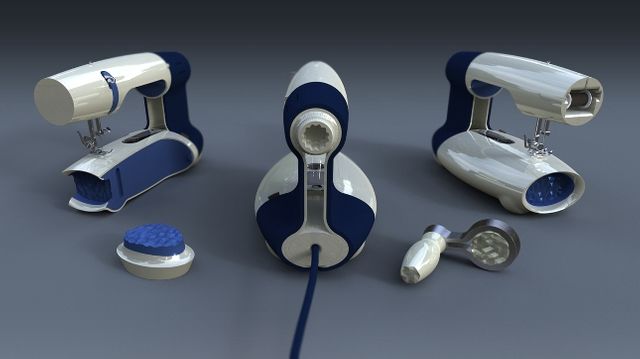 Industrial designer James Wood created this prototype of his freshly engineered sewing machine concept, Sue. From left to right: Sue from the front, the reversible foot pedal, Sue's right end showing the winder and hand-crank slot, the hand crank, and Sue from the back.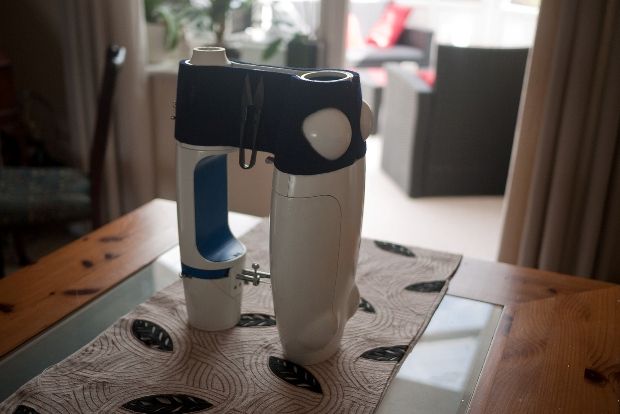 James designed Sue to store on its end to save space. Cordless battery power would assist in this storage option, and make Sue very portable.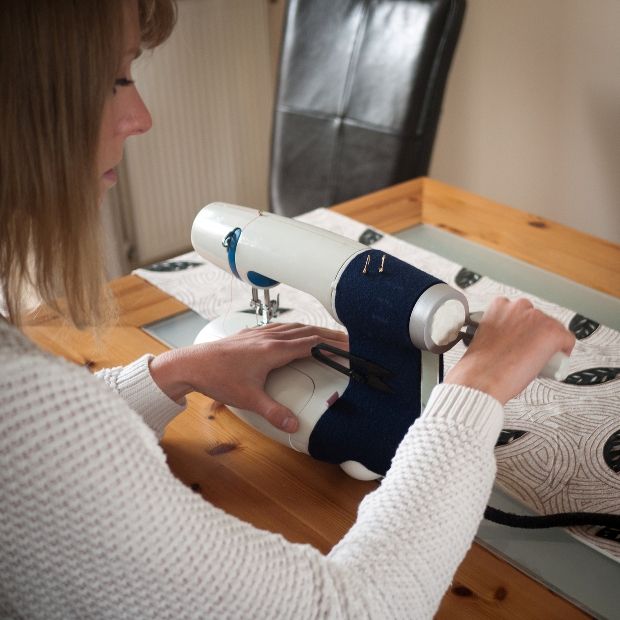 Sue's prototype also has a hand-crank operation for days when electricity isn't available, or for sewers who prefer manual control.