Project Runway Season 10: "Welcome Back (Or Not) To the Runway"
Designing for a designer? That's a challenge in itself, like cooking for a chef, or trimming a hairstylist's hair. In the third episode of "Project Runway: Season 10," the designers were divided into two-person teams. Each team had to create a red-carpet look for a past "Project Runway" designer to wear to the Emmys. The 2012 primetime Emmy Awards ceremony is on Sunday, Sept. 23. "Project Runway" is nominated in the Reality Competition category.
The guest judge for the episode was actress Krysten Ritter, who's appeared on AMC's "Breaking Bad," and now stars in a new ABC show, "Don't Trust the B. in Apt 23."
On to the judging!
The winner
Fabio and Ven created a fit-and-flare dress for Kenley Collins from Season 5 and the All-Stars season. Ven was declared the single winner.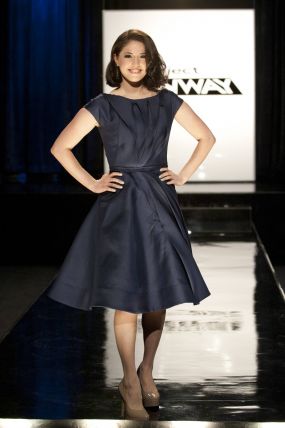 The loser
Alicia and Raul made a maxi dress for Mila Hermanovski from Season 7 and the All-Stars season. Taking responsibility for the lackluster and unflattering design, Raul was auf'd.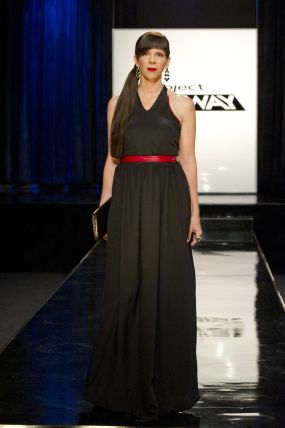 The top three
Fabio, of course, made it into the top three as Ven's teammate.
Gunnar and Kooan were in the top three for the white gown they designed for Irina Shabayeva, the Season 6 winner.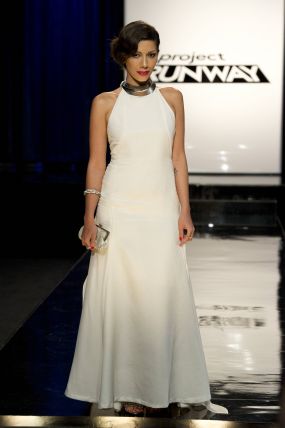 The bottom three
Andrea and Christopher designed a gown for Anya Ayoung-Chee, "Project Runway" Season 9 designer. One unfortunate comment from judge Michael Kors was that it resembled a Hershey bar.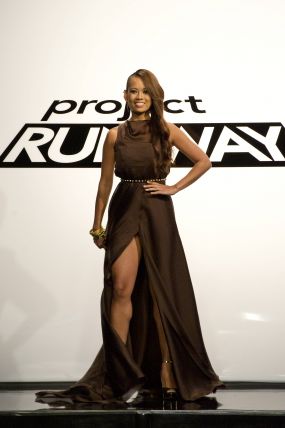 Everyone else
Buffi and Elena created a dress for Laura Bennett from Season 3.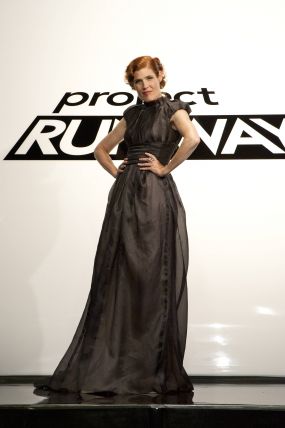 Dmitry and Melissa designed a look for April Johnston from Season 8 and the All-Stars season.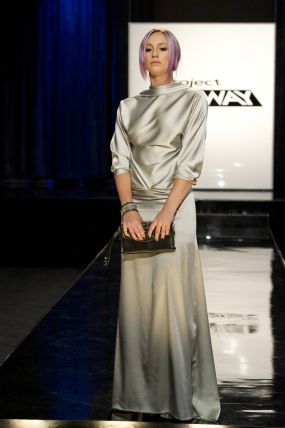 And Nathan and Sonjia designed a sequined dress for Valerie Mayen from Season 8.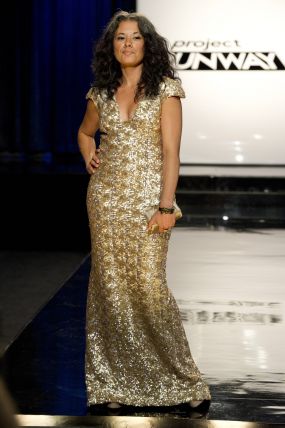 So what did you think?
Did you agree with the judges' choice for the winning design?
What did you think of the losing design? Did you think it was fair for Raul to go home?
I've seen some negative comments online about Gunnar and Kooan's dress and its faults. How did you feel about their white dress?
And what did you think of Dmitry and Melissa's dress? It was far from perfect, but didn't it reflect their designer/model April's style?
Do you think the designer/models' attitudes had an influence on the judges' perceptions of the designs? For example, Mila didn't smile at all, while Kenley really sold the dress designed for her. Or maybe their attitudes reflected the quality of the designs!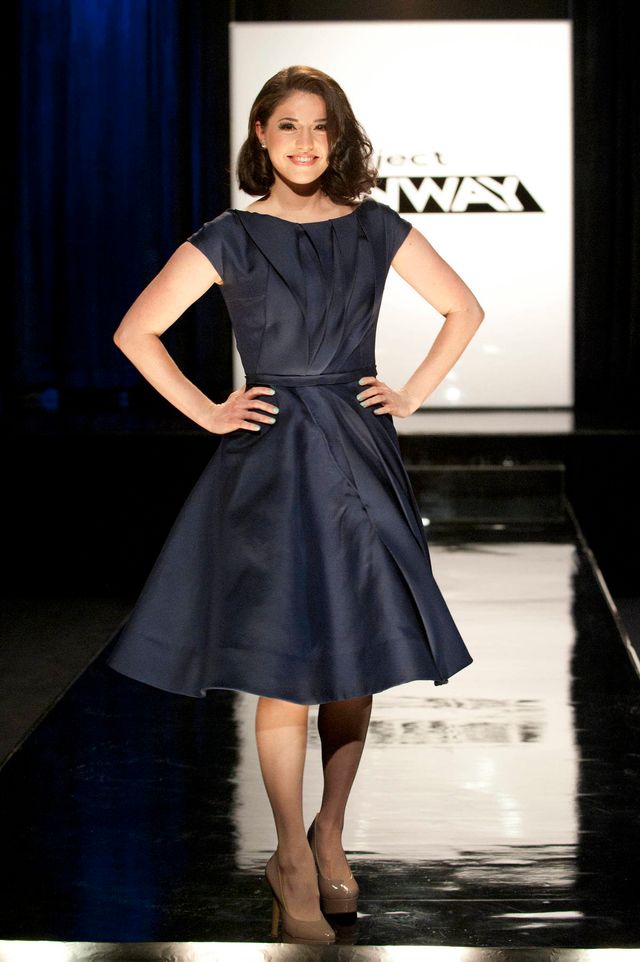 Season 5 designer Kenley Collins models Ven Budhu and Fabio Costa's final design for the third challenge.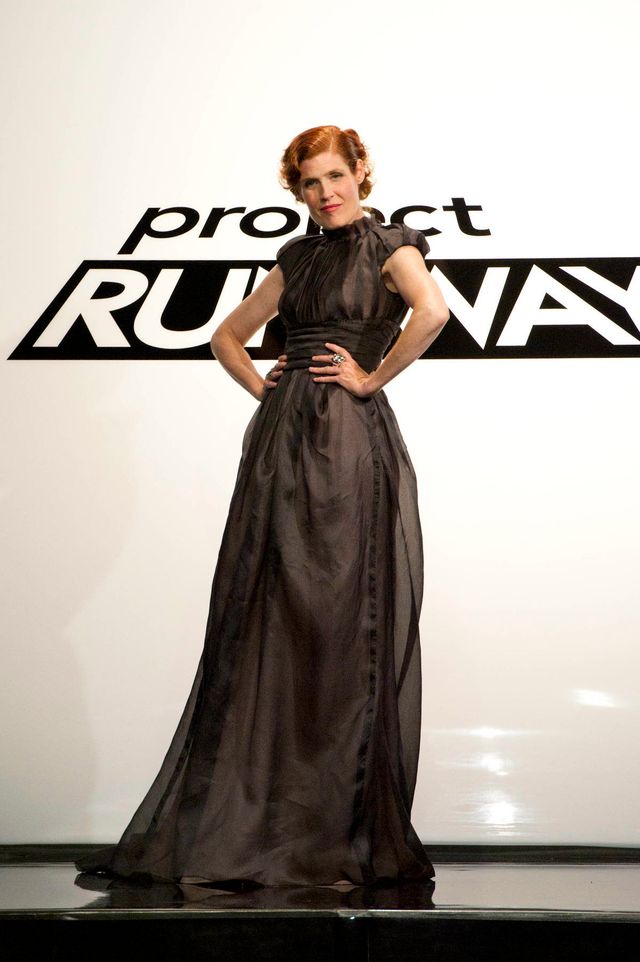 Season 3 designer Laura Bennett models Buffi Jashanmal and Elena Slivnyak's final design.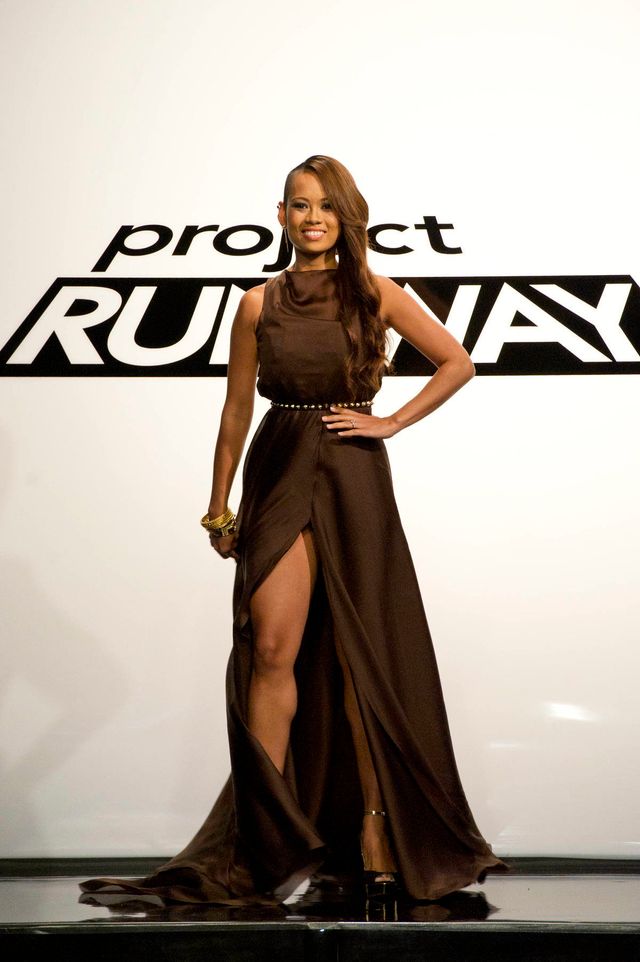 Season 9 winner Ayna Ayoung-Chee models Andrea Katz and Christopher Palu's look.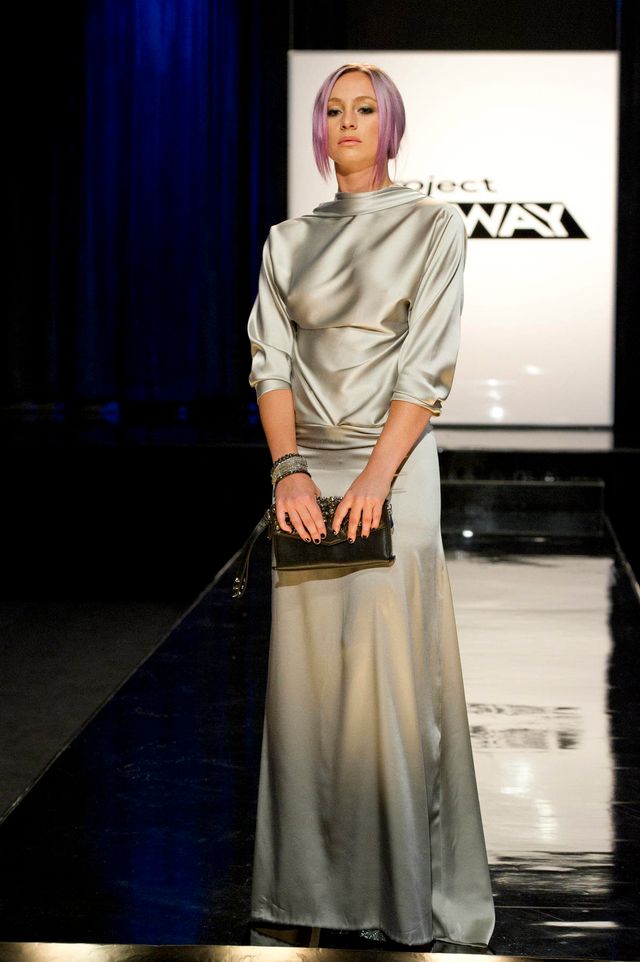 Season 8 designer April Johnston models Dmitry Sholokhov and Melissa Fleis' dress.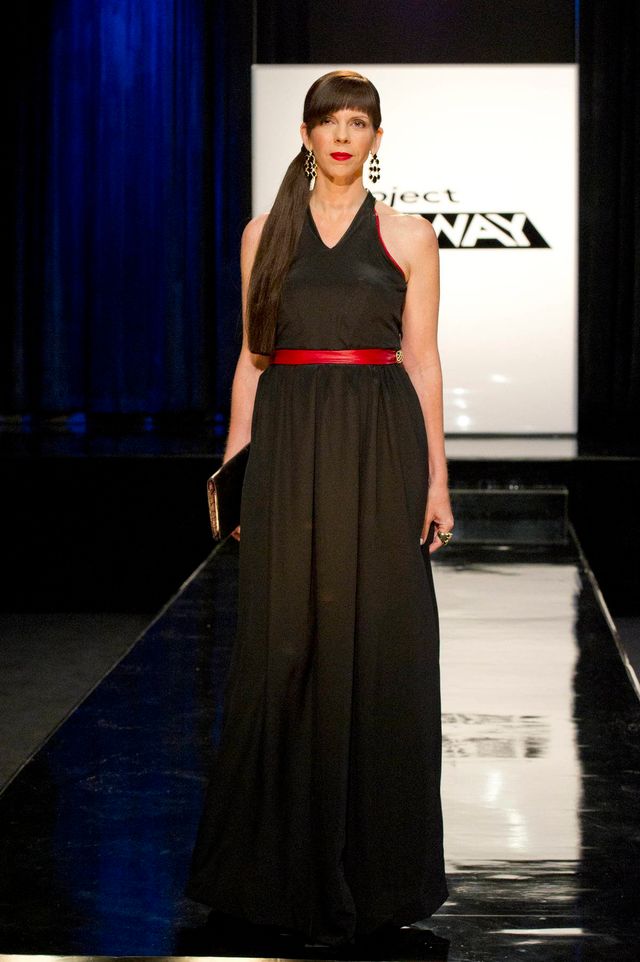 Season 7 designer Mila Hermanovski models Alicia Hardesty and Raul Osorio's final design.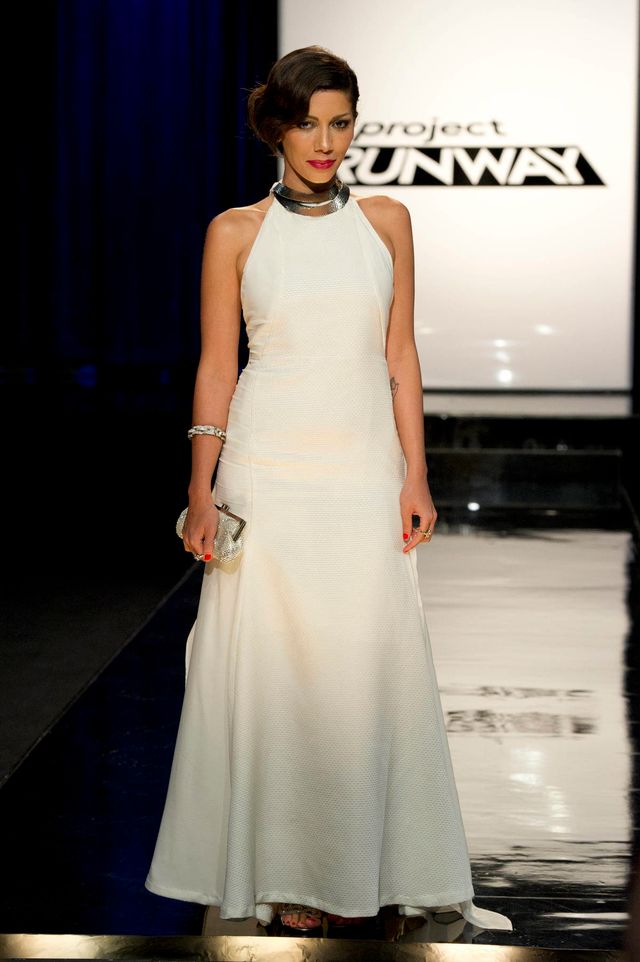 Season 6 winner Irina Shabayeva models Kooan Kosuke and Gunner Deatherage's design.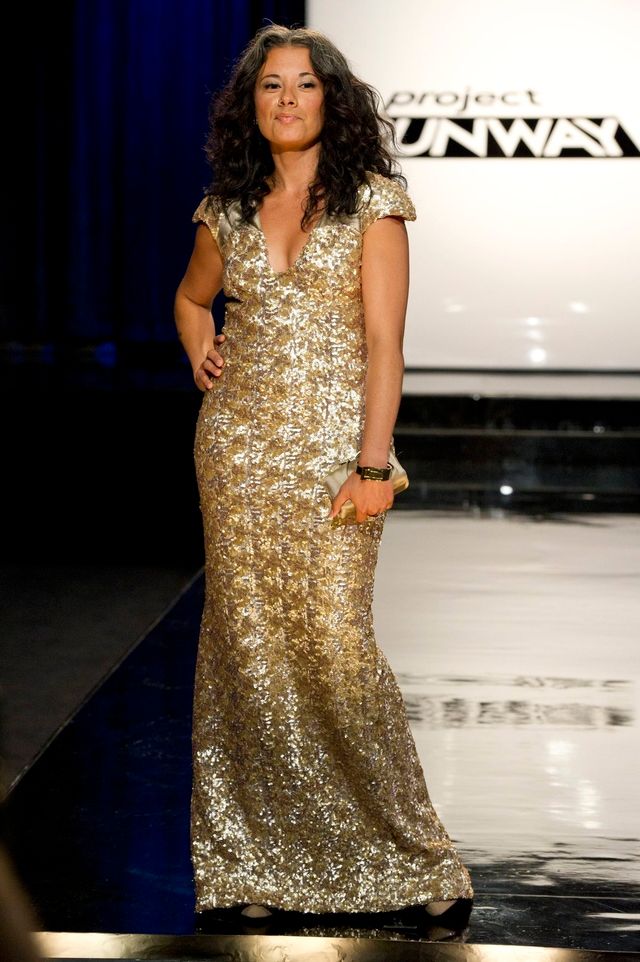 Season 8 designer Valerie Mayen models Sonjia Williams and Nathan McDonald's design for the third challenge.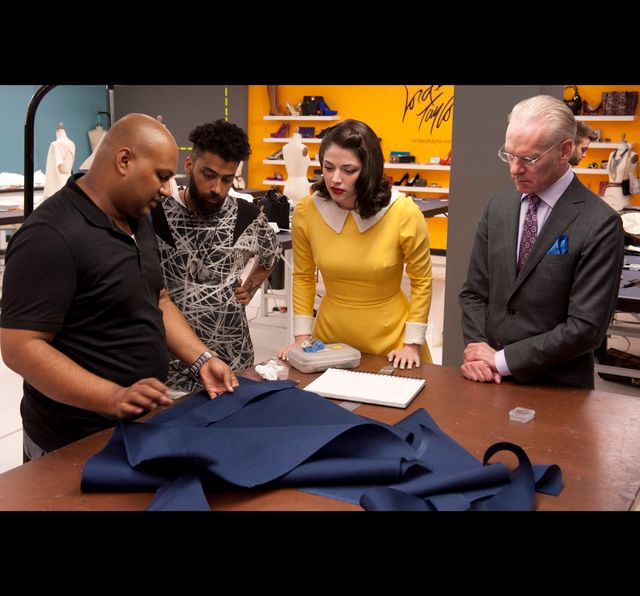 Ven Budhu, left to right, Fabio Costa, Season 5 designer Kenley Collins, and Tim Gunn. Ven and Fabio had to design a dress for Kenley to wear to the Emmys.