Firming Up Fabrics with Gelatin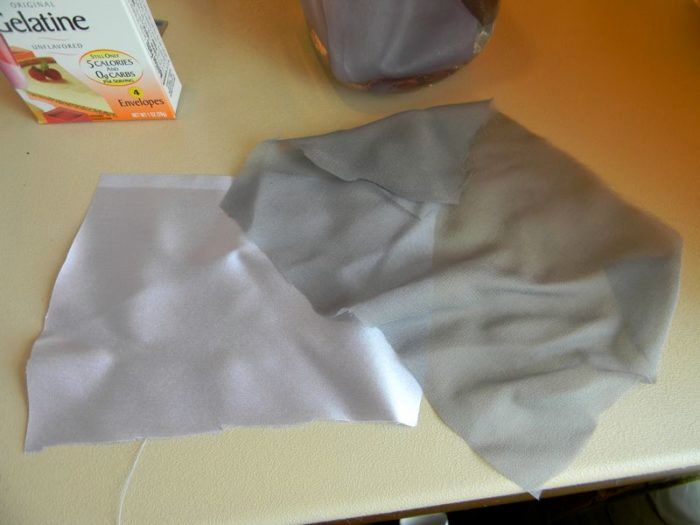 The idea of temporarily stabilizing a soft and drapey fabric is nothing new – there's starch, there's stitching on tissue paper, there are all kinds of dissolvable and tear-away products, there's sugar water (you can imagine how stiff something coated with that would feel!) But one technique that works awfully well uses old-fashioned gelatin – the kind we used to dissolve in water and drink in the hopes of strengthening our fingernails. Well, who knows if that ever worked, but it does do wonders with silk chiffon and silk charmeuse. They're nicely firmed up while you're working with them, then the gelatin is rinsed out and the fabrics return to their original demeanor.
I've seen the same technique used at Legeron (who produce silk flowers for the couture houses) in Paris. Large sheets of China silk are soaked in big buckets of gelatin and water, stretched out on big frames (the fabric is held in place by nails), left to dry, then stacked in layers (by this point, it's like working with thin sheets of paper). Metal dies are used to cut flower petals, which are then hand-dyed.
I teach in Houston every year, and one of my students, Ronnie Braden, mentioned an article she'd read online about using gelatin to treat silk chiffon and charmeuse, to make them easier to work with. You do your cutting and sewing, then you rinse out the gelati. Ronnie happens to be a chemist (she has her doctorate in synthetic organic chemistry), so it didn't take much urging for her to experiment.
The silk charmeuse and silk chiffon we plan to treat, along with the gelatin.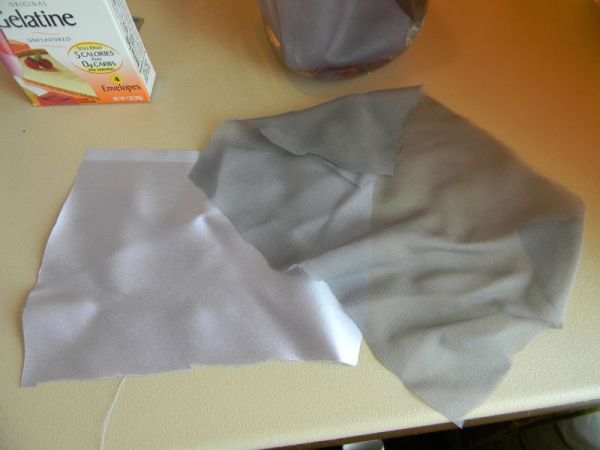 A solution is made – 1 teaspoon of gelatin (not a whole packet) is introduced into 16 ounces of tap water; let it sit for 30 minutes. Heat a quart of water to boiling, and add the gelatin mix to the quart of hot water.
Here's the fabric soaking. We left it in for an hour.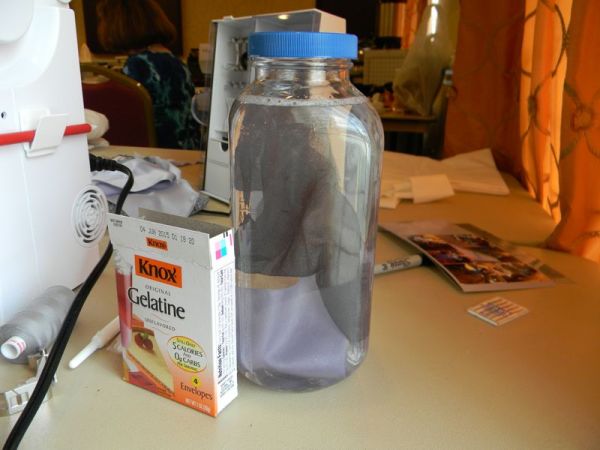 The water's now poured out.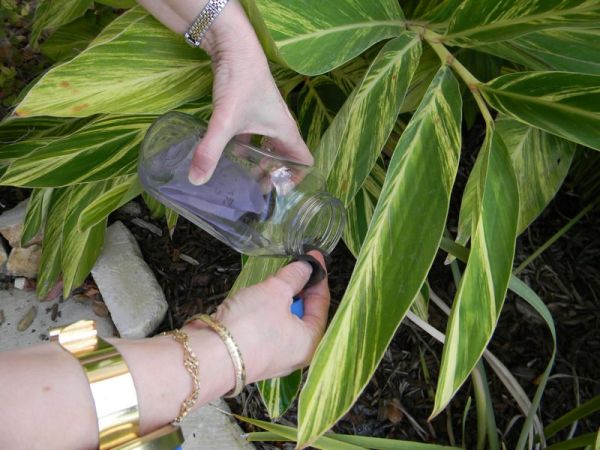 And the fabrics are placed on a towel, rolled up, and gently squeezed.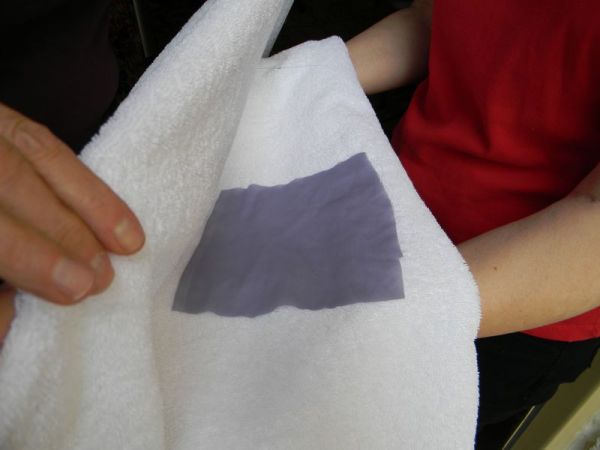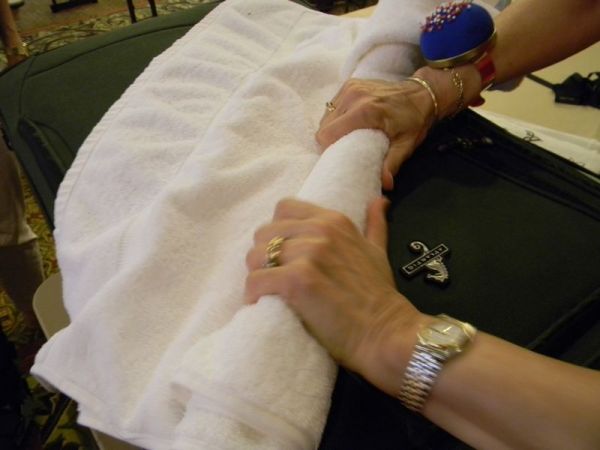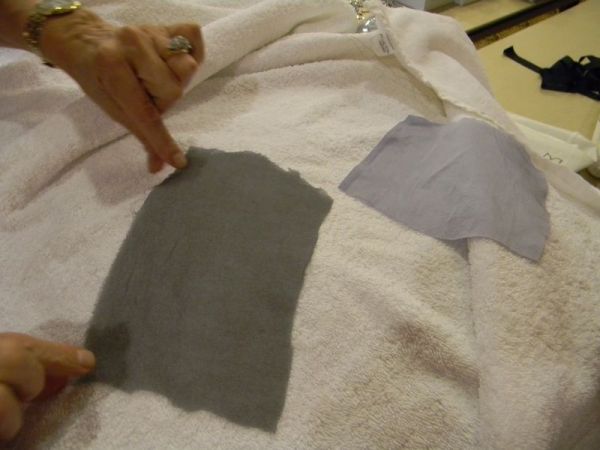 The fabrics are then air-dried (that didn't take long in last summer's heat in Houston).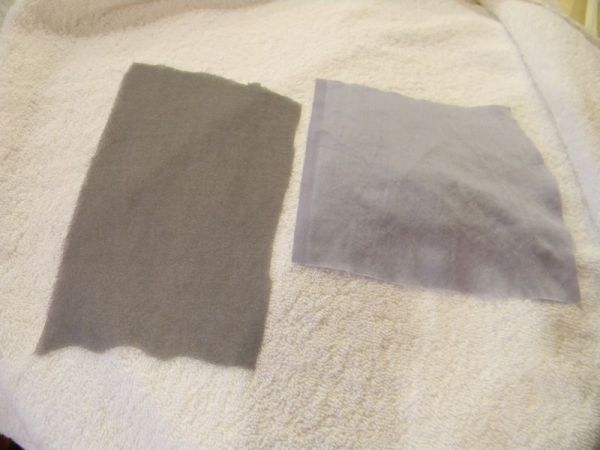 I couldn't help thinking how easy it would be to cut and apply bias binding in the chiffon. Here it is untreated (left) and treated (right).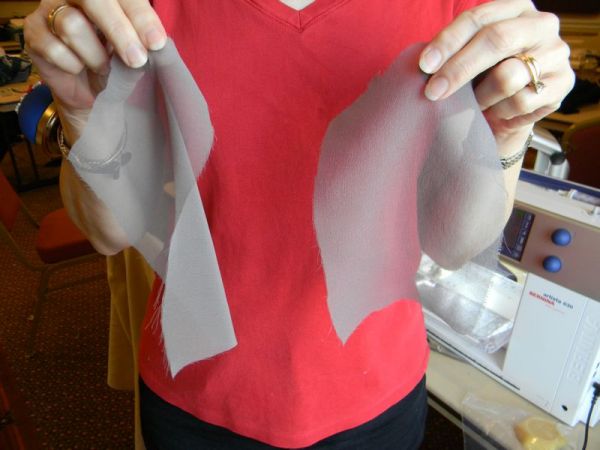 And the silk charmeuse untreated (left) and treated (right).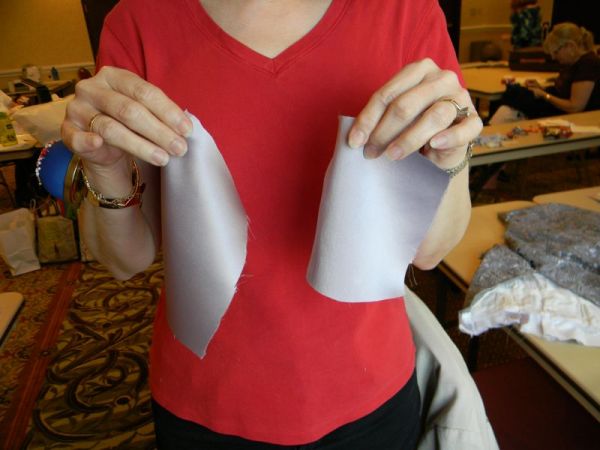 The gelatin is then rinsed out in soapy water.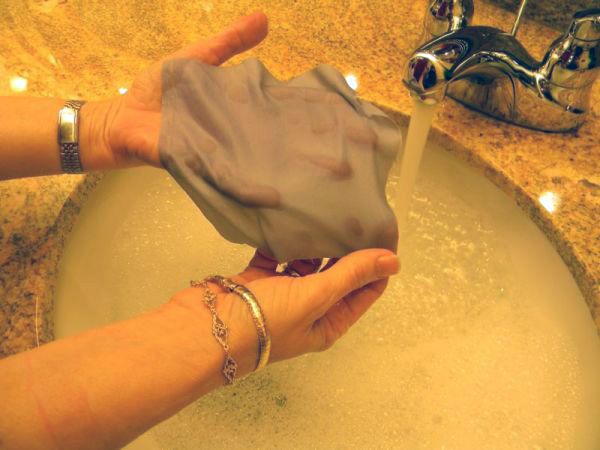 The silk charmeuse (left) and silk chiffon (right), post-treatment, are back to their original softness, not showing any signs of their gelatin bath.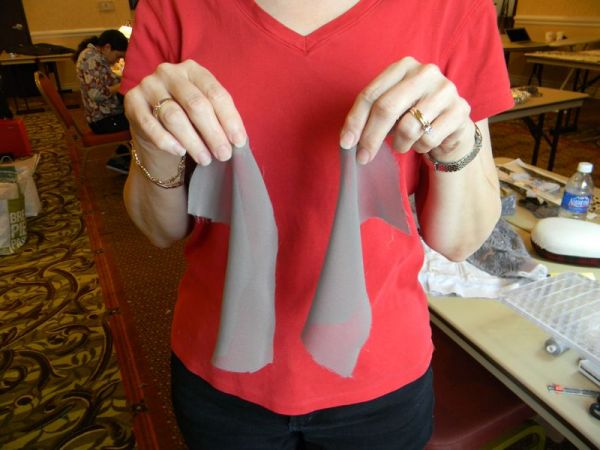 Note: My thanks to Lena Merrin, the Australian blogger whose website, thesewingspace.com, inspired our efforts. Also thanks to Ronnie, the scientist, and to Cathy Spain for the photos.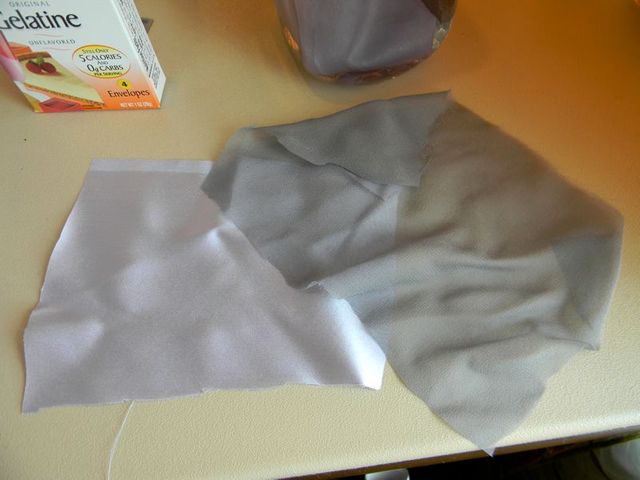 Treating fabrics with this gelatin solution will help stabalize them.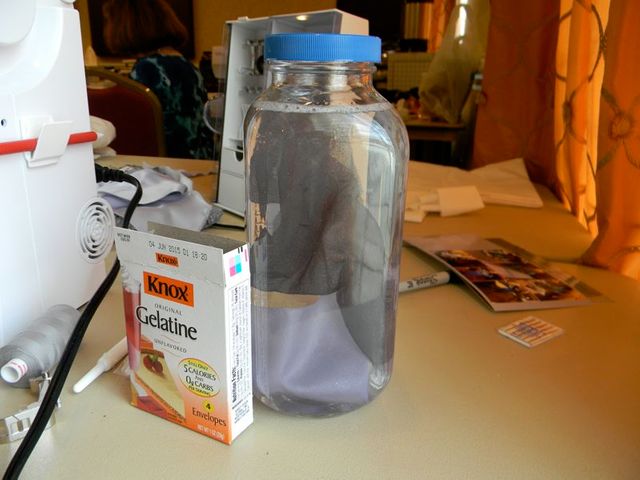 Add 1 tsp. of gelatine to 16 oz. of water and let sit for 30 minutes.