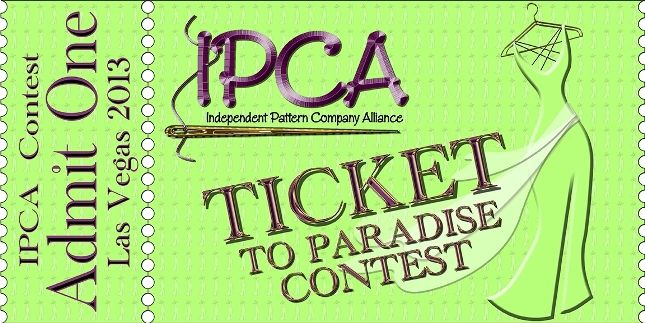 It's time to start sewing your entries for the Independent Pattern Company Alliance's (IPCA) annual fashion sewing competition! This year's contest theme is "Ticket to Paradise," which is sure to inspire some fantastic designs. The competition is now open and accepting entries until January 25, 2013.
Contestants are challenged to select any pattern from one of the IPCA's member pattern companies (Fashion Patterns by Coni excluded) and then unleash their imaginations to interpret the "Ticket to Paradise" theme in a garment or outfit. Entrants then submit photos of their creations to the pattern companies for preliminary judging.
Each pattern company will choose up to three semi-finalists based on the photo entries and display them at the Sewing & Stitchery Expo in Puyallup, Washington, February 28 through March 2. Expo attendees will be encouraged to vote for their favorite semi-finalist entry to receive People's Choice awards. The semi-finalists will also be presented in the annual IPCA fashion show during the International Textiles Expo in Las Vegas, March 18-20. Grand, second-, and third-place prizes will be awarded, and the garments will be placed on display.
For complete entry guidelines and updates on the contest, visit PatternCompanies.com. View the 2012 IPCA fashion sewing Midnight Magic contest finalists here.
How would you interpret "paradise" in a garment or outfit? Do any of the IPCA member companies' patterns inspire you to enter the contest?