MAGAZINE GIVEAWAY: What advice would you give to someone learning to sew?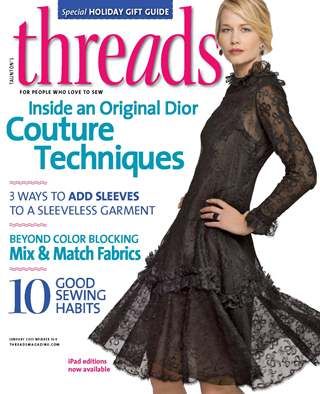 WHAT ADVICE WOULD YOU GIVE TO SOMEONE LEARNING TO SEW?
Learning any new skill–including sewing–can be difficult. Beginners benefit greatly from those who are further along in their sewing journey. In the latest issue of Threads (#164, January 2013), we asked our contributing authors (Norma Bucko, Pamela Leggett, Claire Shaeffer, and Kathleen Cheetham) to tell us what advice they would give to someone learning to sew. These talented individuals had terrific suggestions to share.
OUR CONTRIBUTORS GAVE VARYING RESPONSES
Our featured contributors each had different advice to give. One suggested taking advantage of sewing classes; one gave specific advice for handling your sewing projects; one advised buying the best tools you can afford; and another suggests making alterations on ready-made garments to practice sewing skills and learn from observing how clothing is put together. The variety of advice demonstrates how much is involved in learning this craft as a beginner. 
WHAT ADVICE WOULD YOU GIVE?
Tell us what advice you would give to someone learning to sew. By leaving a comment below before the deadline (Tuesday, November 20), you could win a copy of our latest issue! A winner will be randomly selected on Wednesday, November 21, and announced during the week of November 26.
Good luck!