SewStylish Spring 2013 is Here!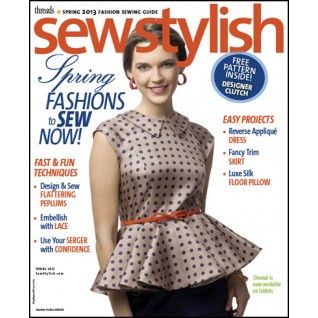 SewStylish Spring Fashion 2013 is now available, and you won't want to miss it. It's filled with great techniques and easy-to-sew spring fashions.
Don't forget that you can also purchase the tablet edition of SewStylish Spring Fashion 2013 for the iPad and Windows. Download the app now.
The Highlights:
• Sew Creative. Three designers show you how to revise a pattern
• Picture Perfect.Tips for creating fabulous garments from photo prints
• Pretty Peplums. Customize a pattern to flatter your figure
• Inset Lace.Add graphic detail with lace panels
• Portfolio Clutch. A zippered pouch is a chic way to carry the essentials
web extra: Decorate zipper pulls with chain, suede, or leather tassels 
• Trim Treatment. Stripes guide your sewing for this embellished skirt
• Pieced Pillow Seat. Transform sari fabric into a unique home accessory
• Serger Basics. Get started with this handy machine
web extra: Four extra techniques to help you serger professional-looking corners and curves
• Super Storage Solutions. Escape sewing room chaos with these creative ideas
web extra: Here are even more ways to organize notions, fabric, and thread
• Project Rescue. Know what to do when scorches, snags, and spills happen
web extra: Two techniques to save your garment from snags 
And of course, you'll also find our regular departments:
• Designer Insider. Meet Angela Wolf, a sewing and fashion expert with a growing audience.
• Fashion Quiz. Test your fashion and sewing savvy.
• Fabric Lab. Take a peek at an iconic spring fabric.
• Cool Tools. Studded zipper bracelet, woven labels, fabric cleaner and more.
• Fast & Fabulous. Make an easy-to-sew drewss with a pretty neckline detail.
• Trend to Technique. Dissolve fabric to create open embroidery designs.
• Couture Know-How. For an elegant edge, add a narro binding.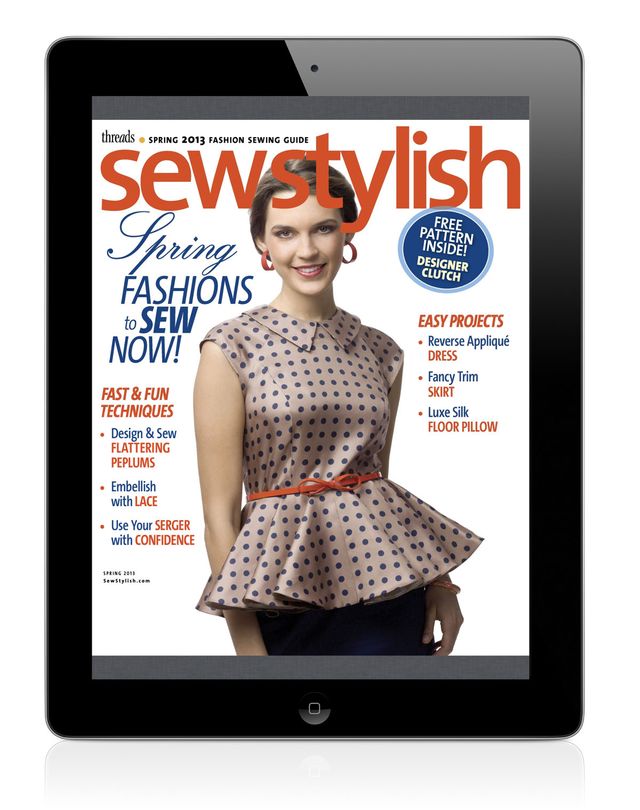 Download SewStylish Spring Fashion 2013 onto your tablet now!