What's Your Sewing Storage Solution?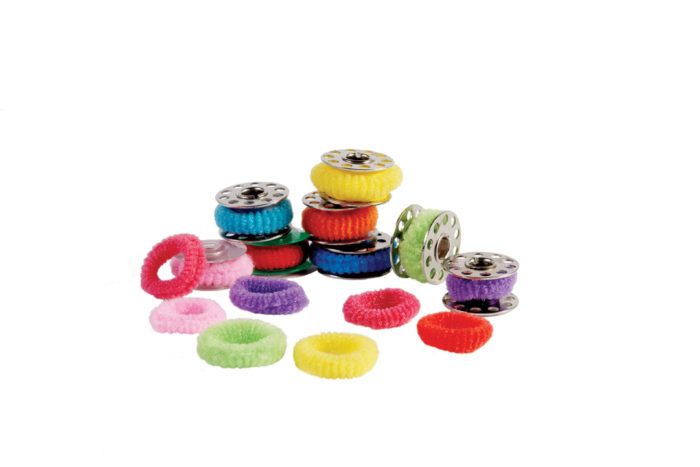 In the Spring 2013 issue of SewStylish (on newsstands in early February!) there's a story called "Super Storage Solutions." It's a compiliation of fantastic tips for organizing fabric, notions, and patterns, and all of the ideas were sent in by Threads readers. These solutions are easy, fast, and inexpensive, and they work whether you have a big or a small space to sew. What makes them really interesting and useful is that they came from experienced sewers.
We have a few more storage and organizing ideas to share here, and we want to invite you to share your own tips and advice for storing sewing items. Share your ideas with us and with other SewStylish readers. That way we all benefit!
Prevent Stray Bobbin Threads
I store my bobbins in a zip-top baggie, but the thread tails often unwind and become tangled. I found a wonderful solution to this problem in my local dollar store. I purchased a bag of ponytail elastics in a variety of colors. They are tiny and made from an extremely stretchy knit, so they snug up against all of my bobbins-the ones that are full as well as the ones that are almost empty. I choose a band that most closely matches the thread color, which helps when I'm searching for a particular bobbin color. The best part is that the bag of 300 elastics was only $1.
-Betty Bolden, Bolton, Connecticut
Keep Interfacing on Insulating Tube
I've collected a large (and always growing) inventory of interfacing. Storing it neatly without creases can be a challenge. I use pipe insulation (available at hardware stores) to solve this problem. Foam, tubular insulation comes in 3-foot and 6-foot lengths. It is easily cut with a craft knife and soft enough to pin into it. It comes split down the length (for sliding the opening onto a copper pipe). I insert one cut edge of interfacing in the slit and roll it up. I pin the other end of the interfacing in place and attach a label. This storage method keeps the interfacing in perfect condition and clearly visible.
-Julie Maske, Deep River, Iowa
File Fabric Neatly
After a quilting session, I had a lot of leftover fabric that had to be returned to the closet shelves that hold my stash. To make it easier and prevent my neatly stored fabric stacks from becoming messy in the process, I placed an unfolded manila file folder on top of the fabric stack on the shelf and slid the added fabrics easily on top. The fabric below the file folder did not move out of place or bunch up as I added the new fabric, and I could easily remove the file folder when finished.
-Joanne Spencer, Brookfield, Connecticut
Bag Thread to Store It
I used to store my spools of thread in a large plastic storage container, but the spools became tangled and disorganized and were hard to sort if I wanted several spools of the same shade. Now I bag my thread in poly-zip craft bags. I put related colors together to keep them sorted. I have fewer tangles, cleaner thread, and can more easily view my thread inventory to find just the right color.
-Marsha M. Kitt, Two Hills, Alberta, Canada
What's your way to store thread?
How do you keep your patterns sorted?
Scissors and pins: How do you keep them handy?
Where do you keep your fabric?
Comment and let us know!