Magazine Giveaway: Sew Home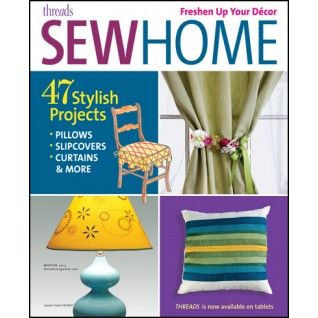 GIVE YOUR HOME A MAKEOVER!
The newest Threads special interest magazine Sew Home includes 47 stylish projects to freshen up and decorate your home with pillows, slipcovers, curtains, and more! The magazine includes information about what tools you'll need, as well as how to sew the patterns. You will be able to give your entire home a new look.
LEAVE A COMMENT TO WIN!
What's the first thing you would do if you were able to give your home a makeover? Leave a comment with your response and you will eligible to win this magazine! The deadline for comments is midnight, March 15, and the winner will be chosen the week of March 18. An email will be sent to the winner of this giveaway.
Good luck!