Project Runway Season 11: Episode 7, "A Sticky Situation"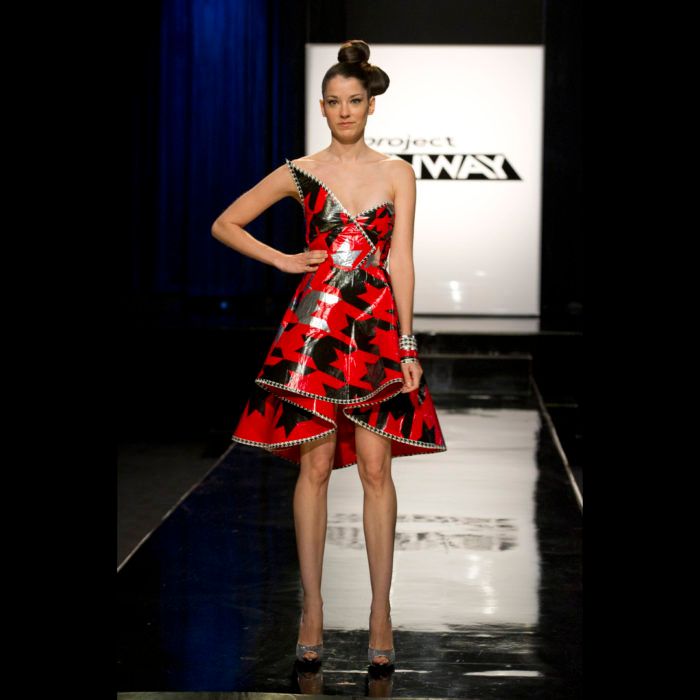 Quack, quack! In last night's episode of Project Runway Season 11, the remaining 10 designers were faced with "A Sticky Situation." They had to create duct-tape prom dresses with Duck brand duct-tape. 
Twenty percent of the teams' final scores came from high school students, who got to review the designs at a special event.
New teams were drawn up for this challenge. As the winner of the last challenge, Stanley Hudson was allowed to choose his partner, and he selected Layana Aguilar, to Richard Hallmarq's disappointment. He wanted to work with Stanley again.
The rest of the teams:
Michelle Franklin chose Amanda Valentine.
Richard Hallmarq chose Daniel Esquivel.
Katelyn Pankoke chose Tu Natchat.
Patricia Michaels chose Samantha Black.
The guest judge was designer Chris Benz, whose designs are frequently worn by Michelle Obama.
Now for the duct-tape designs!
Amanda and Michelle's winning design
Amanda and Michelle get on like a house afire and it came across in their winning design. They collaborated in the design and construction of a punk-rock duct tape prom dress, featuring a giant houndstooth pattern cut from solid colors of duct tape. Michelle was declared the episode winner.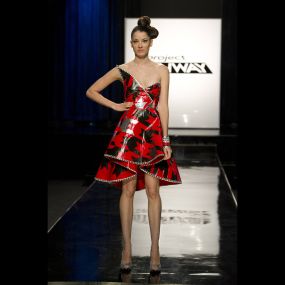 Katelyn and Tu's losing design

Katelyn put Tu to work creating her design. Tu is so diffident, he didn't appear to have much say in what they presented. Nina HATED it, calling it dated, dowdy, boring, and declaring that long was out for prom. Zac Posen didn't love the dress either, but he stood up to Nina on the length. It wasn't pretty. Nini doesn't like to be contradicted.
BOTH Katelyn and Tu were sent home in a surprise double elimination.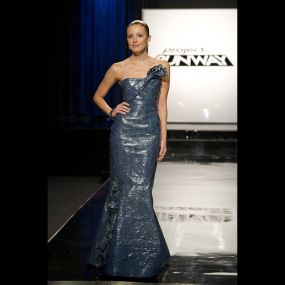 The rest of the designs

Layana and Stanley's design: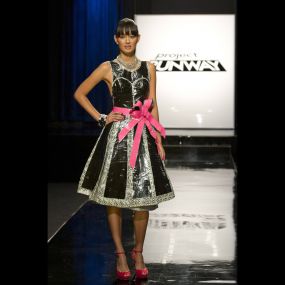 Patricia and Samantha's design:
This design won the most votes from the high school students. I think they were too young to remember Jiffy Pop.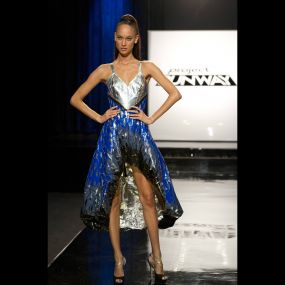 Richard and Daniel's design:
Richard and Daniel narrrowly missed elimination. Their look referenced "16 Candles," the '80s movie, and flamenco.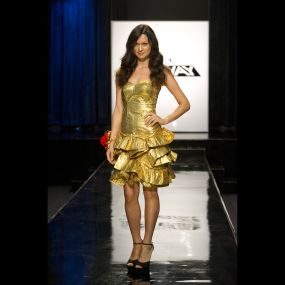 What did you think?

I wish the high school students could have picked the winner. Why include them and only make their votes worth 20 percent? Or maybe there could have been a special prize for the high-school favorite.
Wasn't the double elmination a shock!? What do you think it will mean in upcoming episodes? Will they bring back an eliminated designer? If they bring someone back, whom do you think it should be?
Have you ever worked with duct tape to create a garment or accessory? Or have you ever tried making a custom duct-tape dress form? You can find the technique in Threads or Teach Yourself to Sew!
Michelle Franklin and Amanda Valentine's winning design for the seventh challenge.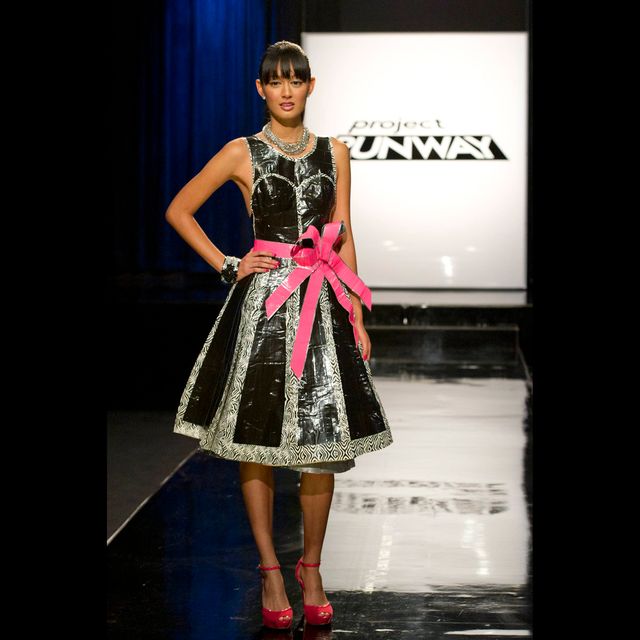 Layana Augilar and Stanley Hudson's design.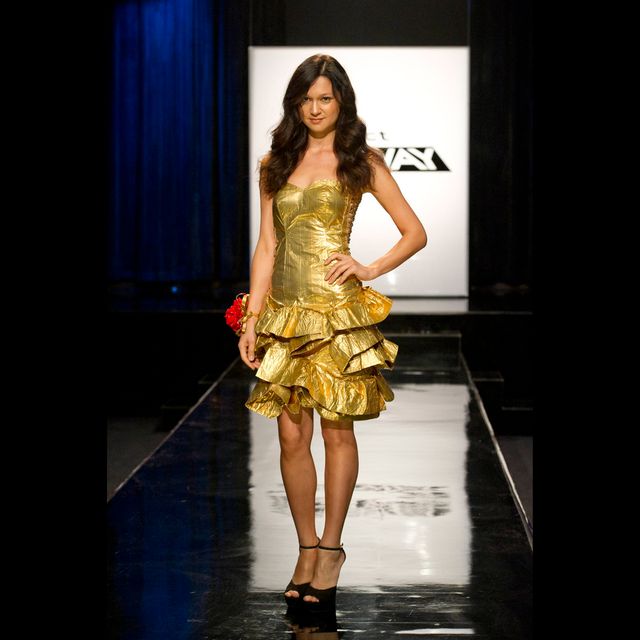 Richard Hallmarq and Daneil Esquivel's design.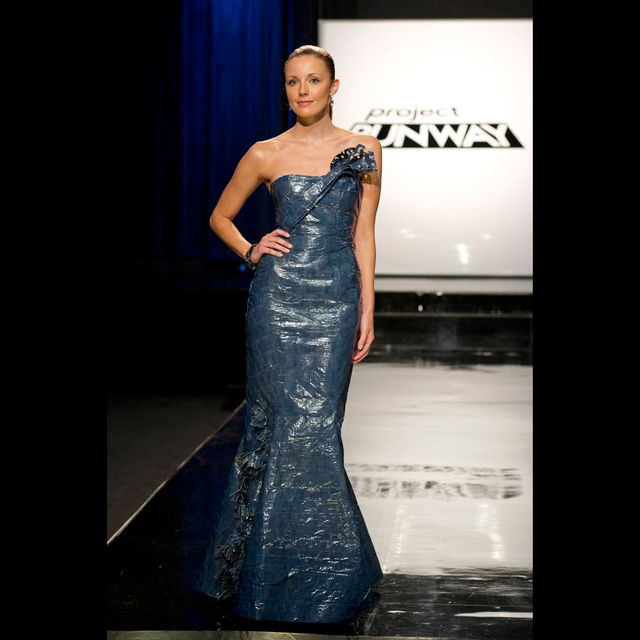 Katelyn Pankoke and Tu Natchat's losing design for the seventh challenge.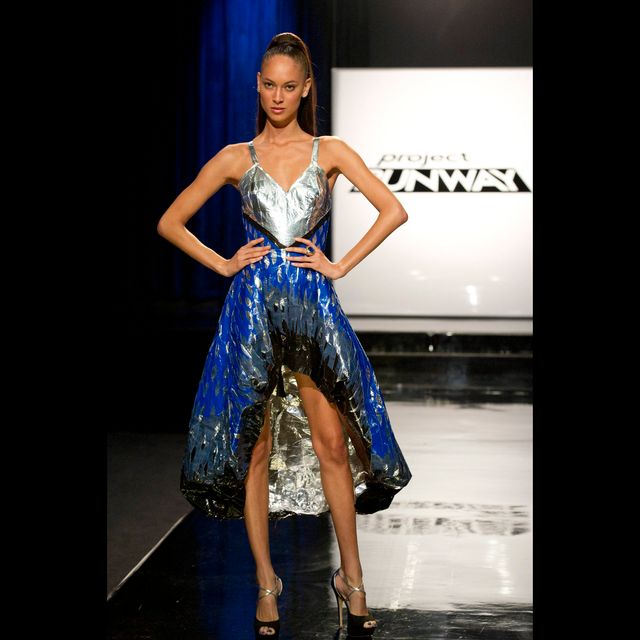 Patricia Michaels and Samantha Black's design.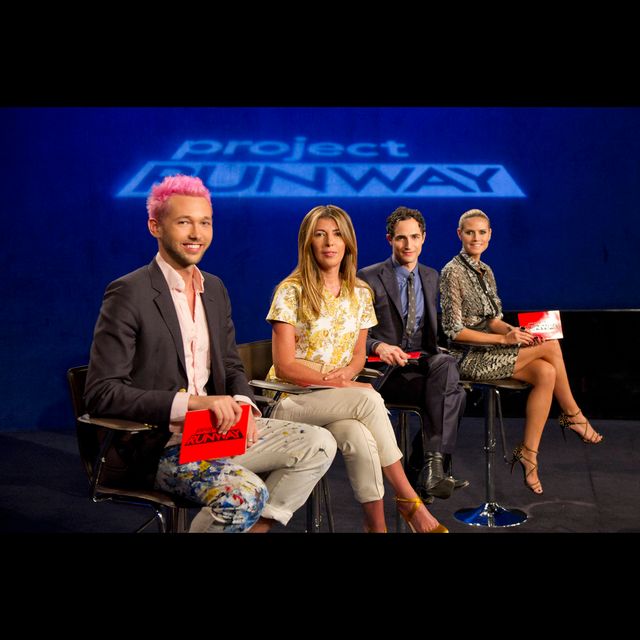 Guest judge designer Chris Benz, left to right, Nina Garcia, Zac Posen and Heidi Klum judge the duct-tape prom dress challenge of Project Runway season 11,