Project Runway Season 11, Episode 8: "Take It All Off!"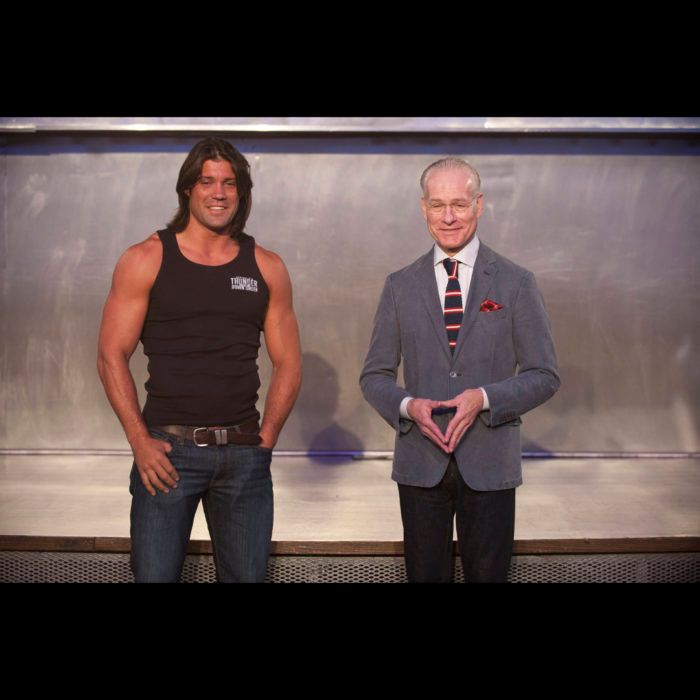 If you had asked me to come up with a joke faux challenge for "Project Runway," I don't think I could have come up with anything sillier than "making tear-away clothes for an Australian all-male dance revue."
But, that said, last night's episode of "Project Runway," "Take It All Off!", was interesting, and not because there were a lot of hunky shirtless guys. The challenge ended up really testing the design teams' ability to manage their time, collaborate on a cohesive theme, and meet some interesting fit challenges. If they are always fitting slender, tall women, the designers get complacent.
There were also some hilarious moments when the tear-away clothes refused to come off on the runway. Or came off of their own accord.
The dancers from "Thunder from Down Under," as Richard Hallmarq put it, were "built like Thor." Michelle Franklin rattled off some typical measurements: 46-inch chest, 32-inch waist, 22-inch bicep, 26-inch thigh.
The dancers had just been voted Las Vegas' best all-male dance revue. And, their spokesman noted, they are all really from Australia.
Heidi and Tim divided the remaining 8 designers into two teams:
Team Shades of Gray included Patricia Michaels, Daniel Esquivel, Michelle Franklin, and Stanley Hudson.
Team Slick and Hip included Richard Hallmarq, Layana Aguilar, Amanda Valentine, and Samantha Black.
The guest judge was actress and singer/songwriter Emmy Rossum, who just released an album, "Sentimental Journey," and stars in the Showtime show "Shameless."
On to the (quickly removable) designs!
There was NO winning design.
In a "Project Runway" first, the judges found all of the designs so terrible that they said there was no winner. They did select a "winning team," however, and in this context, it just meant that Team Shades of Gray members didn't have to worry about being sent home.
Winning Team Shades of Gray designs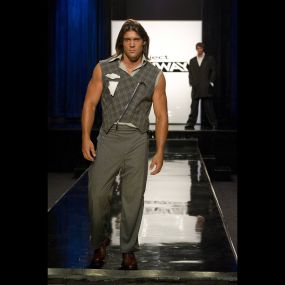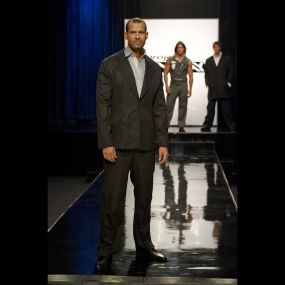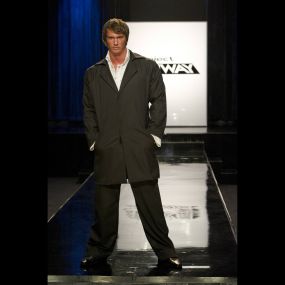 The losing design
Amanda went home for her contribution to the team effort: two pairs of too-tight pants. Richard was on thin ice for his awful shirts (he made all three, and confessed that he did not know what a collar stand was).
The best results on the team were from Samantha. She made a vest that fit properly, and created a pants pattern and one pair of pants that fit.
Amanda was tasked with sewing the other two pairs of pants based on Samantha's pattern. Here's the thing – neither of Amanda's pants fit at all. Amanda was given a pattern to work from and body measurements, and had a fitting with the dancers, but couldn't manage to make two pairs of pants that fit reasonably.
The losing Team Slick and Hip designs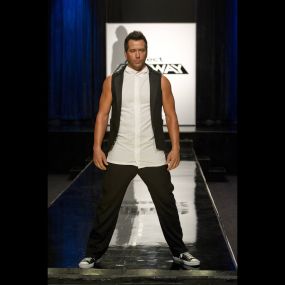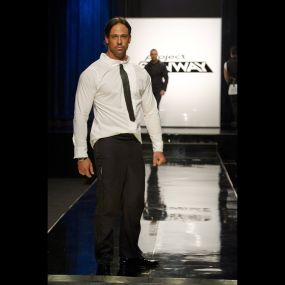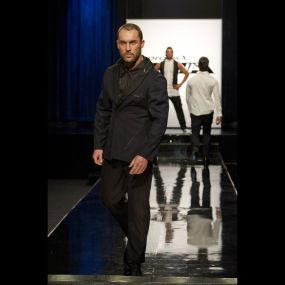 What did you think?
What did you think of the challenge concept? Wasn't the runway show funny?
Do you agree with the judges' decision to not declare any winner?
Was there another designer who should have gone home instead of Amanda? Do you think Richard actually did a worse job?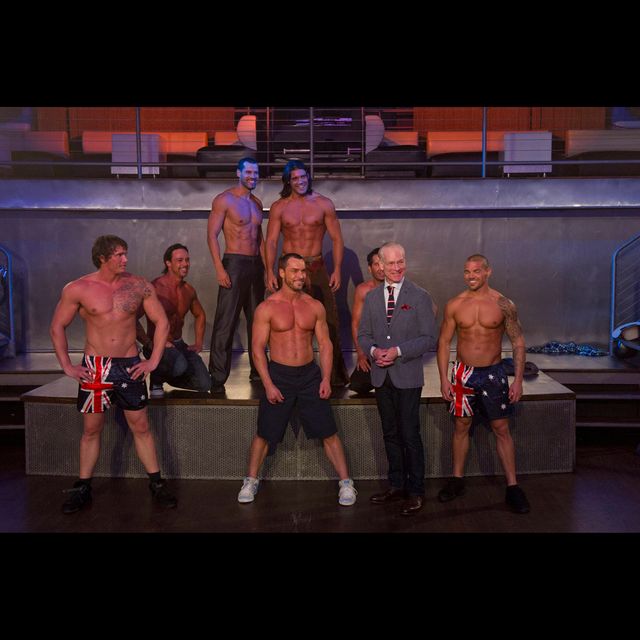 Tim Gunn presents the eighth "Project Runway" challenge with the help of the "Thunder Down Under" male dance revue.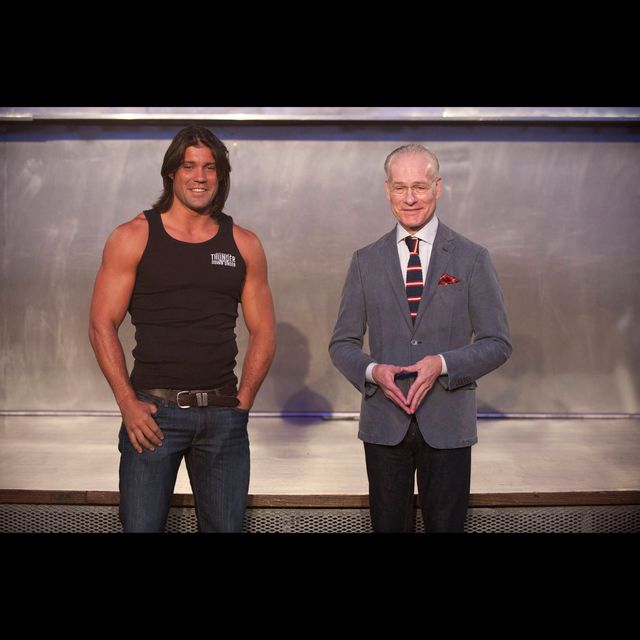 One of the "Thunder from Down Under" dancers explains the challenge with Tim Gunn.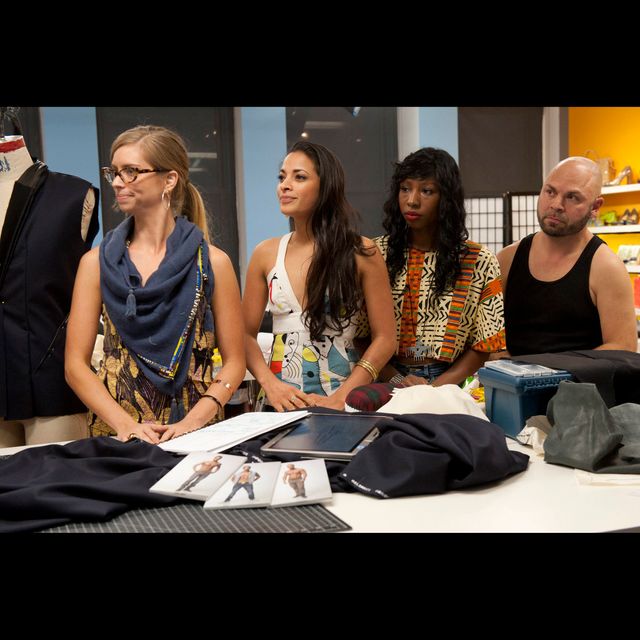 Team Slick and Hip: Amanda Valentine, left to right, Layana Augilar, Samantha Black, and Richard Hallmarq.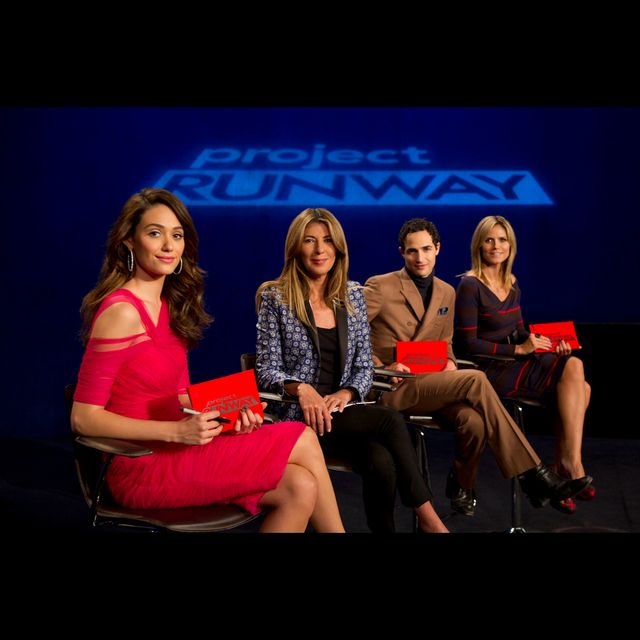 Guest judge Emmy Rossum, left to right, and regular judges Nina Garcia, Zac Posen, and Heidi Klum.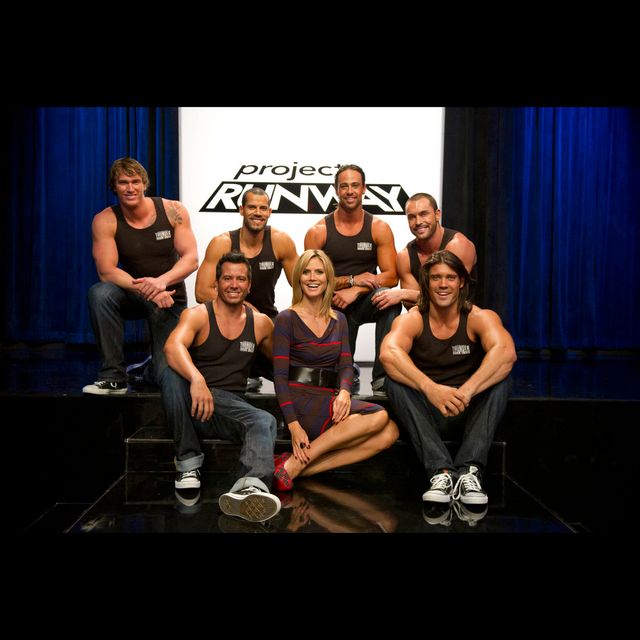 Heidi Klum poses gracefully with "Thunder Down Under."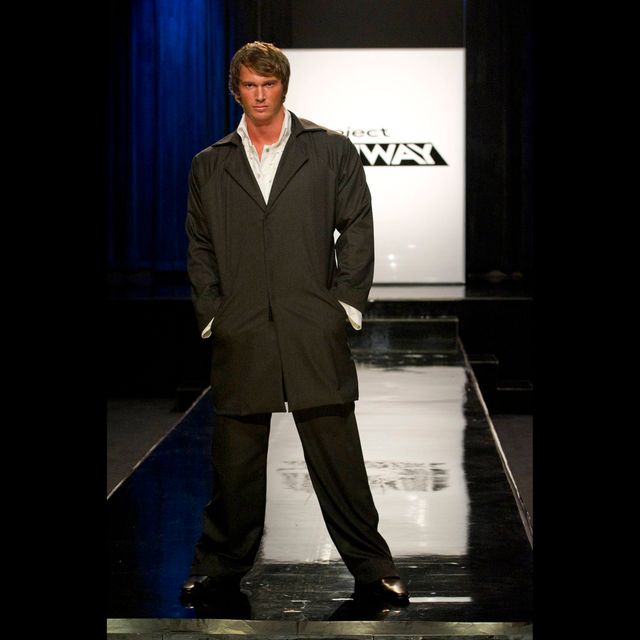 Team Shades of Gray's design.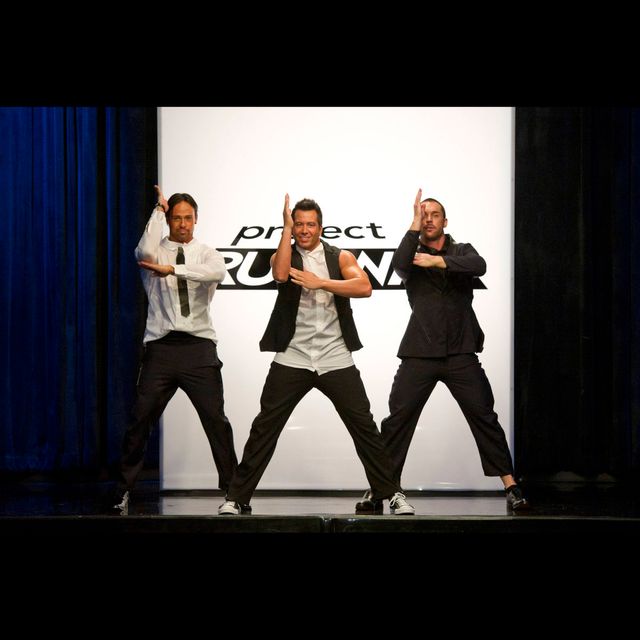 Team Slick and Hip: Layana Augilar, Amanda Valentine, Richard Hallmarq and Samantha Black's designs.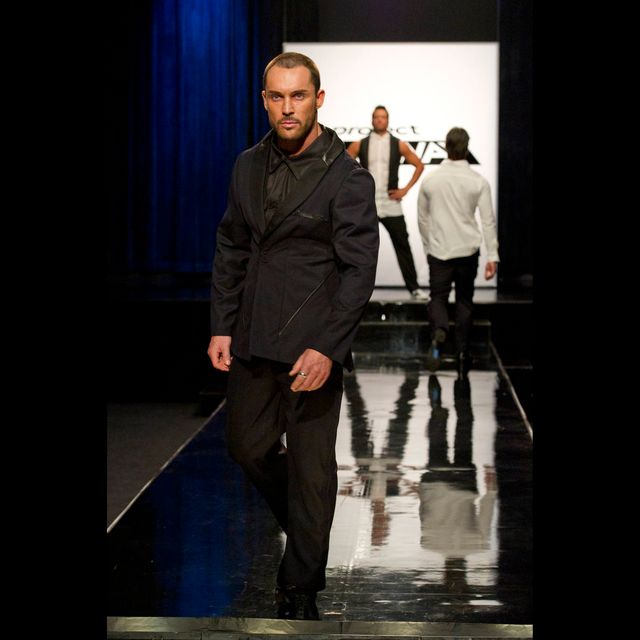 Team Slick and Hip's design.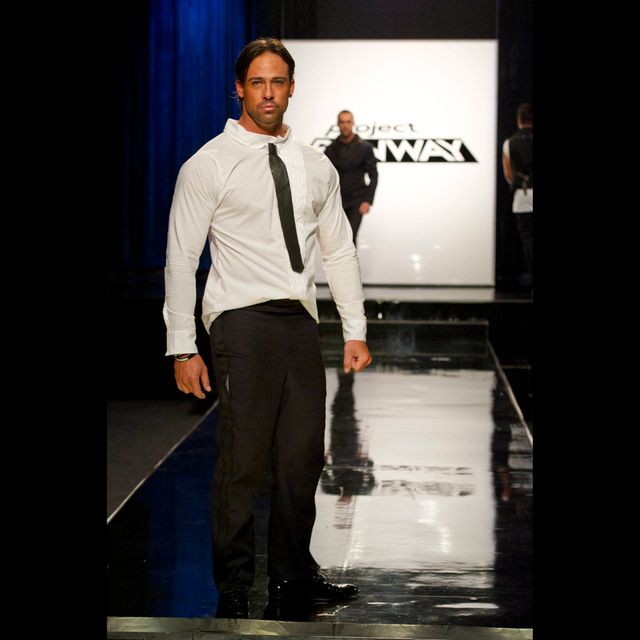 Team Slick and Hip's design.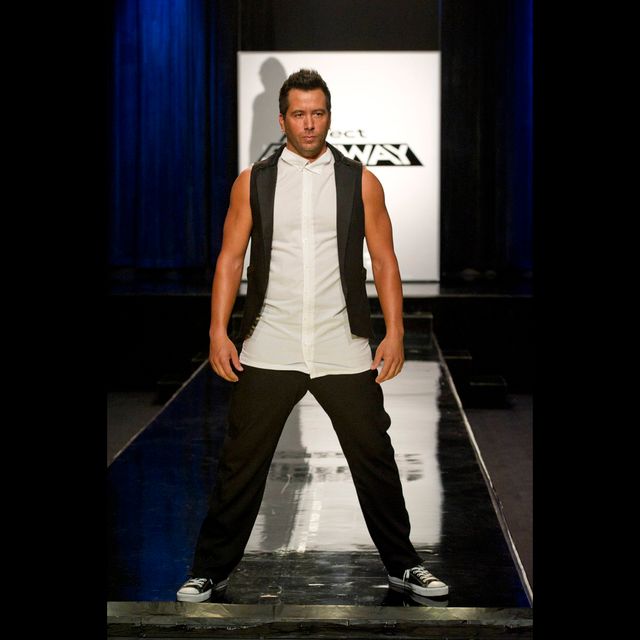 Team Slick and Hip's design.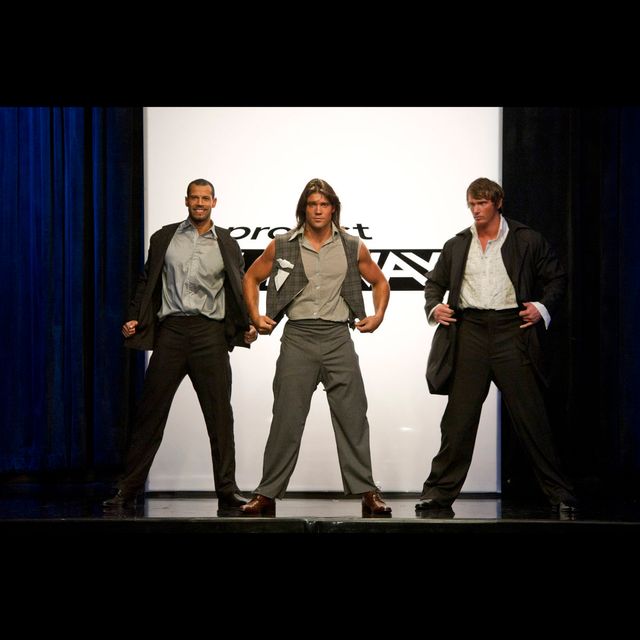 Team Shades of Gray: Daniel Esquivel, Patricia Michaels, Stanley Hudson, and Michelle Franklin's designs.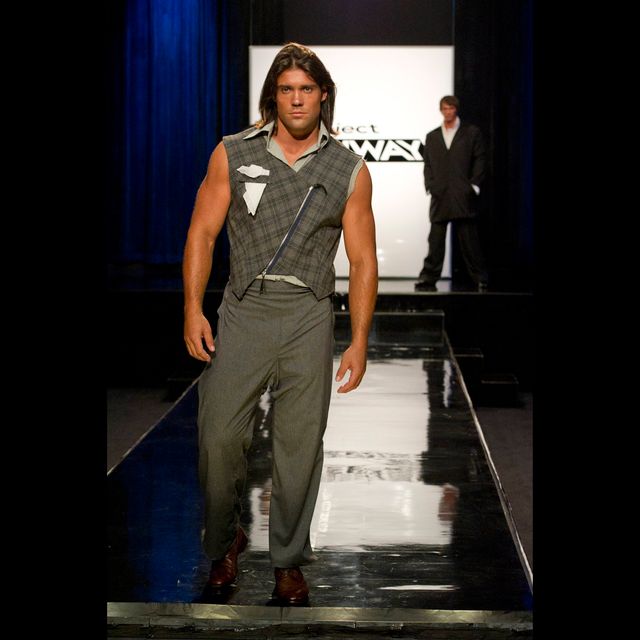 Team Shades of Gray's design.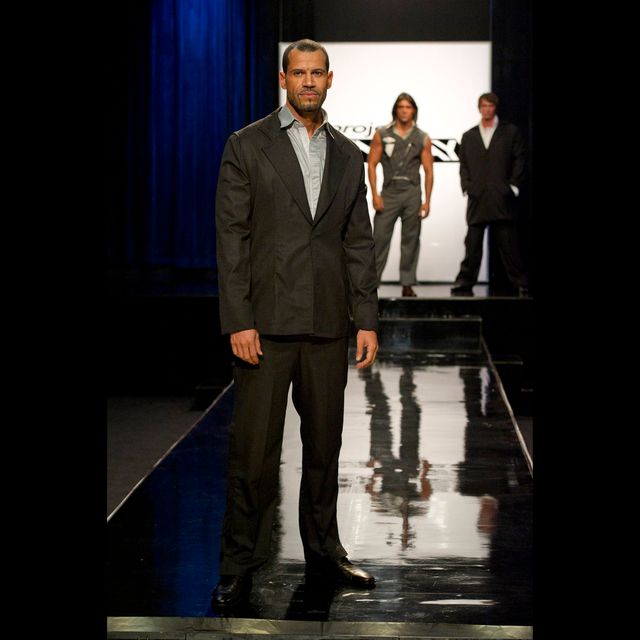 Team Shades of Gray's design.