Project Runway Season 11, Episode 9: "He Said, She Said"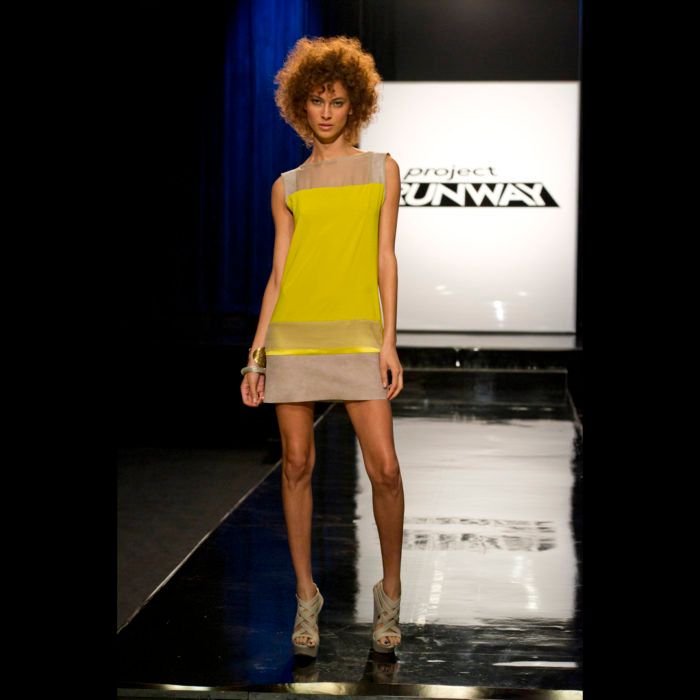 This week, things were back to "normal" on Project Runway. The models were models, the clothes stayed on, and the designs were made with cloth.
It was the Lord & Taylor challenge, and the remaining seven designers competed to create pretty, wearable spring clothes for women. The winning design was put into production and is available now at Lord & Taylor stores and at LordandTaylor.com.
Before the sewing began, Nina Garcia, Zac Posen, and Heidi Klum put the challengers into three new teams. I think they had fun deliberately mixing things up for maximum drama. For example, they kept Layana Aguilar and Richard Hallmarq on the same team, even though they had strong words on the runway in the last episode. 
The new teams were:
Michelle Franklin and Daniel Esquivel.
Stanley Hudson and Patricia Michaels.
Samantha Black, Richard Hallmarq, and Layana Aguilar.
The guest judges were fashion designer Rachel Roy and Bonnie Brooks, President of Lord & Taylor.
On to the spring designs…
The winning look and team
The challenge winner was Michelle Franklin. Michelle has been doing pretty well the entire run of the show, but this is her first win. She created a little shift dress in chartreuse silk and taupe leather.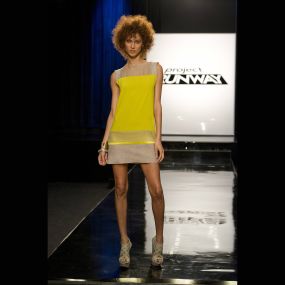 Daniel Esquivel, Michelle's teammate, created a very pink dress. It wasn't very youthful or innovative. Poor Daniel seemed to snap during this challenge. He took a comment from Michelle the wrong way and was very affronted, even though Michelle tried to explain that she hadn't exactly said what he claimed to have heard. They were big enough to make up before the runway show, and Michelle's help did improve Daniel's design. He just looked really tired. I've heard that they don't get a lot of sleep.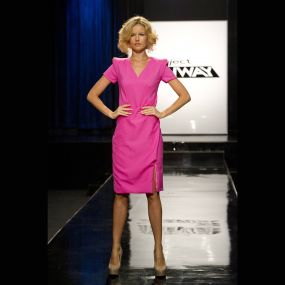 The OK team
Stanley Hudson's look:
Patricia Michaels' look: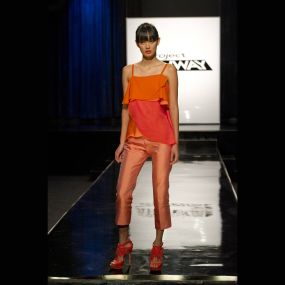 Stanley and Patricia had some friction, too. Patricia was very defensive when Stanley "interfered" with her designs, and thought he was too aggressive and controlling. Stanley didn't back off, however, and his intentions were good. I think before the runway presentation he had won her over and they both learned from their collaboration.
The loser and the losing team
Samantha Black went home for her pieced dress with a layered pleated skirt and a heart cut-out on the back. A heart cut-out! For the Lord & Taylor challenge! Oh, Samantha. She meant to do something youthful, but it was too much, and the execution wasn't good.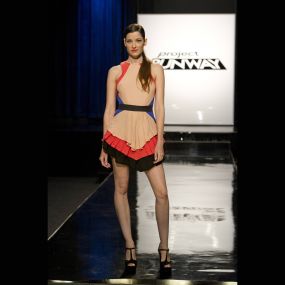 Richard Hallmarq created another pieced jersey dress. It was very much like the dress he created for the very first challenge. It's a easy-to-wear design, but it seemed unfair that he got to play it safe and stay on, while Samantha took risks and was sent home for an ambitious design.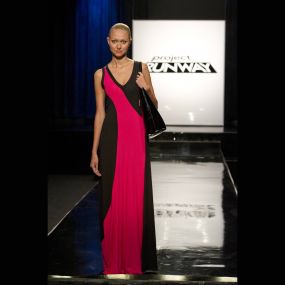 Layana Aguilar's look was a pretty and shapely maxi dress in a chiffon print with leather waistband and straps. The biggest strike against it seemed to be the print. Nina and Heidi reacted very negatively to the print Layana chose. Prints are so difficult and she selected it to try and mimic the colors of the Lord & Taylor rose emblem. Too bad it backfired.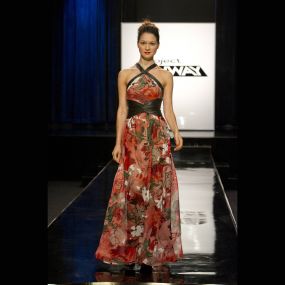 What did you think?
Did you agree with the decision to send Samantha Black home, instead of Richard Hallmarq?
I think I was far more interested to see what Samantha would come up with next, but based on this episode's garments alone, Samantha did deserve to get auf'd.
What do you want to make for spring? And in what color?
Would you wear hot pink? (Daniel says yes, Michelle says no.)
Do you think Richard will make it past the next challenge?
Tim Gunn presents the ninth challenged at the Lord & Taylor flagship store in New York City with Suzanne Timmins, Lord & Taylor senior vice president and fashion director for Lord & Taylor.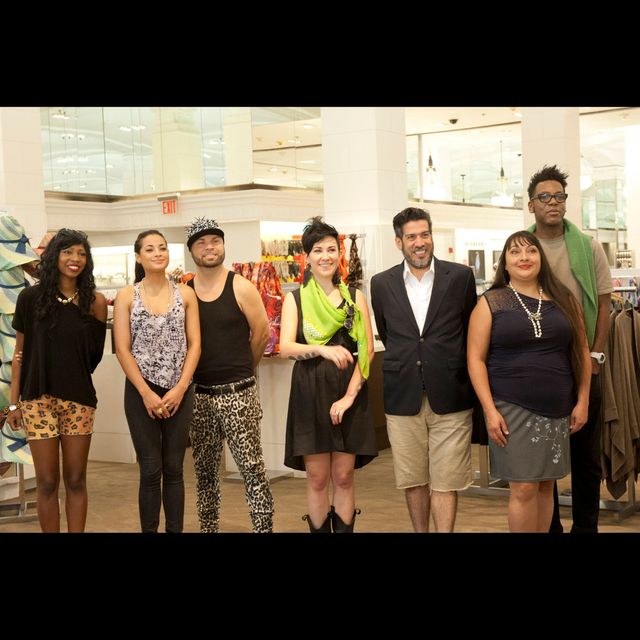 The remaining designers await their ninth challenge.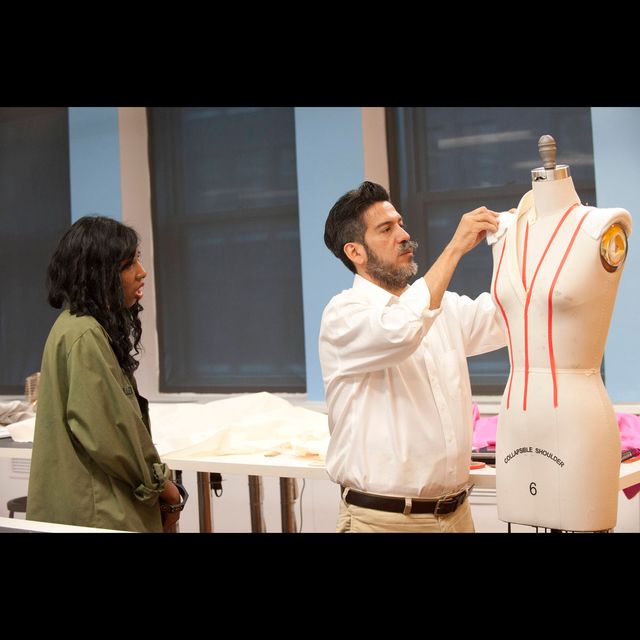 Samantha Black, left, and Daniel Esquivel, in the Project Runway workroom.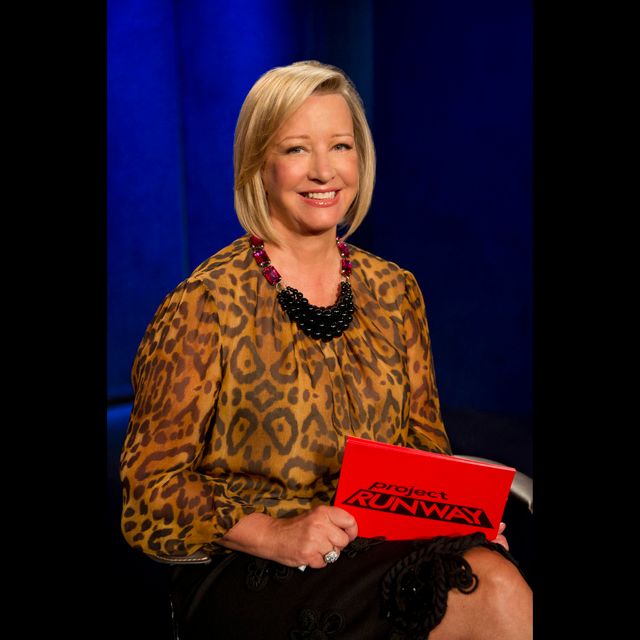 Lord & Taylor's president, Bonnie Brooks, guest judges the ninth challenge.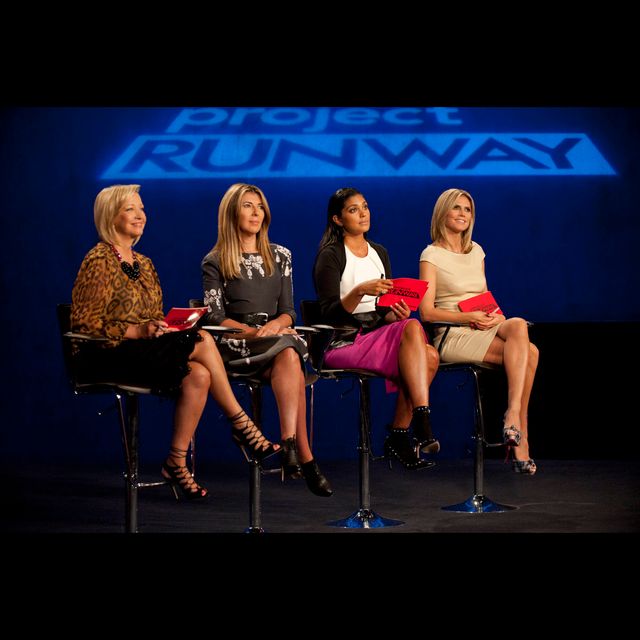 Guest judge Bonnie Brooks, left to right, Nina Garcia, guest judge Rachel Roy, and Heidi Klum judge the ninth challenge.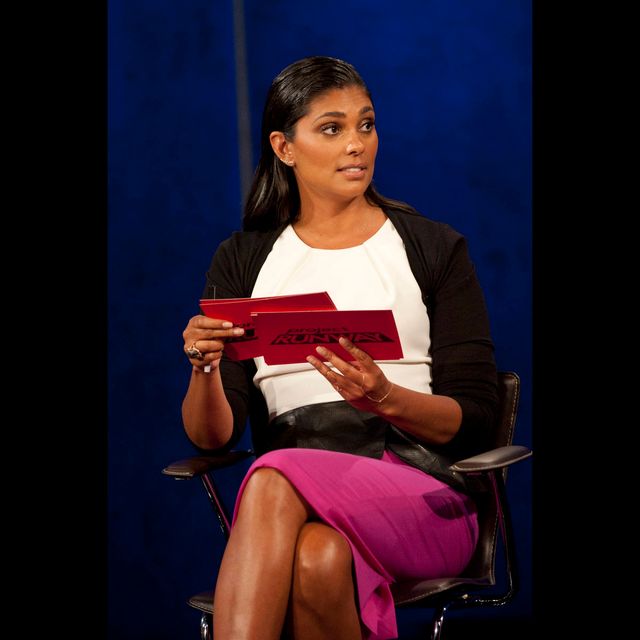 Rachel Roy guest judges the ninth challenge.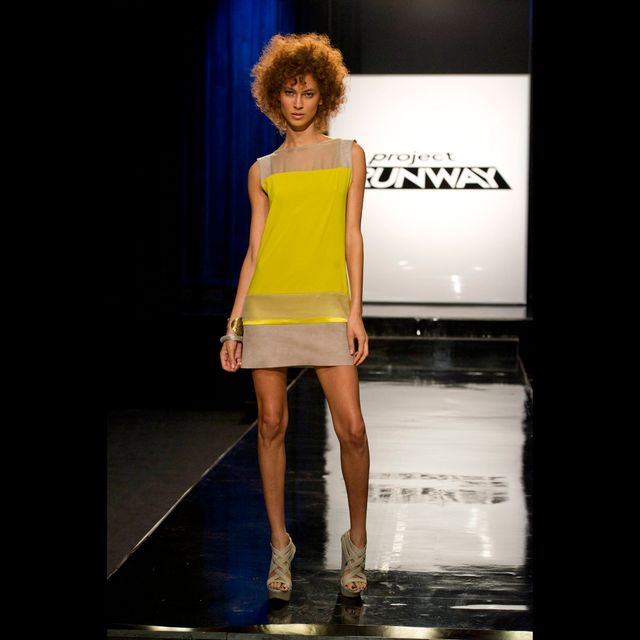 Michelle Franklin's design.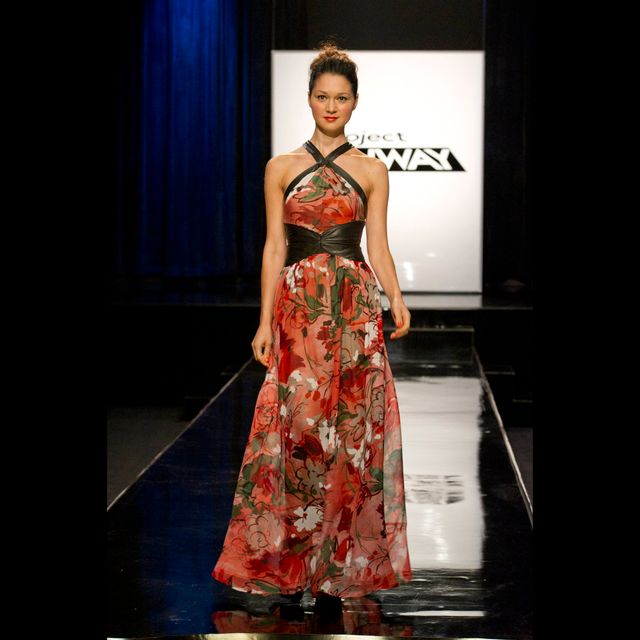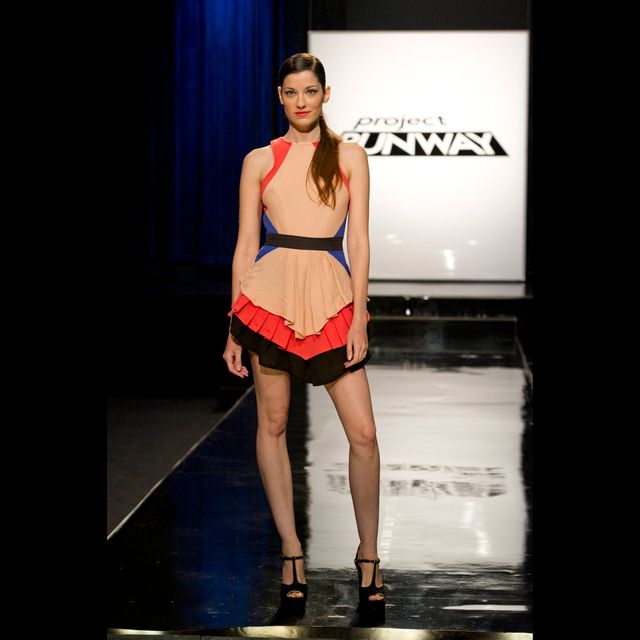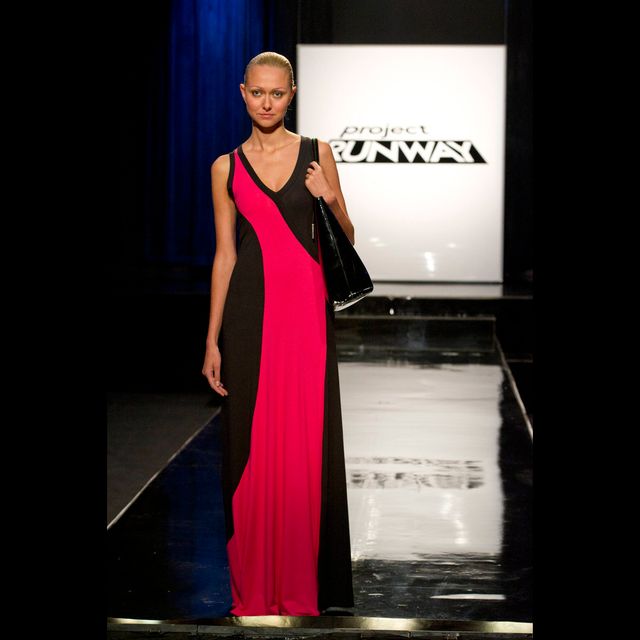 Richard Halmarq's design.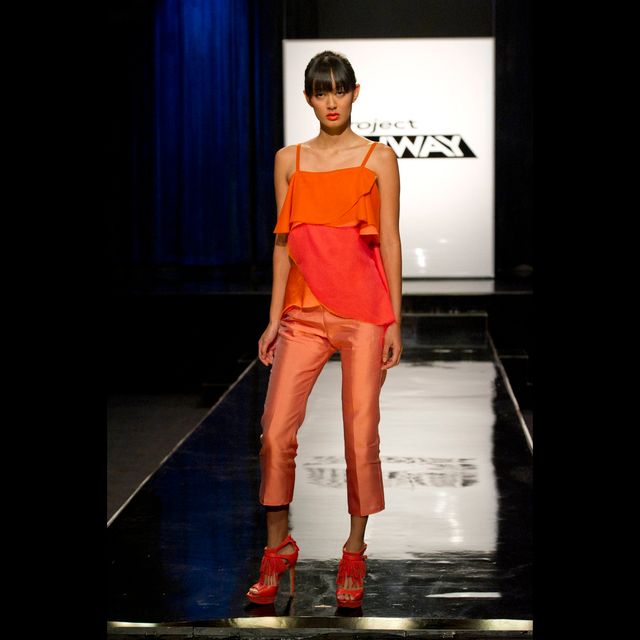 Patricia Michaels' design.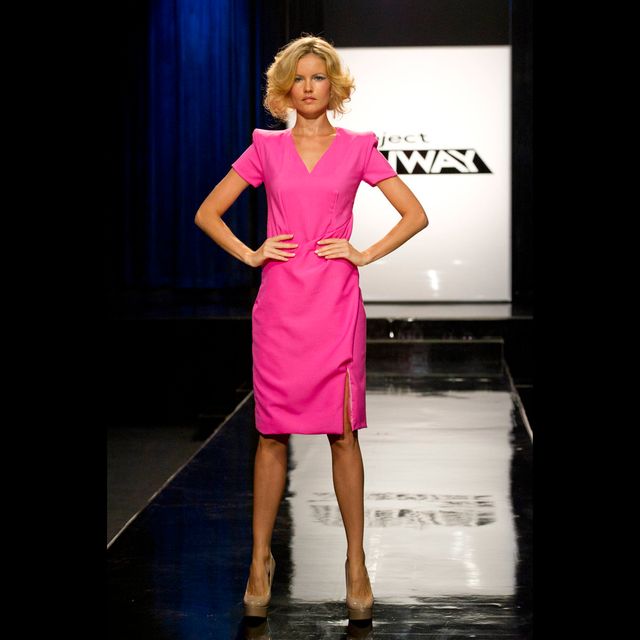 Daniel Esquivel's design.