Make Padded Seams to Prevent Seam Allowance Impressions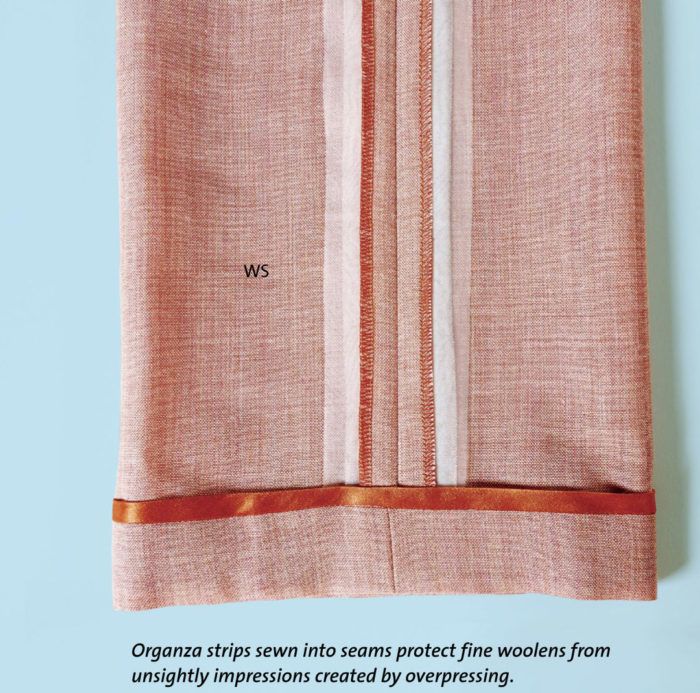 In "Padded Seams" from Threads issue #166 (April/May 2013), Katrina Walker explains her techniques on how to make lightweight padded seams to prevent seam allowance impressions on your wool garments.
Preventing these seam allowance impressions is one of the biggest challenges of sewing fine wool garments, and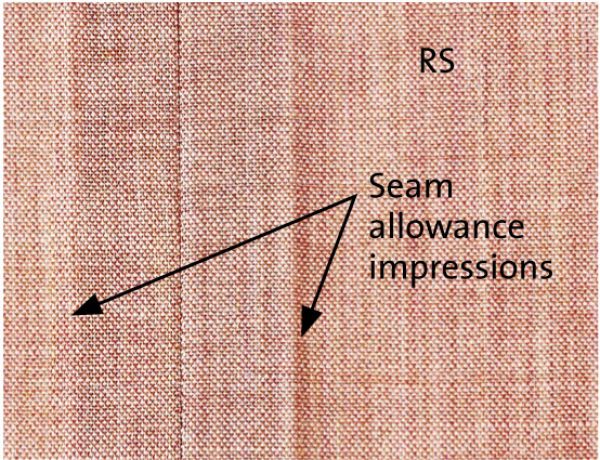 their occurrence on a beautiful garment you've just spent hours creating can be heartbreaking. Seam imprinting is a particular problem with trousers and skirts that don't include a protective underlining.
I became so frustrated by having my work damaged by seam allowance impressions that I was inspired to find a way to ensure that my fine garments would remain beautiful through years of cleaning and pressing. I found that a padded seam does the trick nicely. You can also think of it as an underlined seam.
The concept is simple: Two strips of fabric sewn on both sides of the garment's seam allowances buffer the seam allowance edges and prevent imprinting when the garment is pressed. Padded seams are traditionally used with a bulkier fabric to exaggerate the appearance of a seam, to provide an additional foundation for seam embellishments, or to prop up delicate fabrics. I use silk organza strips as a lightweight seam padding to provide invisible, lasting support without bulk.
How to Sew Padded Seams:
Silk organza is an ideal choice whenever lightweight reinforcement is needed. It is superior to synthetic-fiber organza because it presses beautifully without being damaged by heat. For a padded seam application, cut silk organza strips on the bias to prevent fraying and to enable the strip to curve easily along seamlines.

1. Measure the seams to be padded to determine the organza strip lengths necessary. Cut two strips on the bias, each slightly longer than the seam and double the seam allowance width plus 3⁄4-inch. For example, a 5⁄8-inch seam allowance doubled is 1-1⁄4-inches, plus 3⁄4-inch yields 2-inches.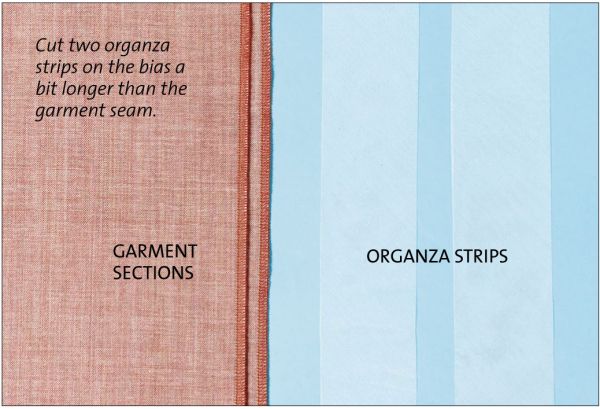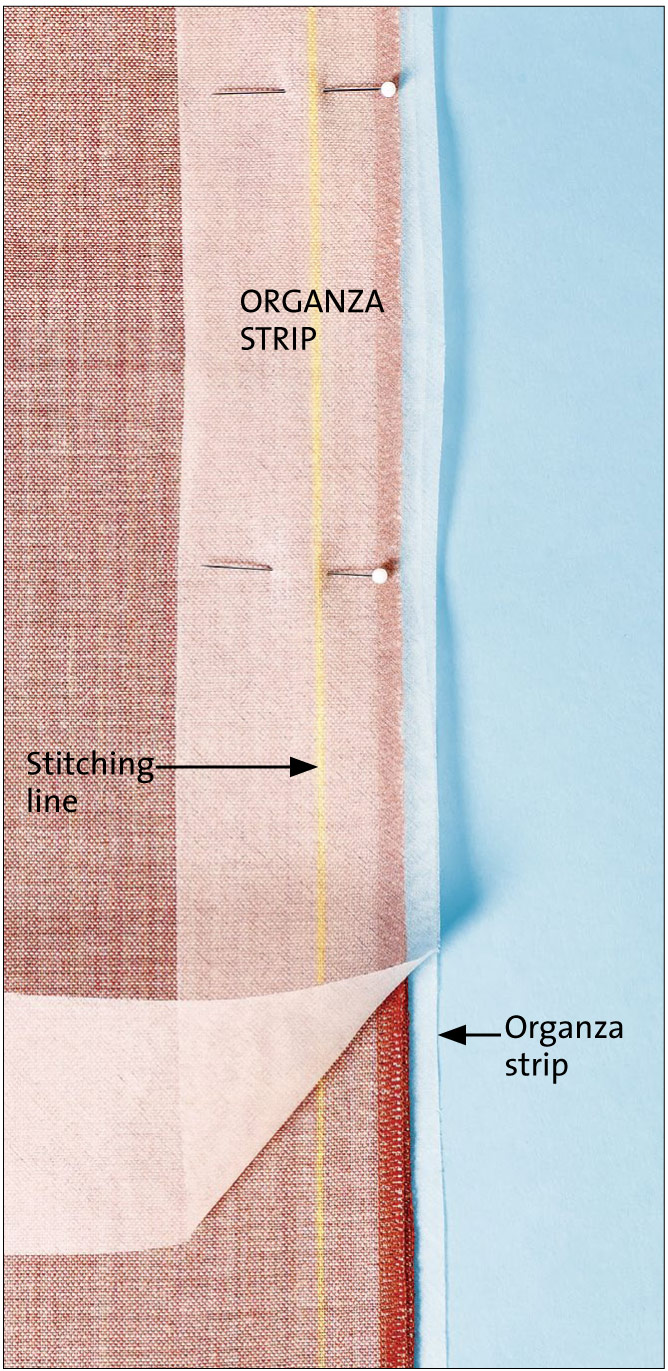 2. Pin the garment's seam, right sides together, as usual. Mark the stitching line, if desired. Sandwich the seam allowance between two organza bias strips. The strips overlap the stitching line, and their edges extend past the seam allowance edges by approximately 1⁄4-inch.
3. Sew the seam, stitching through all four layers.Use a straight stitch set to your preferred stitch length. Make sure to sew precisely on the stitching line, referring to the garment's seam allowance edge and not to the organza strip edges.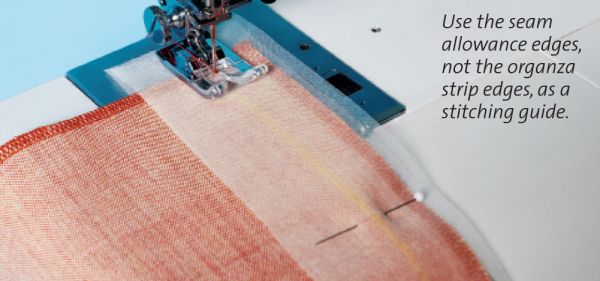 4. To set the seam, press it as stitched, with all layers aligned. Then, press the seam allowance open; use a press cloth to prevent shine, if necessary. The raw organza edges that extend past the seam allowance edges provide a barrier between the seam allowances and the garment's body. If you wish to finish the garment's seam allowances, do so now-but take care to avoid catching the organza bias strips in the stitches.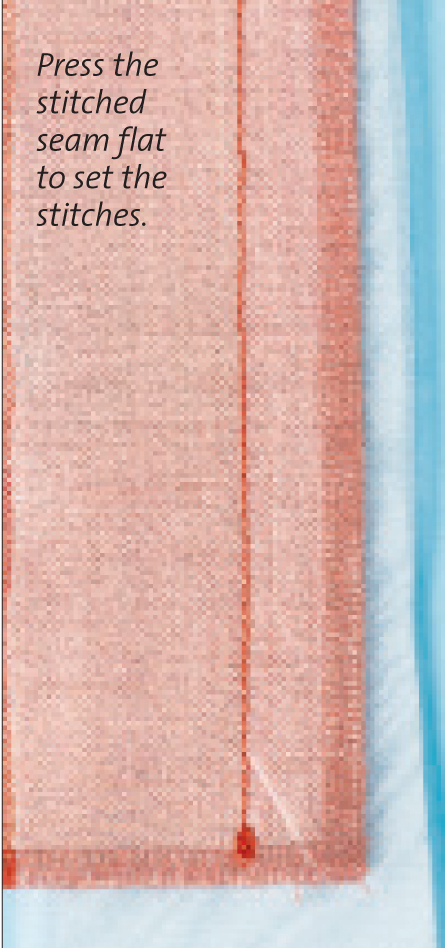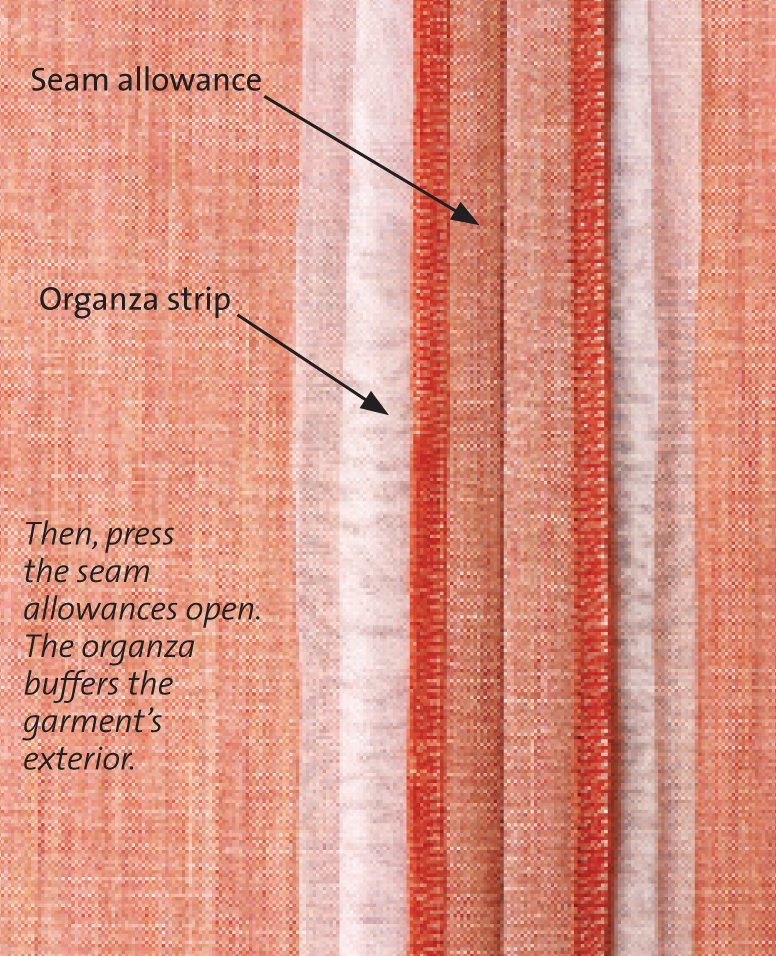 5. Continue applying the organza strips to seams as you construct the garment, until all the seams are sewn and the garment is ready to finish. Take care at seam intersections to ensure that the organza layers do not become bunched and that their edges remain free from stitching lines.
Do you have any tips or tricks on preventing seam allowance show-through? If so, please share them in them in the comments section below.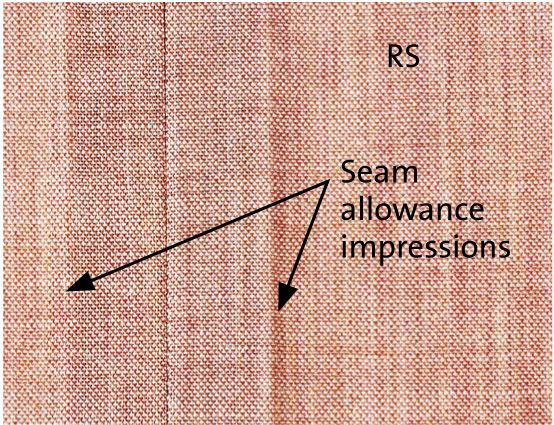 Without padding, seam allowances can create imprints on a garment's right side when pressed.