Project Runway, Episode 11: "Finally On My Own"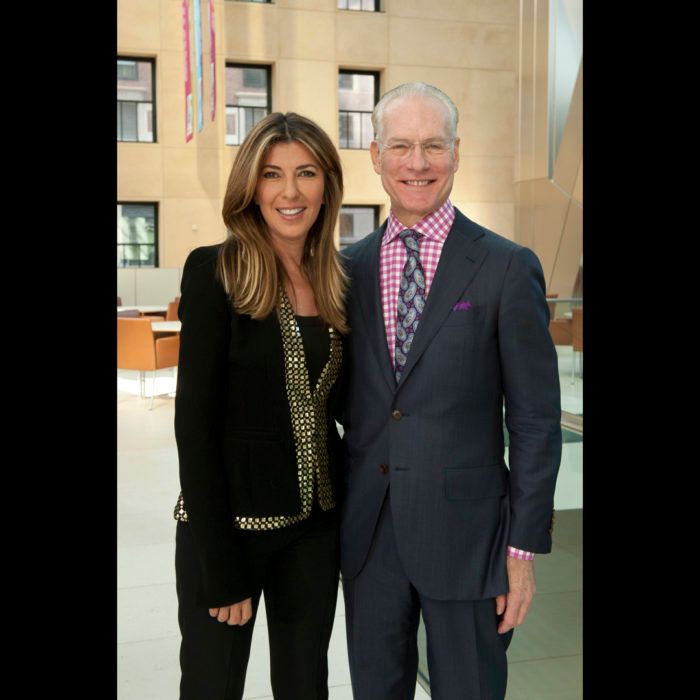 An alternate title for last night's episode of Project Runway could have been "Blast From the Past" (except I'm pretty sure they've already used that one). Five eliminated designers came back to be sewing helpers for the remainining five competing designers. So the episode fulfilled the team for every challenge requirement, even though  the returning designers had no stake in the competition, and no say in the designs.
This was the Marie Claire challenge, in which Nina Garcia gets a free look for the cover and a chance to talk about the magazine. The challenge was for the designers to make a cover look for actress Jordana Brewster, the May issue cover girl.
Jordana has been in the "Fast & Furious" movie franchise, and on the television reboot of "Dallas" on TNT. Jordana was also the guest judge for the episode.  
Note: Next week's episode is a two-hour double!
The teams were:
Michelle Franklin and Amanda Valentine.
Stanley Hudson and Tu Nakchat.
Daniel Esquivel and Samantha Black.
Layana Aguilar and Katelyn Pankoke.
Patricial Michaels and Richard Hallmarq.
 Only Michelle, as the last episode winner, got her pick of partner. Poor Patricia got saddled with Richard again. In the course of this episode we discovered he does not know what a French seam is.
On to the designs! In the course of her instructions to the designers, Nina expressed that she did "not want to see any T-shirts and pants." That was important later on…
The winner
Stanley Hudson won. Stanley created a leather jacket, graphic-print tank, and high-waisted, voluminous culottes with flange pockets. It looked fab on the model and the colors were a good pick for Jordana.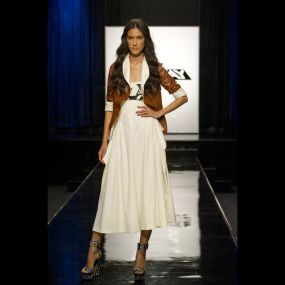 The loser (?)
Michelle Franklin created… a T-SHIRT AND PANTS! They were well-made, asymmetrical and interesting, but exactly what Nina said NOT to do. The thing is, and I have been wondering about this ever since they bumped both Katelyn and Tu on the same episode, we're due for a designer take-back. Before Michelle left the runway, Heidi told her she would have a second chance, but did not specify what it would entail. Michelle has been so interesting all season, don't you hope she'll get to stick around?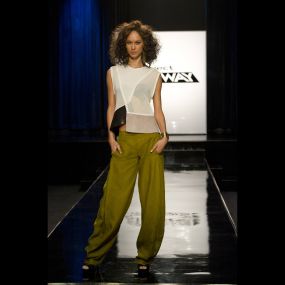 The other designs
Daniel Esquivel created a bright yellow jacket with big shoulder fins/wings. Poor Daniel did exactly what Nina asked for. It was colorful, fitted, interesting, editorial, and also kind of goofy. Daniel just doesn't seem to have the eye for bright colors that also look expensive and enticing (Oscar de la Renta, now, he knows how to do just that). There were some snarky allusions to Big Bird.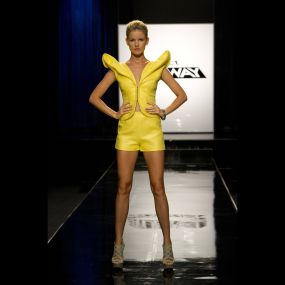 Layana Aguilar created a sort of leather and chainmail tunic over a short organza dress with a full, gored skirt. It was a close second to Stanley's design. The judges liked the workmanship, color, technique, and the cut.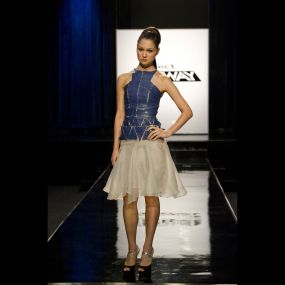 Patricia Michaels created a silk chiffon layered tent dress, with one shoulder and a fringed leather strip embellishment. Patricia was hampered by Richard's lack of sewing knowledge. Instead of being able to focus on the embellishment while Richard constructed the dress, Patricia had to teach him how to sew silk. Patricia herself thought she was going home. She was shocked when Heidi told her she was still "In."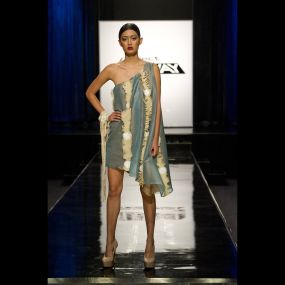 What did you think?
Can you believe a designer made it to Project Runway without knowing how to sew a French seam?!
Do you think Patricia should have been voted out instead of Michelle?
What was Michelle thinking?
What do you think Michelle will have to do to come back?
Which three designers do you think will show at Fashion Week? I know I have my picks!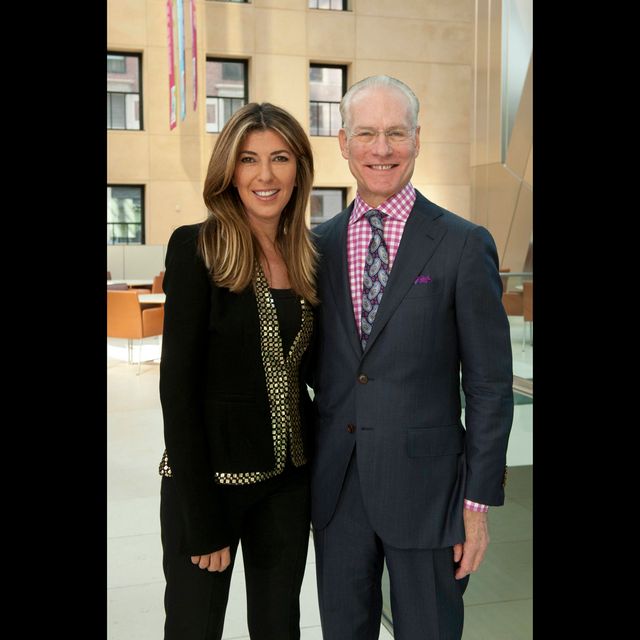 Nina Garcia, left, and Tim Gunn present the Marie Claire magazine challenge. The winner's design will be featured on the May cover, worn by actress Jordana Brewster.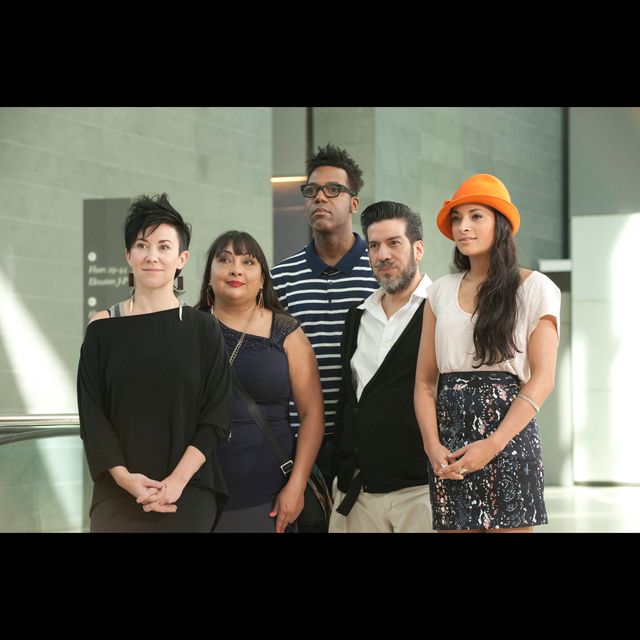 The five remaining designers, Michelle Franklin, left to right, Patricia Michaels, Stanley Hudson, Daniel Esquivel, and Layana Aguilar, await their eleventh challenge.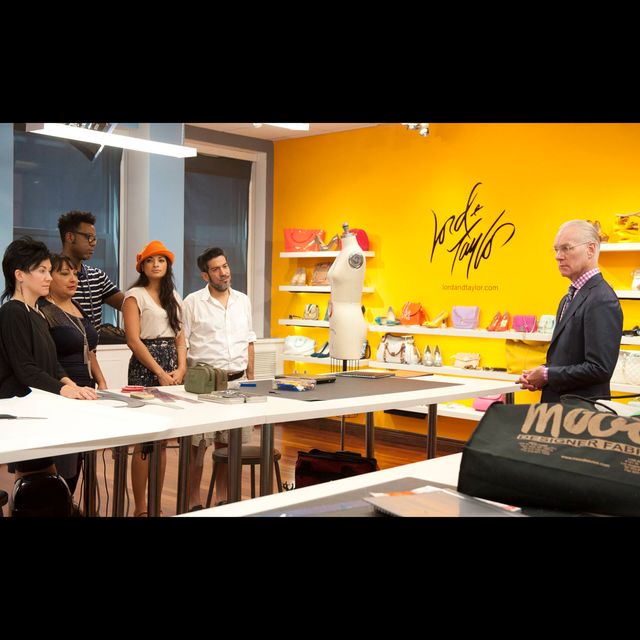 Tim Gunn preps the remaining designers on their eleventh challenge.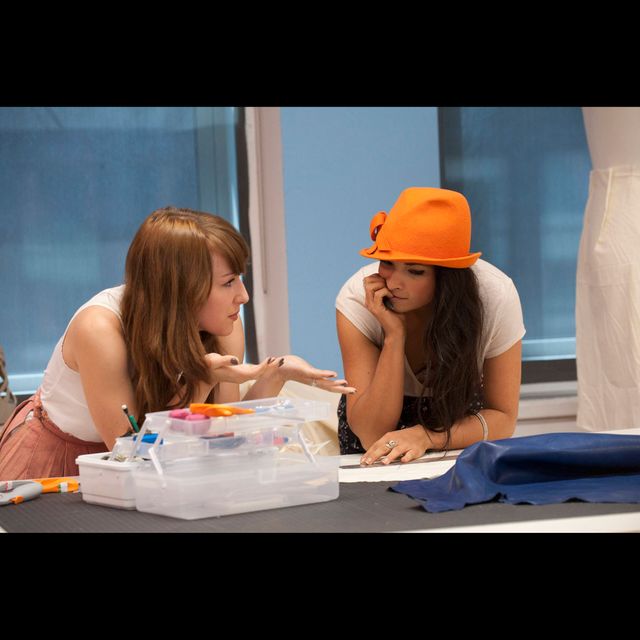 Katelyn Pankoke, left, helps Layana Aguilar.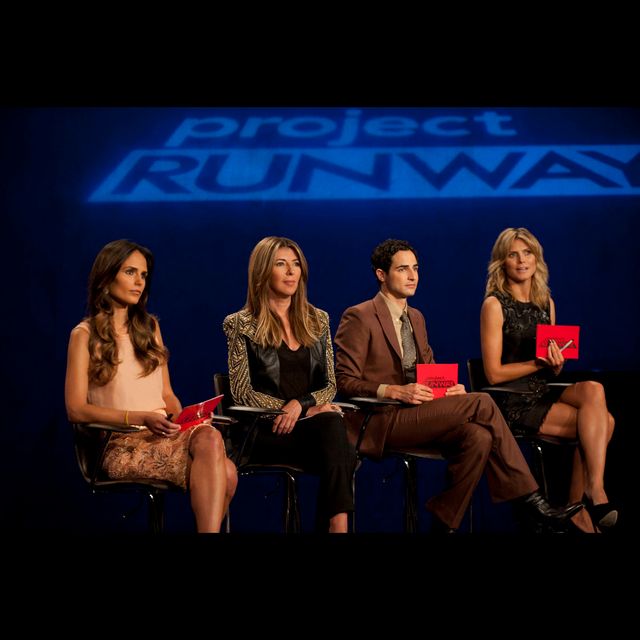 Guest judge Jordana Brewster and regular judges, left to right, Nina Garcia, Zac Posen, and Heidi Klum.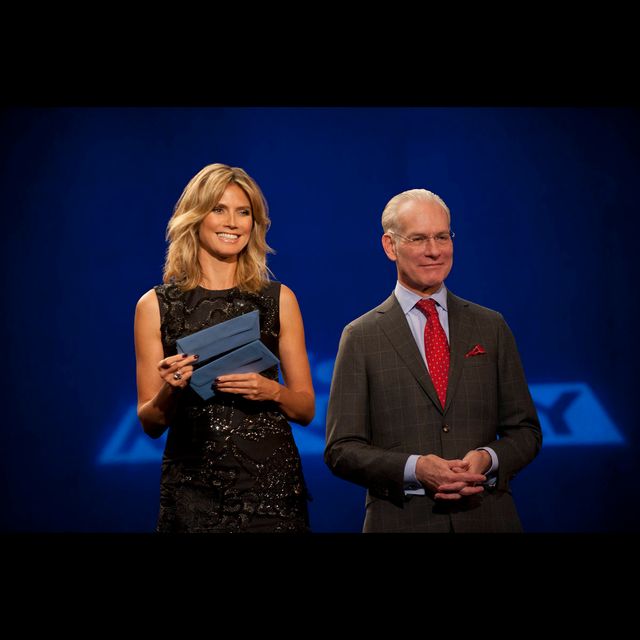 Heidi Klum and Tim Gunn get set to tell the designers about the eleventh challenge - and their new teams!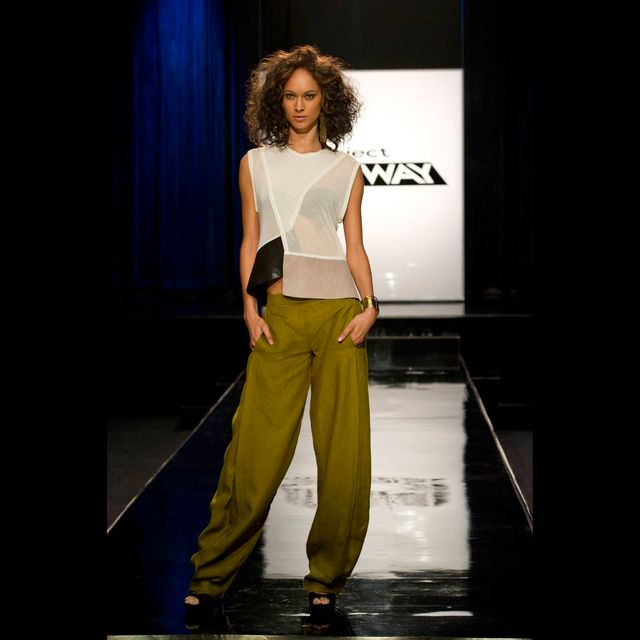 Michelle Franklin's design, completed with the help of Amanda Valentine.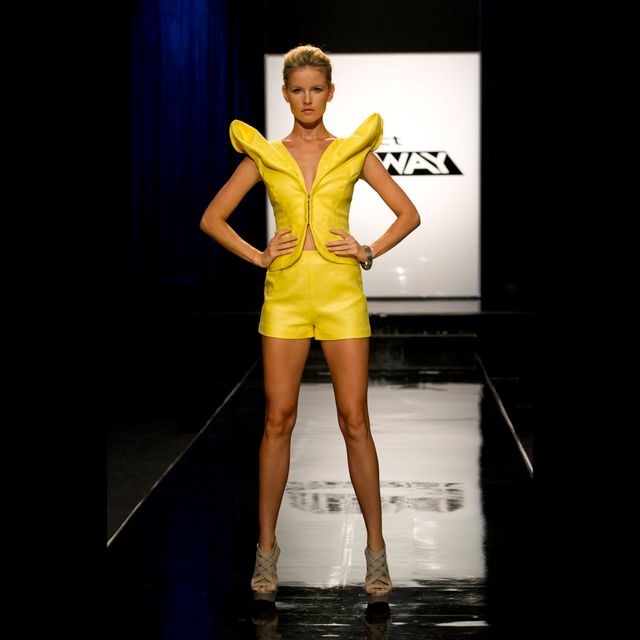 Daniel Esquivel's design, completed with the help of Samantha Black.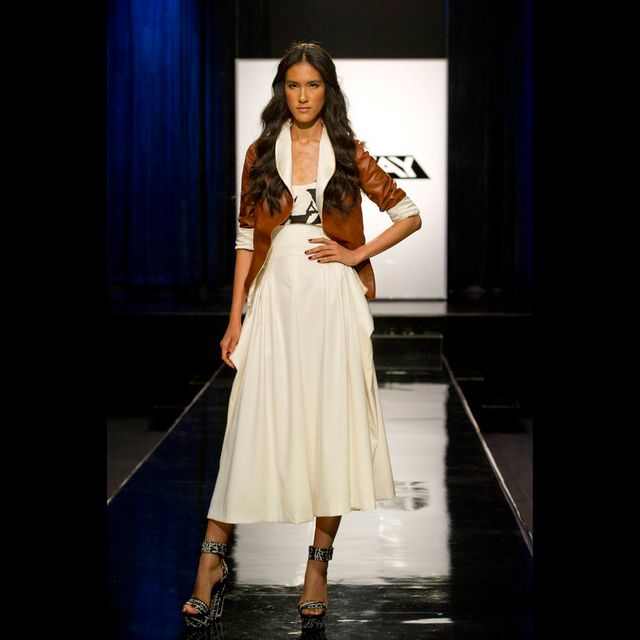 Stanley Hudson's design, completed with the help of Tu Nakchat.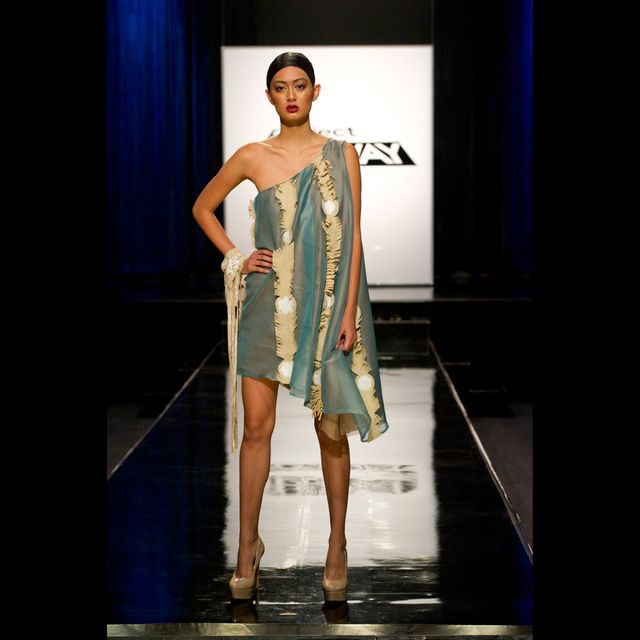 Patricia Michaels' design, completed with the hindrance of Richard Hallmarq.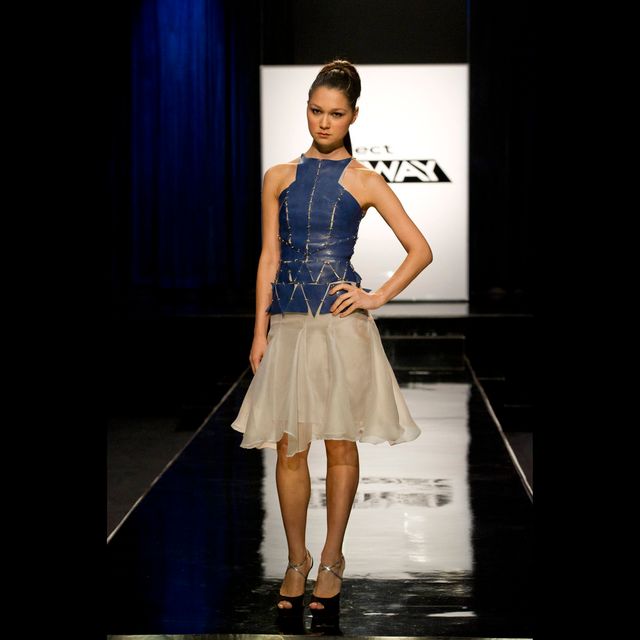 Layana Aguilar's design, completed with the help of Katelyn Pankoke.