Magazine Giveaway: How does fabric influence your designs?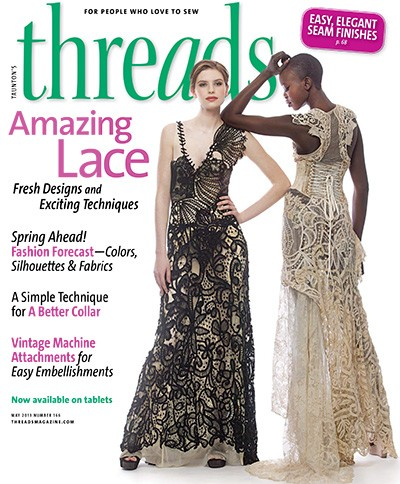 HOW DOES FABRIC INFLUENCE YOUR DESIGNS?
In our current  Threads edition (#166, May 2013) there are lots of awesome articles sure to provide inspiration for any sewing enthusiast. Our cover story "Saving Lace" features dresses by Mimi Prober that were made with gorgeous pieces of reclaimed lace. Additionally, you'll find instructions to build a better collar, examples of vintage presser feet that add easy embellishments, and a Spring Fashion Forecast, and much, much more! We also asked our contributing authors (Mimi Prober, Charlene Phillips, Katrina Walker, and Melanie Carrico) how fabric influences their designs. These talented individuals had some great reasoning behind their selections.
OUR CONTRIBUTORS GAVE VARYING RESPONSES
Each of our featured contributors responded in a very different way. One considers fabric selection the backbone of her design process; one said that touching the fabric gives her inspiration; one indicated that she is entranced by the beauty of natural fibers; and another considers fabrics to be both a muse and a medium for her designs. The variety of responses demonstrates the different meanings that fabric can bring to a sewer's design.
HOW DOES FABRIC INSPIRE YOU?
Tell us how fabric influences your designs. By leaving a comment below before the deadline (Friday, April 19), you could win a copy of our current issue! A winner will be selected randomly and announced during the week of April 22. The winner will also receive an announcement email. Good luck!