Project Runway Season 11, Episode 12: "Europe, Here We Come"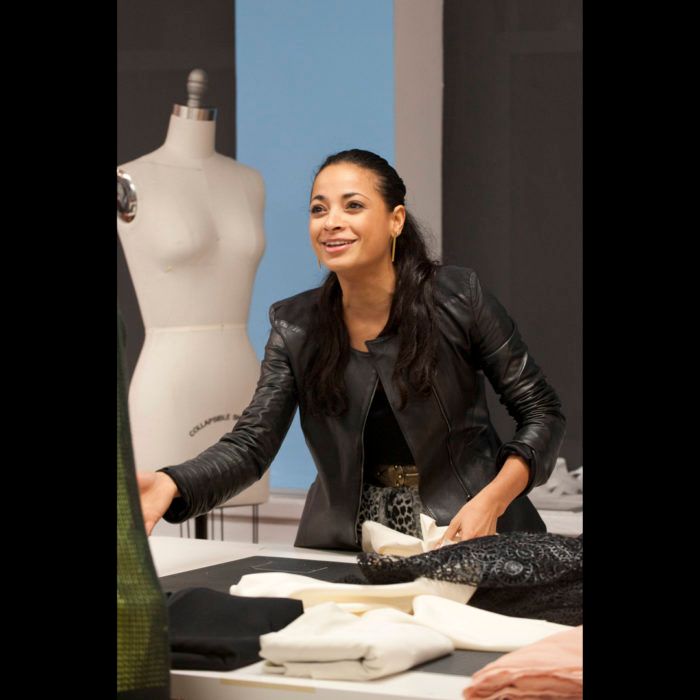 There wasn't any winner, but there was one loser! And now we are down to just four designers ready for Tim Gunn's home visits (always one of my favorite episodes of any season) and Fashion Week.
Last week's episode had the five remaining designers each create a look inspired by one of the world's fashion capitols. Four of the designers went to European cities, accompanied by a sewing helper/travel companion. Each designer had $1,000 to spend on fabric for a single outfit.
Layana Aguilar went to Barcelona, Spain, accompanied by Samantha Black.
Stanley Hudson visited London, England, with Richard Hallmarq.
Patricia Michaels went to Paris, France, accompanied by Katelyn Pankoke.
Daniel Esquivel visited Berlin, Germany, and Amanda Valentine was a long for the trip.
Finally, Michelle Franklin was "punished" for "losing" the Nina Garcia Marie Claire cover challenge on the last episode by having to stay in New York City. Her sewing buddy was Tu Nakchat.
Each of the travelling designers had to fly to their destination city and back within 24 hours. They also had to shop at whatever local fabric store they could find in their destination city. Layana and Samantha discovered that customers cut their own fabric in Spain. Patricia had to learn about Euro conversion in Paris. Daniel and Amanda had to shop in a cheerful but mostly home-dec corner fabric shop in Berlin.
I know Michelle didn't get the chance to travel, but at least she got to shop at Mood!
The designs
There was no winner declared for this episode. The judging panel was only deciding which four designers would present at Fashion Week. The guest judge was singer John Legend. Nice enough guy, and snappy dresser, but not exactly a heavy opinion-maker for this episode.
The loser:
Layana went home for a lace lattice-look jacket inspired by Barcelona. The criticism was that it looked dated, frumpy, and old. I think it was Zac Posen that said that the model looked like Layana's mother standing next to Layana. The flowing pink cuffs on the blouse beneath didn't help the case, either.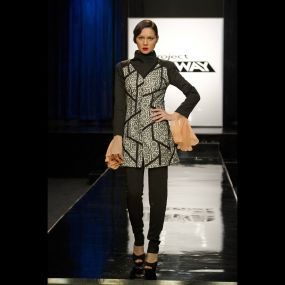 The rest:
Patricia was inspired by the layers of graphiti she saw along the Parisienne streets to create a multi-layered textile. It was an interesting and creative idea, however, the bulky fabric she created did not want to work into a flattering, fitted garment. She still made it to Fashion Week, however.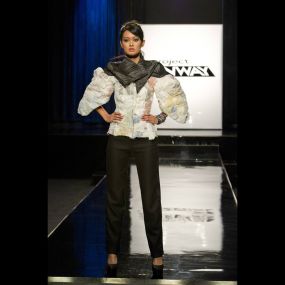 Daniel was influenced by the modern architecture and vibe of Berlin. He created an asymmetrical white pleather jacket and skirt, and thigh-high "boots" (vinyl leg covers). He styled his model with a pompadour, and the overall look was very sleek and modernist. Heidi said she could see the girl fitting right in in a German city. Daniel took some flak, mainly from the other designers behind his back, for using white faux leather. Poor guy didn't have any alternative at the store, though.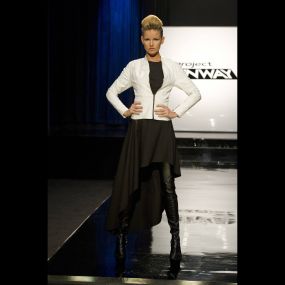 Stanley's look was mysterious, modest, and inspired by London, England. Stanley made a short, removable cape and floor-length gown. It was the sort of minimalist garment that draws you in with hidden details and the overall appeal of the balanced shapes. Stanley had purchased some very expensive leather paillette fabric, which he used as a skirt lining, only glimpsed when the model was returning along the runway to backstage. The design looked a little like a monk's or nun's habit as well, a factor Stanley said he drew from seeing historic London buildings.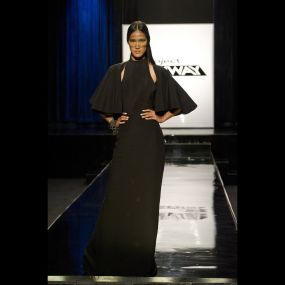 Michelle created a reversible quilted leather bib, worn over a flowing cashmere strapless dress with a full, swinging skirt. Michelle was inspired by the sooty old buildings in New York City sandwiched between glossy new towers of glass. It was inventive, and the workmanship on the bib was fantastic! Thank goodness, they kept Michelle in the competition.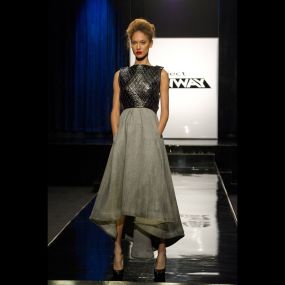 Thoughts…
I'm so glad they kept Michelle and she gets to present at Fashion Week, but I wish she could have seen the bright side of staying "home" a little sooner! No jetlag, currency conversion, or language barrier! She did cheer up by the end of the show, though.
How did you feel about Layana's losing the episode? I thought it would be Patricia, as I watched!
Would you rather have seen Layana's work at Fashion Week or Patricia's?
I think it will come down to Michelle or Stanley? What do YOU think?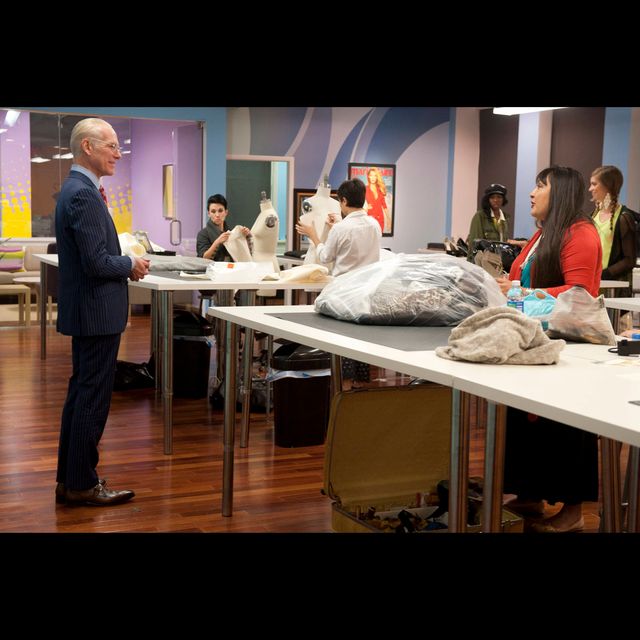 Tim Gunn presents the twelfth challenge to the remaining five designers.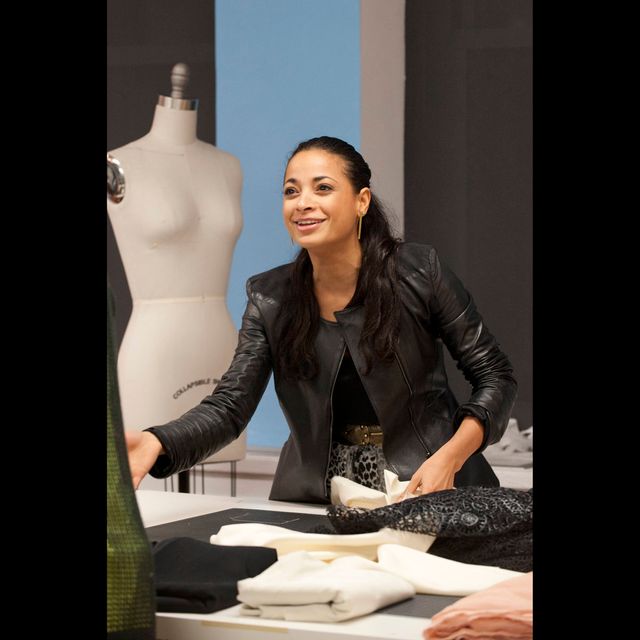 Layana Aguilar working on her design.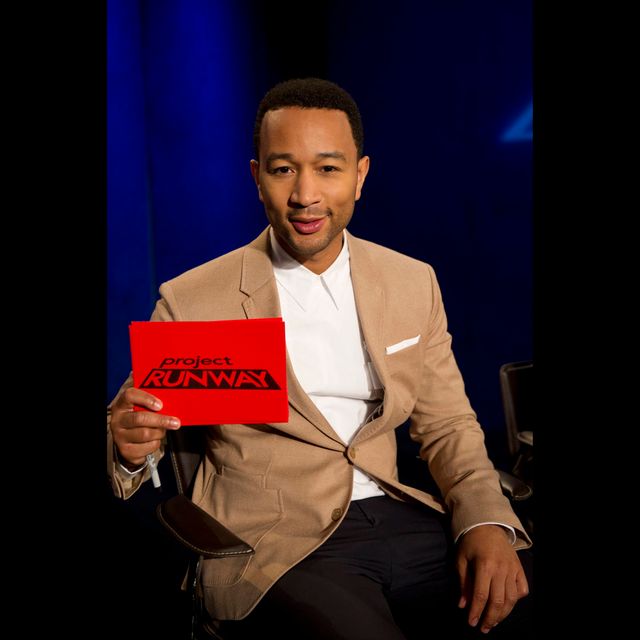 John Legend as guest judge.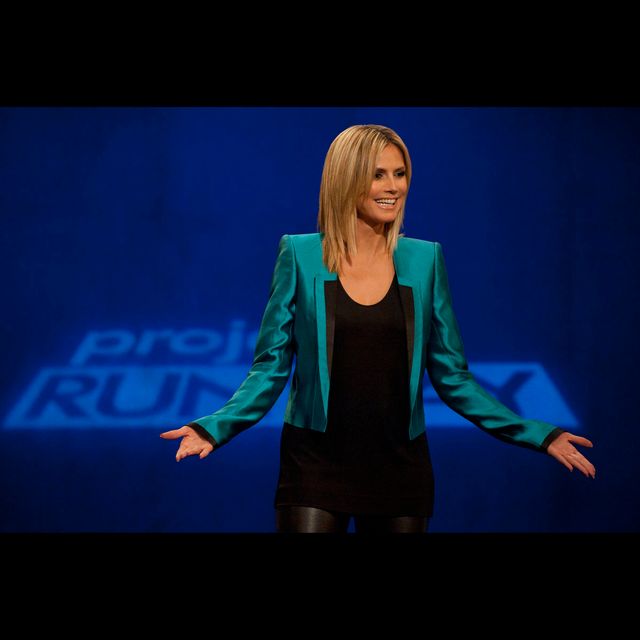 Heidi Klum hosts the twelfth challenge.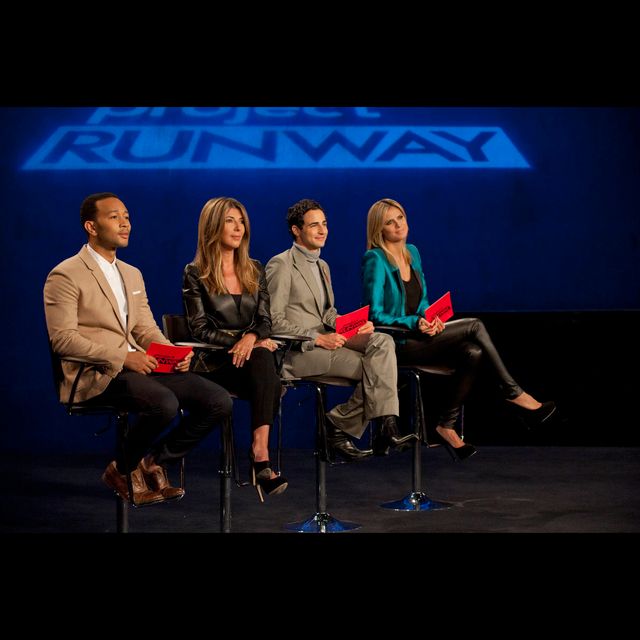 Guest judge John Legend, left, and regular judges, Nina Garcia, left to right, Zac Posen, and Heidi Klum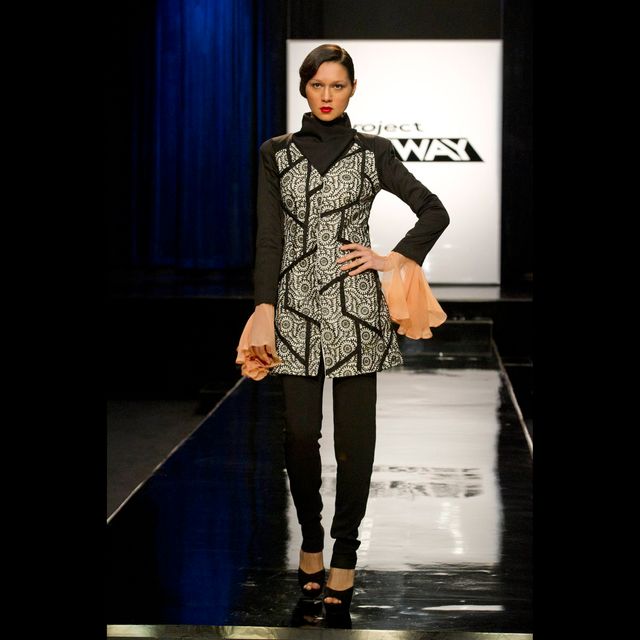 Layana Aguilar's design, inspired by Barcelona, Spain.
Her sewing helper/travel companion was Samantha Black.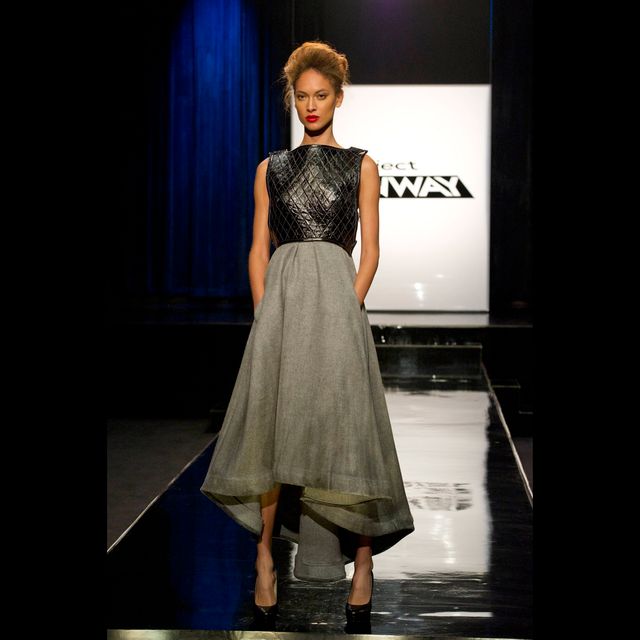 Michelle Franklin's design, inspired by New York City.
Michelle's sewing helper/travel companion was Tu Nakchat.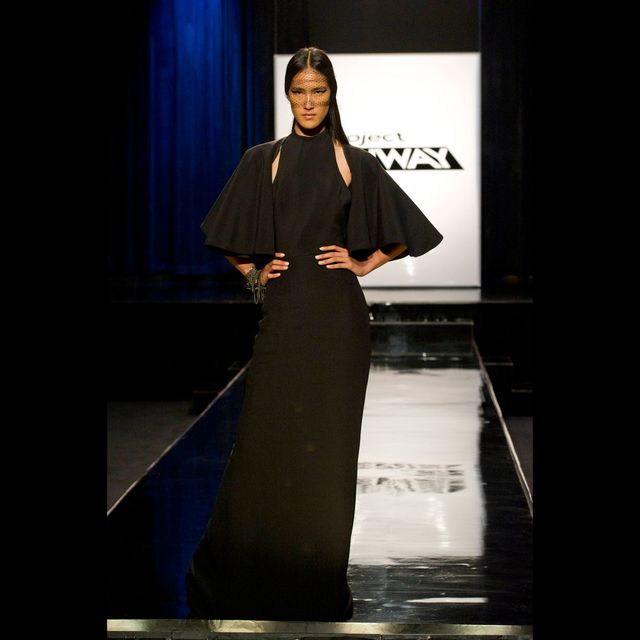 Stanley Hudson's design, inspired by London, England.
Stanley's sewing helper/travel companion was Richard Hallmarq.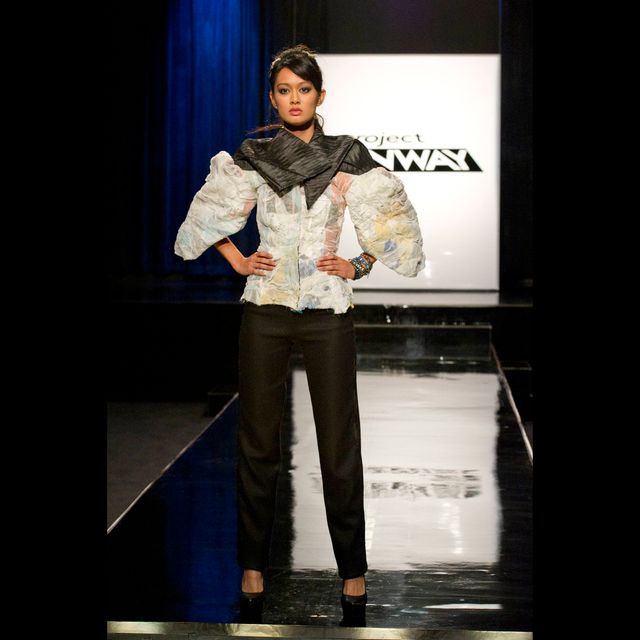 Patricia Michael's design, inspired by Paris, France.
Patricia's sewing helper/travel companion was Katelyn Pankoke.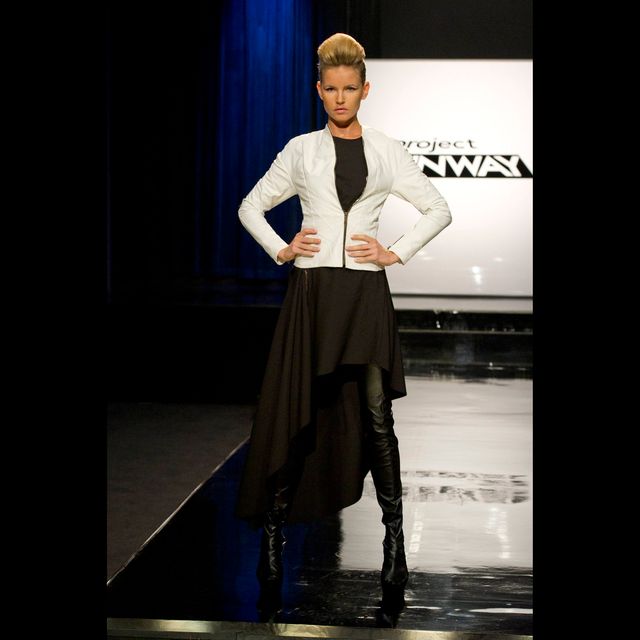 Daniel Esquivel's design, inspired by Berlin, Germany.
Daniel's sewing helper/travel companion was Amanda Valentine.