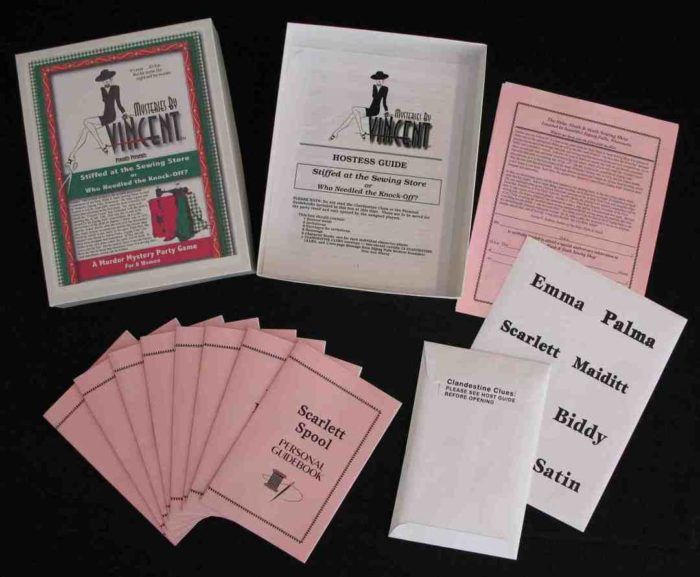 YOU CAN BE PART OF THIS SEWING MYSTERY:
You've probably heard of Murder Mystery Dinners held at well-known restaurants, and Murder Mystery Cruises. Now Mysteries by Vincent has created a sewing mystery game, Stiffed at the Sewing Store or Who Needled the Knock-Off? that you can play in your own home! You and your friends become the invited guests at the seventh anniversary celebration of the Snip, Slash, & Stash Sewing Store! Oh what a great celebration it will be, especially since the store's success was somewhat uncertain in the first place. So, come and join the fun! But be careful, everyone knows there are lots of sharp and dangerous items in a sewing store. And sometimes, sewing can be murder…
WHAT'S INSIDE:
Invite your friends, especially your sewing friends, for a night of fun with this game. Each player will choose from a variety of characters such as Emma T. Bobbin, Scarlett Spool, Nita Tension, and more. Once you've selected your character, you'll privately read the game's identification card describing the character so that you can "transform" into that role during the game. It will be your task to determine who the murderer is while having lots of fun with your friends. The game includes everything needed for an enjoyable evening, including invitations, step-by-step, easy-to-follow instructions, character descriptions, and personal guidebooks for each player, name tags, clues, and more!
YOU COULD WIN THIS SUSPENSEFUL GAME!
Do you like a good mystery? If so, what do you like about them? Answer this question in the comment box below to be entered for a chance to win this game! The deadline for your entry is 11:59 p.m. EDT on Wednesday, May 1. The winner will be announced and contaced via email during the week of the May 6. Good luck!