Create Dramatic Texture and Detail with Curved Tucks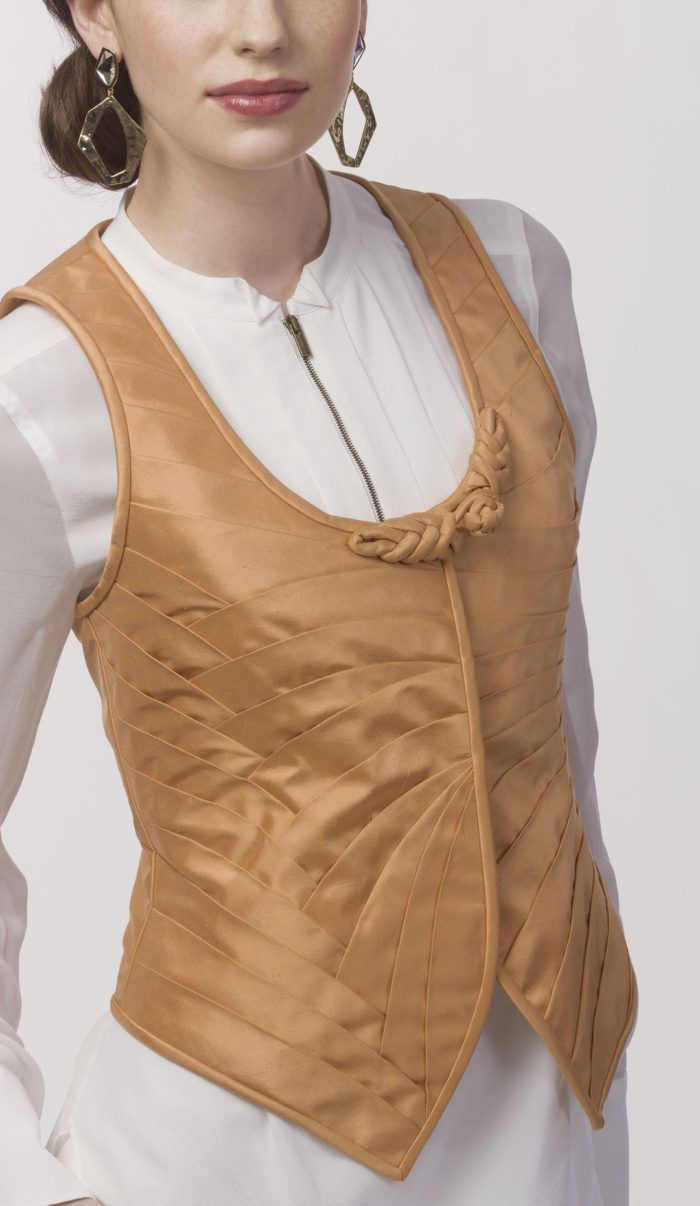 Kenneth D. King explains how to create stunning overlapping fabric tucks in this excerpt from "Curved Tucks" seen in Threads #166. This method for achieving the illusion of intricately sculpted tucks depends on one of the simplest elements in sewing: bias-cut fabric strips. This is an elegant detail for everyday garments as well as glamorous special occasion wear.
Stitch folded strips in parallel rows
This method requires constructing a garment foundation, like an underlining layer, to which the folded bias strips are applied, creating the appearance of skillfully sewn tucks. This gives greater control over the tuck shaping and direction and supports the garment's shape. In the basic technique, strips are stitched in even, parallel rows (vertical, horizontal, or diagonal). Choose any thin, stable fabric, such as cotton muslin, batiste, or cotton shirting, for the foundation layer. Cut the bias strips for the tucks from fabrics with body, such as silk dupioni, satin, crepe, or broadcloth. Reinforce lightweight fabrics with fusible interfacing.
Steps:
1. For the bias strips, multiply the desired finished tuck width by 2, and add 2 inches for seam allowances. For example, for 1-inch-wide finished tucks, cut bias strips 4-inches wide. To cover an entire garment with tucks, triple the fabric required for the garment, and purchase a little extra just in case. Assuming a 4-inch-wide bias strip, 1⁄2 yard of 45-inch-wide fabric yields 5-1⁄2 yards of bias strips, and 1⁄2 yard of 60-inch-wide fabric yields 7 yards of bias strips. Avoid piecing the bias strips end-to-end to prevent introducing seams into the design; because of this, the technique creates some fabric waste.
2. Cut the bias strips. Fold each strip in half lengthwise, wrong sides together, and press, stretching slightly.
3. Position the first folded strip onto the foundation layer. In the samples shown, the folds point up, so they are applied from…
Start your 14-day FREE trial to access this story.
Start your FREE trial today and get instant access to this article plus access to all Threads Insider content.
Start Your Free Trial
Already an Insider? Log in