From Drab to Decorated: Sewing Studio Design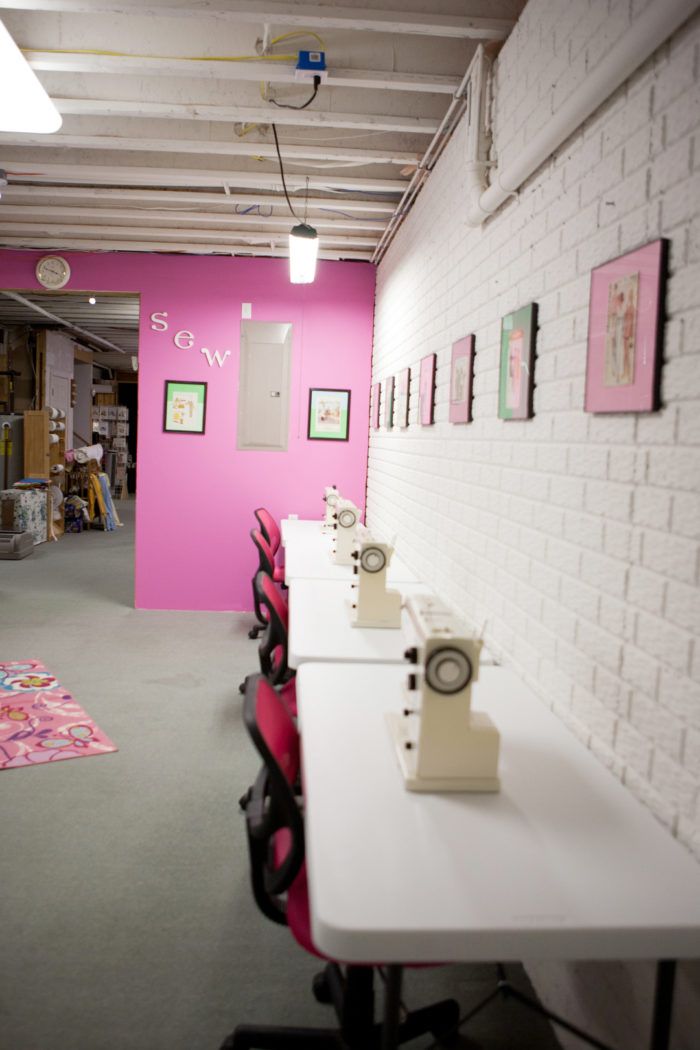 In Threads #167, we featured SewBaby creator Ann Brodsky's two home sewing studios. One, a bedroom studio, serves for her personal sewing, while the other, a large basement studio, is where Ann teaches sewing and designs her patterns for children. Ann recently revamped her business/teaching studio. We thought you'd enjoy seeing more images of the newly redecorated space and reading some other aspects of Ann's story.
In 1994, she started her own business, SewBaby, specializing in fabrics and patterns for children's wear. Ann also teaches sewing at workshops for the community college near her home in Champaign, Illinois. Earlier this year, Ann and her assistant, Shirley Robbins, changed their sewing and shipping area to accommodate a sewing classroom (since many of Ann's community college students didn't have their own sewing machines). The result is an inviting space with lots of color and decorating details to interest sewers.
The studio is a single 700-square-foot room, a section of Ann's basement. The rest of the basement houses the SewBaby inventory. There are several sewing stations around the room's perimeter, with two large cutting tables in the center, a pressing station and shelving units on the side.
Ann has a huge pattern collection, covering five decades. "I wanted to share these wonderful vintage patterns with my students, so I framed the pattern envelopes and hung them around the room." For the studio's palette, Ann used raspberry pink, light aqua blue, black and white, and repeated the colors in the ironing board covers, picture mats, rugs, chairs, and furniture. Vinyl wall decals with sewing sayings are interspersed with the framed pattern envelopes. Since she couldn't do away with the basement sump pump, it's hidden by an office divider with a pretty Marimekko panel print.
"I learned to sew in 4-H with my mother as my teacher," Ann says. "She was amazingly patient, generous and encouraging. I was not always the most cooperative or appreciative student, but she somehow put up with me, and I fell in love with sewing and fashion. However, I didn't think that I could make it my career, so I studied nutrition, worked as a dietitian, then as a book editor."
Ann learned a lot about publishing and marketing from her work, and kept avidly sewing on the side, especially for her two little girls.
When her third child was born, she wanted to make a baby sling, but couldn't find a pattern. She developed her own pattern, and shared it with other sewing friends. That's when Ann realized that her sewing patterns could be marketable. She self-published her first pattern in 1994. It was featured in a magazine, generating enough orders to give her the seed money to start a small catalog with other patterns, notions and fabrics. Her fledgling business was a success.
"It didn't take long until the business had overran our home with fabric in every room, and boxes of patterns in every closet. So, to get our home back, I opened a brick and mortar store and ran it for several years," Ann says.
Having a store was difficult and expensive, however. Ann had to make enough to cover commercial rent and a payroll every month, and it was very stressful. She almost gave up her sewing business at that point, but decided to try bringing it home before she quit. In 2001, her family built a house that was specifically designed for SewBaby, and moved into it. Over the years, the business has gone through many changes. The catalogs have been replaced by a website, SewBaby.com, and printed patterns are also available as downloads. Ann's sold well over a million patterns since her first one in 1994.
"Sewing has given me so much, both personally and professionally, that after my children were grown, I realized that I needed to share my passion," Ann says. "In the last two years, I've offered private lessons, group lessons, and classes. My assistant, Shirley Robbins, is a great help to me in teaching the classes. I've taught after-school groups, and I recently began to lead a 4-H Club, the Spinning Bobbins.
If I have a motto, it is "Just say yes". If someone wants to learn to sew, I'll work with their schedule, their budget, and their goals to make it happen. It's difficult to describe how rewarding teaching has been for me. I feel like I am, in some small way, making the world a better place by helping others to express their creative side. It's empowering to say 'I made it.'
Ann encourages anyone who would like to share their love of sewing to contact local community colleges, schools, and youth programs. She finds there is a huge demand for sewing instruction, and all it takes is figuring out how to connect students and teachers. "You don't have to be an expert–just be patient and enjoy talking about sewing. Your love of the craft will be contagious," she says.
The ongoing opportunity to teach is what led to her studio makeover. What was basically a basement distribution center had to become an inviting place that students would want to visit and revisit. "When I first thought about teaching classes, I contacted my local community college. At first they were not very positive about the idea. The director cited the problem that students had to carry heavy machines across a big parking lot. I suggested to her that I teach the classes at my home, using my machines. She agreed, and the classes filled up. Many of my students begin without owning a machine, but I'm pleased to say that the majority have gone on to purchase their own machines, which makes me feel like I've done my job," Ann says.
She feels that one of the studio's best features is its creative energy, supported by the bright colors, the open space, and the wall decor. There's enough room for students to store project baskets on site. Rather than making them pack up their projects at the end of class, and potentially forgetting to bring back a critical piece, the studio provides each student with a basket to store everything.
There are many tools that she feels make her sewing better and easier. The first is a serger. "It is such a timesaver, and makes everything that you make look more professional."
The second is a rotary cutter. "You can cut out a pattern in a fraction of the time it would take with scissors."
The third is a good iron. "There is a saying 'Well-pressed is half sewn.' With my students, I stress that I don't care if they ever iron after their project is made, but while making it, pressing is essential."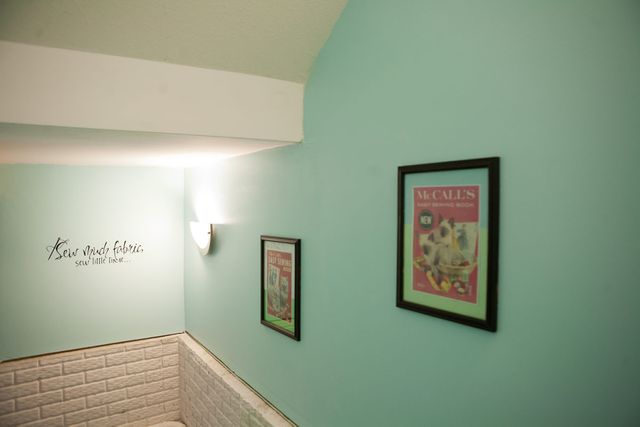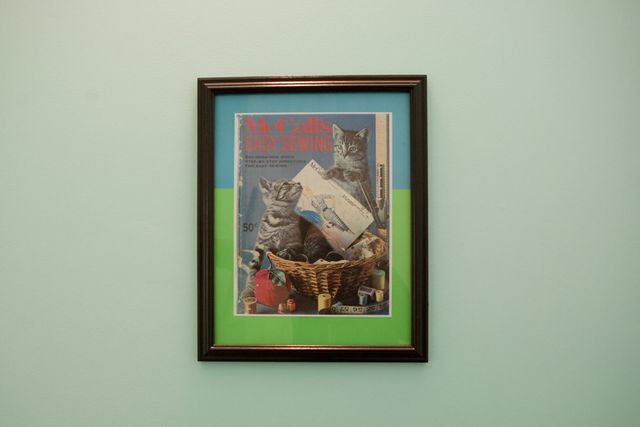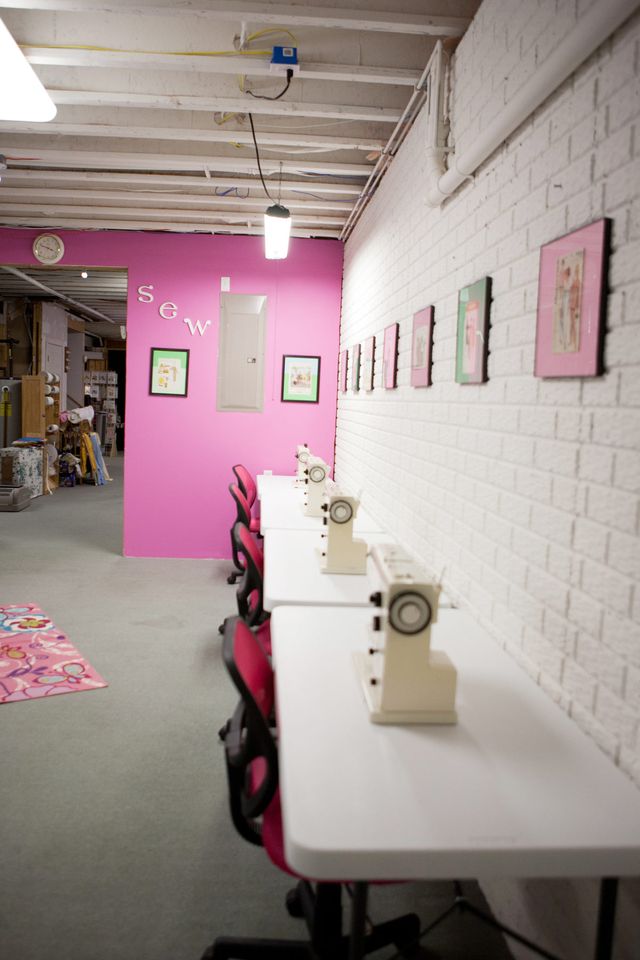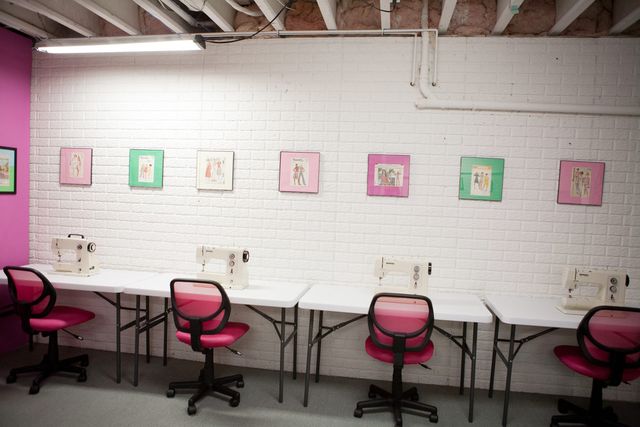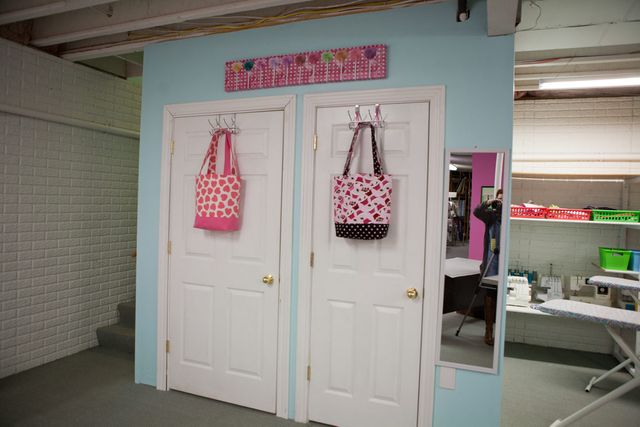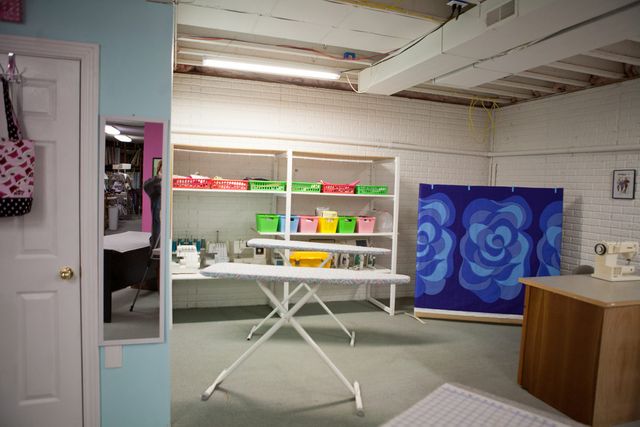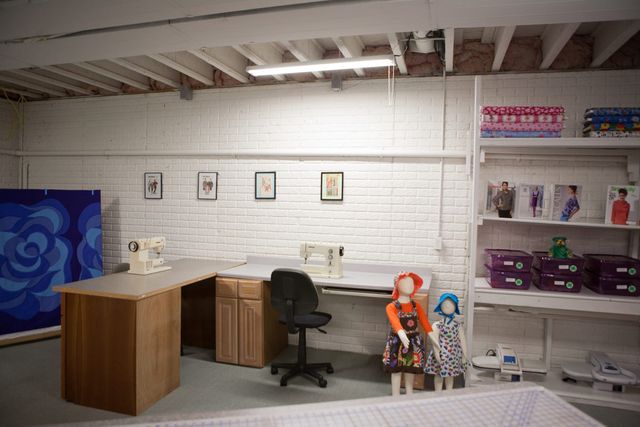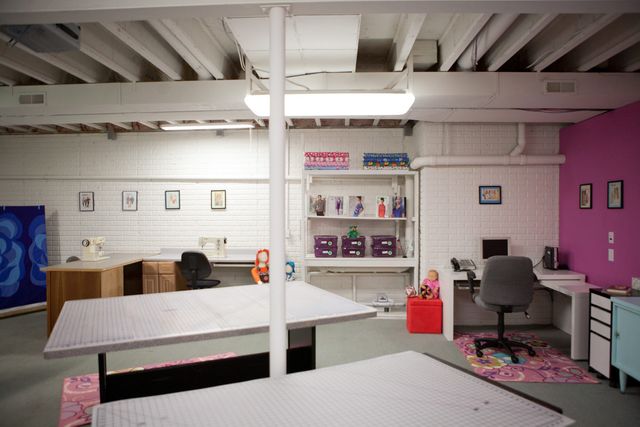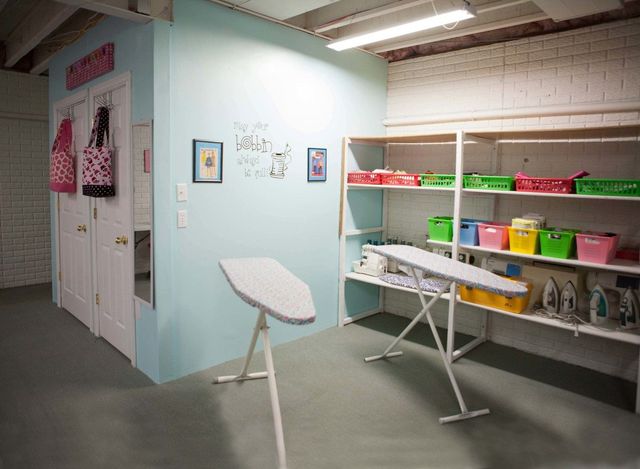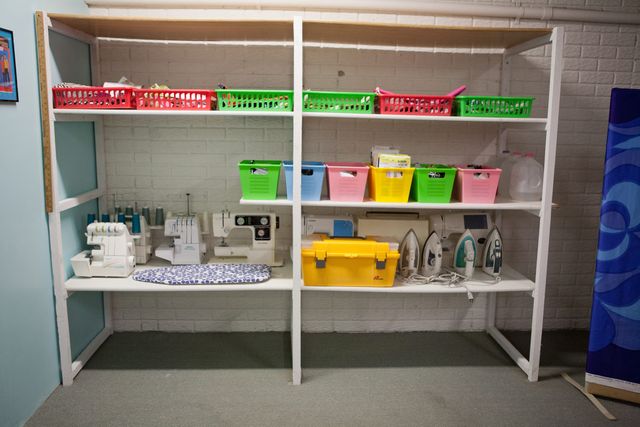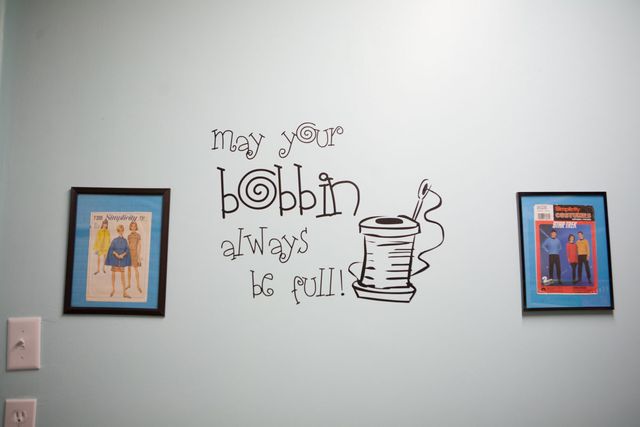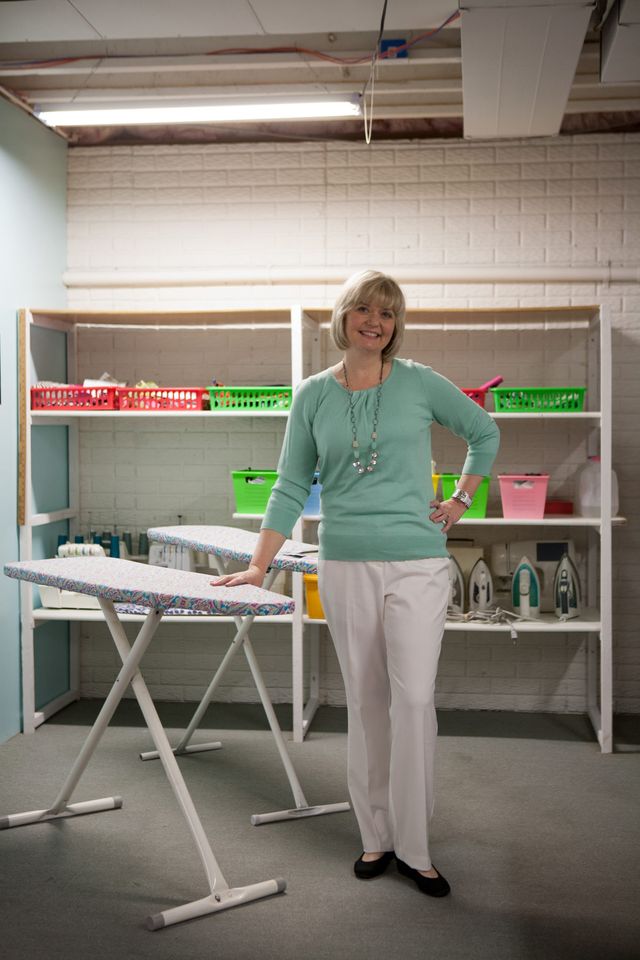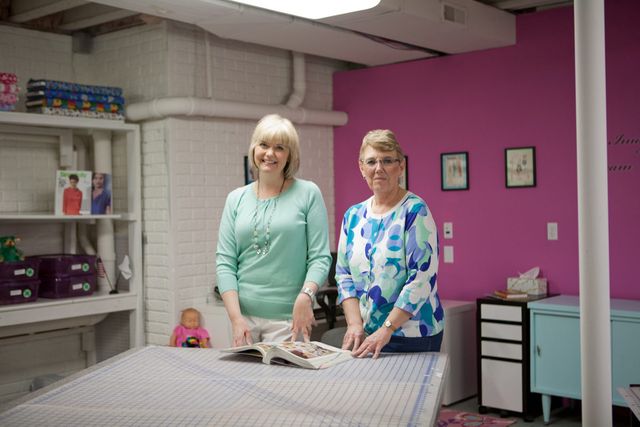 Ann Brodsky and her assistant, Shirley Robbins.