Project Runway 11, Episode 14: "Finale, Part 2"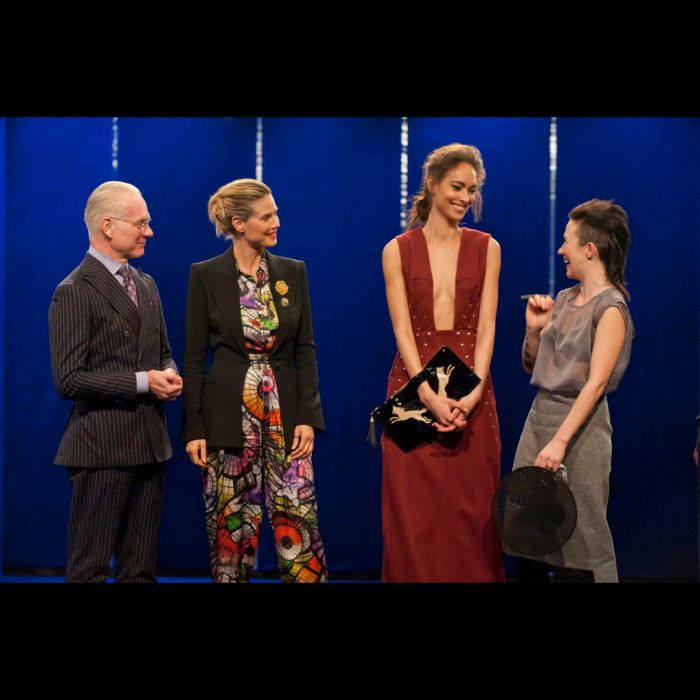 Let's get right to the point: Michelle won!
In last night's season finale for Project Runway's 11th season, we got to see 12 looks each from the final three designers.
Michelle Franklin showed a collection based on the concept of a lone she-wolf, looking for one last kill to keep herself alive. Michelle explained to the judging panel that it was a metaphor for her whole experience on Project Runway – losing her pack, then working on her own.
Michelle's final runway look: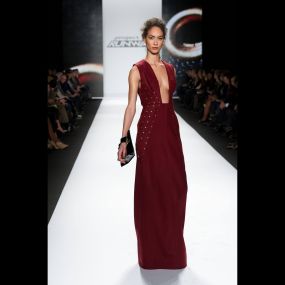 Go to SewStylish's FaceBook page to see a gallery of Michelle's entire collection.  
Patricia Michaels channeled Native American traditions into modern silhouettes in her collection. Patricia displayed some amazing textiles and embellishments she'd created herself.
A look from Patricia's final collection: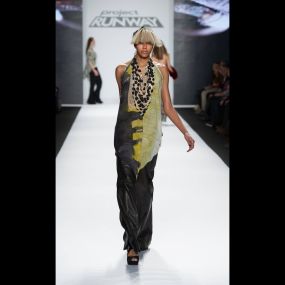 Visit SewStylish's FaceBook page to see a whole album of Patricia's designs.
Stanley Hudson's collection reflected "Urban Opulence." Stanley created an elegant collection with embroidered and beaded embellishments. It was dinner looks for the ladies who lunch.
Stanley's final runway look: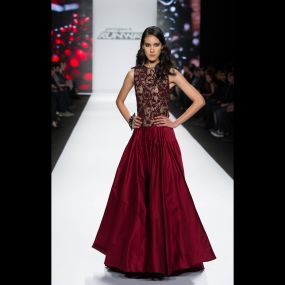 See Stanley's whole collection at SewStylish's Facebook page.
The two-hour episode included a big build-up to the runway shows at Lincoln Center.
Patricia was a bit scatter-brained, but managed to find all of her pieces and pull it together. 
Michelle seemed to have everything under control from the start.
Stanley was shockingly disorganized! He had four fitters completing the garments seconds before the models hit the catwalk!
Michael Kors returned as a finale guest judge to help Heidi Klum, Nina Garcia, and Zac Posen select the winning designer. 
Michelle's husband, brother, and mother were there to celebrate. Michelle said she felt from the start that she could win, and despite such a rough road in the initial team challenges, she pulled it off wonderfully.
AND, I just want to mention that the winning model, Lisa, was featured in our Spring 2012 SewStylish. She was great to work with, and now she's won a well-deserved $25,000 and a big fashion spread in Marie Claire magazine. Yay Lisa!
Next week
We'll get a chance to dish about the "Reunion Special." It looks as if Daniel Esquivel has some venting to do, and Cindy Marlatt takes on Benjamin Mach about his attitude.
What did you think?
I totally agree that Michelle's collection was cohesive, interesting, and well made. But to be honest… I paused the show playback before the judging and gauged my gut reaction. I thought Patricia.
Patricia's show inspired the most positive response. It made me smile. I wanted to see the clothes close up. I wanted to try them on. I wanted to see what the fabrics felt like. I wanted to inspect the hand-made paillettes. I was more interested in what Patricia had done. 
What was your reaction to the runway collections? Do you think the critique was fair to Stanley? Do you think Nina eliminated Patricia's chance to win?
Which designer's collection did you most admire?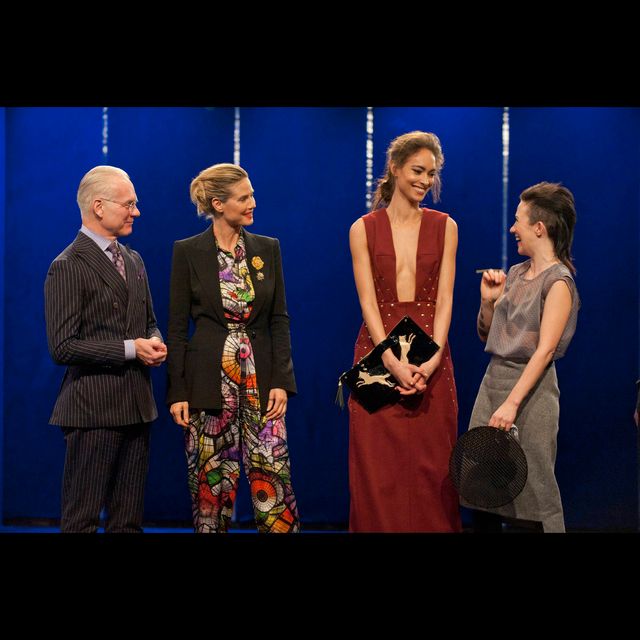 Tim Gunn, Heidi Klum, and model Lisa congratulate Michelle Lezniak Franklin on winning Project Runway Season 11.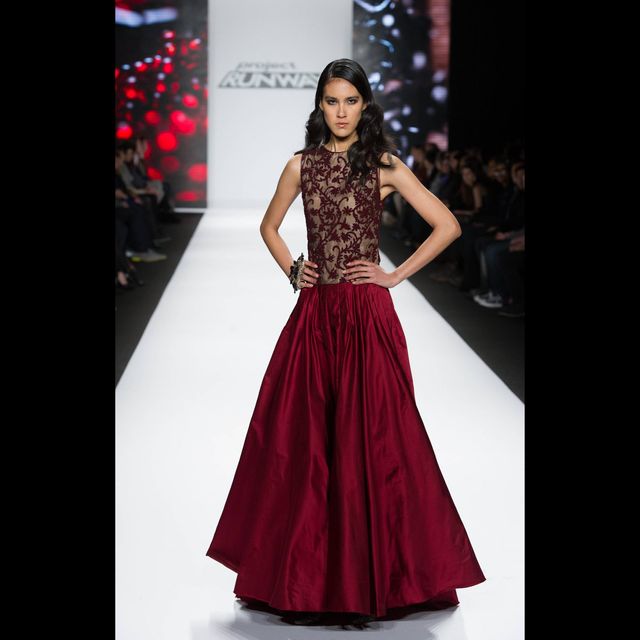 Stanley Hudson's closing look for his Project Runway fashion show.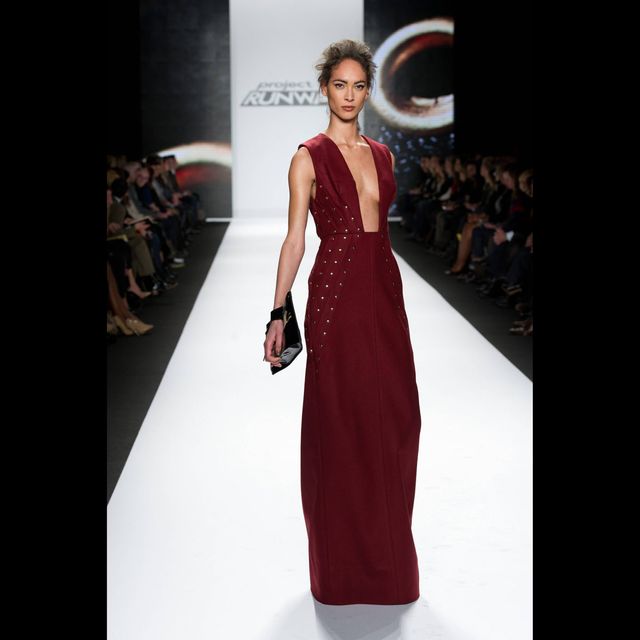 Michelle Franklin's closing look for her Project Runway show.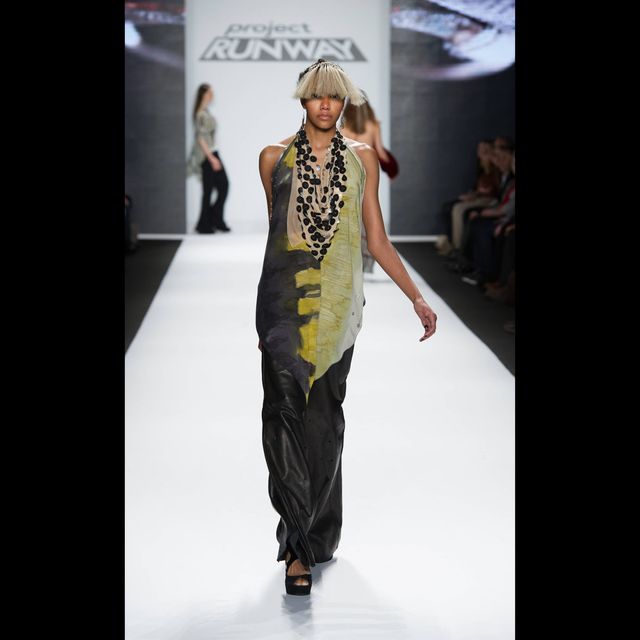 A look from Patricia Michael's final show for Project Runway's season 11. (Note, I didn't show Patricia's final look because we saw it in the last episode.)