DVD Giveaway: Design Your Own Wardrobe with Mary Ray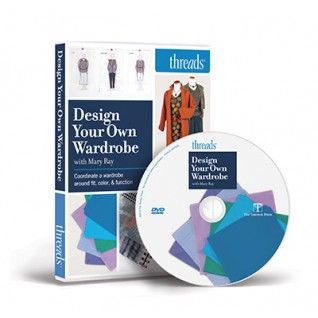 BUILD A WARDROBE THAT WORKS FOR YOU!
Design Your Own Wardrobe with Mary Ray (Taunton Press, 2013) is our latest instructional video, and it's for all sewing levels. Frequent Threads magazine and Taunton Press author, Mary Ray, describes the perfect approach to help you create an awesome wardrobe that flatters your body type, emphasizes your personal style, and maximizes your options. She takes you through all of the important steps and lessons that will result in your own personal, one-of-a-kind, flattering wardrobe.
DESIGN WHAT YOU LOVE!
By considering your personal needs and best color patterns, you will learn how to tweak patterns and how to mix what you sew with what you buy. Mary will also teach you how to design around key pieces and use different prints and fabrics to your best and most flattering advantage for a wardrobe with endless possibilities. After watching this video, you'll never again say, "I have nothing to wear," because you'll have an amazing wardrobe that fits your personality and style!
YOU COULD WIN A COPY!
Would you like to add this DVD to your collection? If so, comment below and tell us what you find to be the hardest part of creating your own wardrobe. You'll be entered in our random drawing for the DVD. You must make your comment before midnight on June 4, 2013, and the winner will be announced during the week of June 10. Good luck!