Decorate Your Fabrics with Stenciling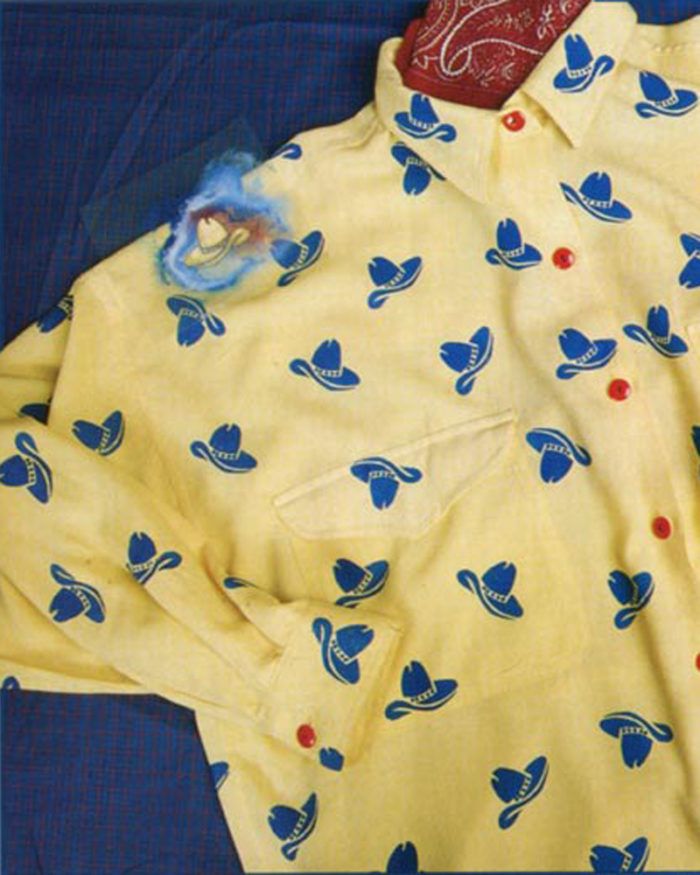 Mention the word stenciling, and most people think of Early American interiors with stylized pineapples, eagles, and scrolling leaves repeated along the walls. It's a classic case of confusing a technique with a style. Apply modern materials and imagery to the process, and stenciling becomes one of the easiest techniques to explore and one of the most flexible methods for decorative surface design. It can be done on any flat surface, but I prefer to stencil on fabric. I've worked out many variations of the basic technique, and I haven't looked at a piece of cloth or clothing in the same way since.
I use easy-to-cut acetate for stencil material and scraps of foam-rubber sponge to apply the fabric paint, and I can cut out a complex, subtle stencil and be printing in minutes. I've even transformed ready-to-wear, like the shirt in the photo above, with stencils, creating a new and unique garment in a few hours.
There are a number of sources for precut stencils and designs, but creating and cutting your own designs is so simple that precut ones are unnecessary. If you're protesting that you can't draw and that you always work from predesigned patterns, relax. There are designs to trace everywhere, and not just from stencil books. Pictorial archives of stained-glass patterns, woodcuts, family crests and logos, historic and ethnic symbols, and letter forms are all wonderful resources for designs that easily translate into the flat shapes of stencil design, and they're just the tip of the iceberg. Strong designs can be made up of very simple shapes, and you can get great results with just one or two that you find pleasing. By masking, layering, and combining a few stencil images, you can produce an unlimited number of new images. I'll…
Start your 14-day FREE trial to access this story.
Start your FREE trial today and get instant access to this article plus access to all Threads Insider content.
Start Your Free Trial
Already an Insider? Log in