Watch How to Make a Lace Top on Its Sew Easy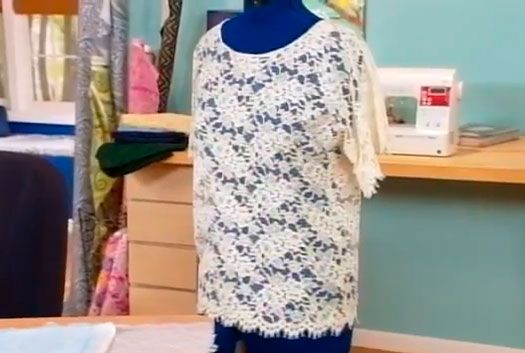 As we've mentioned before, Threads magazine is a major sponsor of PBS sewing show It's Sew Easy. Our editors have filmed several segments for three seasons of the show. The show's producers are sharing full episodes from previous seasons on ItsSewEasyTV.com for free viewing. Each episode is available for one week on the show's homepage.
Watch as Deana Tierney May shows you how to create a lovely lace top on It's Sew Easy.
Photo: KS Productions
Starting at noon on Friday, July 19, ItsSewEasyTV.com will air episode 305, in which Threads' former editor, Deana Tierney May, demonstrates easy techniques for creating a simple but stunning lace top. She shows you how to draft the top and cut it out while making the best use of a scalloped lace border, as well as a bridal industry method for preserving lace motifs at garment seams. These techniques were also explained in the winter 2011 issue of Quick Stuff to Sew in the article "Lady Lace."
You can also watch this segment, download the original article and the accompanying pattern in a previous post right here on ThreadsMagazine.com.
If you want to see more of It's Sew Easy, DVDs of each season are available for purchase or you can watch more episodes of season three online in the coming weeks (a different episode is posted each week). Or, check your local PBS channel's program listing to see if It's Sew Easy is available for viewing in your area.
Do you love lace for everyday garments like the top in the video?