Book Giveaway: Dressmaking: 200 Q&A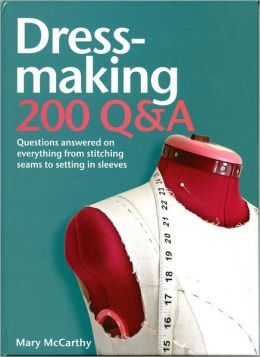 WHAT'S INSIDE?
Learn everything you need to know from adjusting patterns to marking pleats with the book Dressmaking: 200 Q&A (Barron's, 2012) by Mary McCarthy. This book is filled with questions, all ranging from stitching seams to setting in sleeves. This book has all the answers to solve your dressmaking problems.
This books also includes questions that are designed for beginners and experienced sewers. Inside are chapters that cover measurements and fitting, cutting out fabric, hand sewing, sewing pleats, collars and sleeves, and much more! The pages a illustrated with clear, detailed photos that will make your sewing experience even easier!
LEAVE A COMMENT TO WIN!
Do you have any tips and tricks to dressmaking? If so, share it with us by leaving a comment below and you will be entered to win this amazing book! The deadline for your comments is on Friday, August 2, 2013 at 11:59 p.m. ET and the winner will be randomly chosen and annouced on or around August 5. Good luck to everyone!