See What's Inside SewStylish Fall 2013!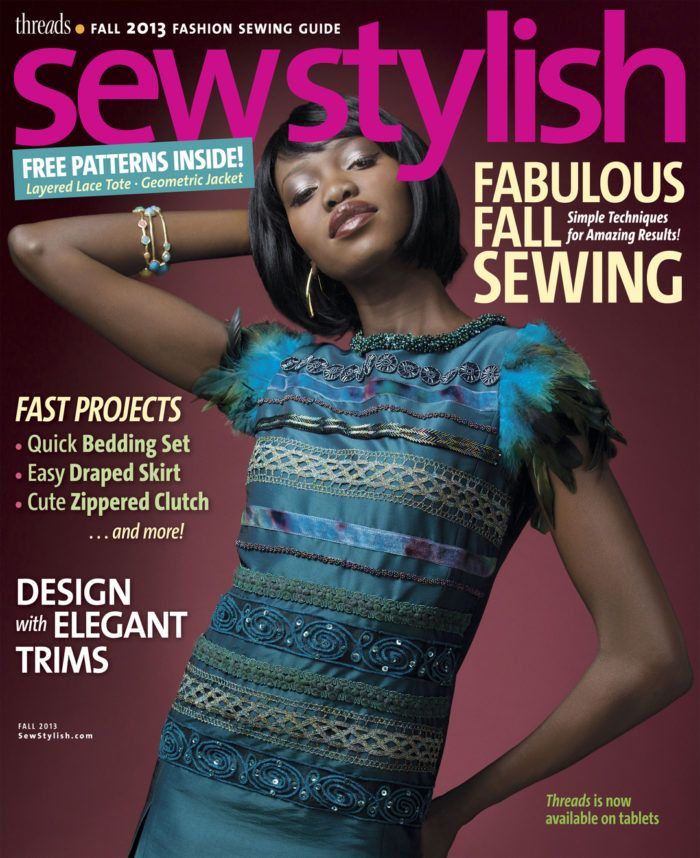 SewStylish Fall 2013 is now available, and you won't want to miss it. It's filled with great techniques and easy-to-sew fall fashions. Don't forget that you can also purchase the tablet edition of SewStylish Fall 2013 for the iPad. Download the app now.
The Highlights
• Inspired Sewing. Three designers take one pattern for a spin.
web extra: How to turn neckties into bias binding.
web extra: Add a quick and easy elastic waist to a skirt.
• Gorgeous Trims. Discover the world of showstopping embellishments.
web extra: How to make a fabric rosette embellishment.
• Learn to Drape Skirts. So many designs start with a simple rectangle.
web extra: Transfer a muslin drape to pattern paper.
• Layered Lace Tote. Make a glam bag in no time.
• Geometric Jacket. Straight lines make it easy to sew this fall staple.
• Building-Block Bedding Set. Construct shams and a comforter from simple squares.
• Impressive Tools. Creative solutions for better ironing.
web extra: Here are some tips for better pressing.
• Machine Needles. Select the right type to match fabric and thread. 
•Line Only the Sleeves. Make jackets look better and wear longer.
web extra: Learn how to customize shoulder pads with lining fabric covers.
And of course, you'll also find our regular departments:
•Designer Insider. Gretchen Hirsch reinterprets retro fashion for modern sewers.
•Cool Tools. Fabric dye, custom hams, and many more.
•Fabric Lab. Lush velvet is this season's most decadent fabric.
•Fast & Fabulous. Whip up a cute zippered pouch in an hour.
•Trend to Technique. Turn fabric into fashionable ruffles.
•Couture Know-How. Finish your projects with Chinese knots.