Project Runway Season 12, Episode 7: "Shoes First!"

Time for shoe puns!
The designers had to "step it up" this week.
Some "sole searching" was in order for the remaining challengers.
One designer had a look that was a "shoe-in" to win, while another designer was "booted."
And finally, instead of a recap, consider this a "retread":
On the latest Project Runway episode, the designers travelled to the Marie Claire magazine offices. There, they met editor-in-chief Anne Fulenwider and Tim Gunn in the magazine's vast shoe closet. The designers had to come up with looks inspired by the shoes, and each selected a pair from the closet after correctly answering a fashion quiz question.
(Example question: Christian Louboutin based his famous red soles on an employee's what?
Answer: Nail polish.)
Miranda was the last to select her shoes – she was unable to answer a single question correctly. She voiced a wish that the questions had been about "wallpaper or photography." Wallpaper??
CBS sitcom Big Bang Theory actress Kaley Cuoco was the guest judge, along with Anne Fulenwider.
The winner
Helen Castillo wowed the judges with a minimalist cape and dress. The fit and cut looked impeccable. Helen's shoes were black booties with studded toes.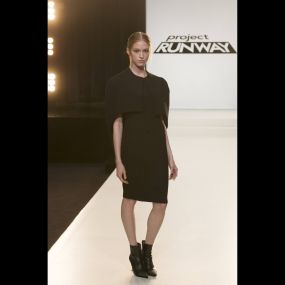 The loser
Miranda Levy created a short white jacket, sleeveless white blouse with polka dots, and high-waisted, pegged plaid pants to go with her red patent smoking slippers. Oddly, the model was styled to look sort of like the late singer Amy Winehouse.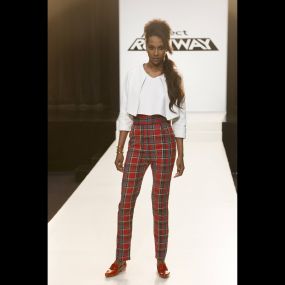 All the rest
Alexandria von Bromssen's design: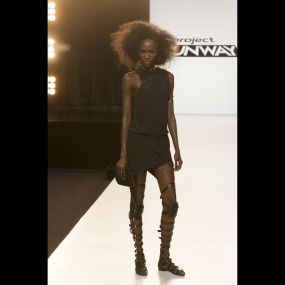 Alexander Pope's design: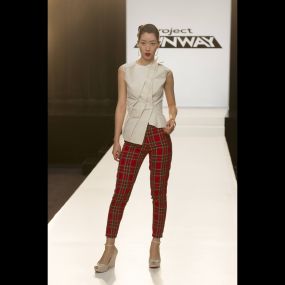 Ken Laurence's design: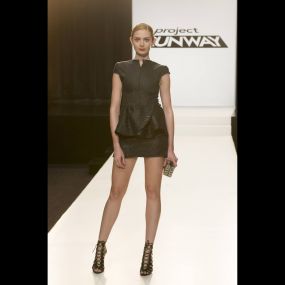 Dom Streater's design: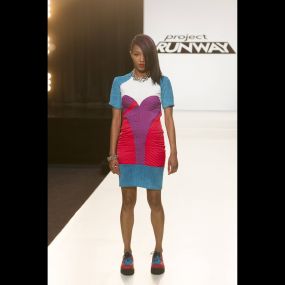 Justin LeBlanc's design: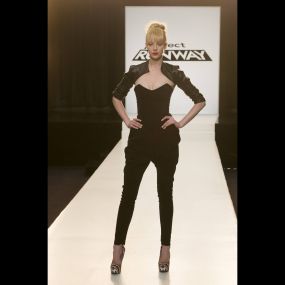 Bradon McDonald's design: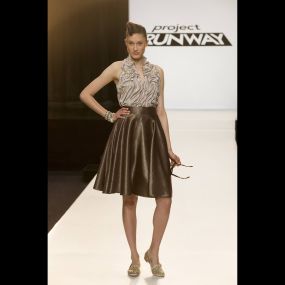 Karen Batt's design: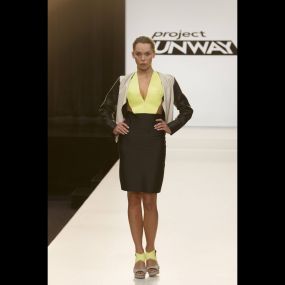 Jeremy Brandick's design:
Katelyn Pankoke's design:
What did you think?
First, I must apologize for the late timing of the post this week. It's been a difficult week – I just moved to a new apartment and there was the Labor Day holiday, so I have been catching up. I should be able to cover tonight's episode first thing tomorrow, though!
Do you agree with the judges' decision for the winning design?
Was there another look you preferred over Helen's?
What about the losing design? Do you agree with the choice to send Miranda home?
Or was there another design you thought was worse than Miranda's?
Do you have a favorite to win?
Who do you think will be "Aufed" next?
And finally, wasn't it adorable when Swatch the Mood dog licked Tim's ear? Tim was looking for Swatch's toy ball under the fabric racks at Mood. Wouldn't you know Tim would treat a pet as courteously as any person!
Jeremy Brandrick has to make it work for the seventh challenge 
Karen Batts has to make it work for the seventh challenge
Alexandria von Bromssen's design.
Bradon McDonald's final design 
Miranda Levy's losing design.
Jeremy Brandick's design.
Katelyn Pankoke's design.
Helen Castillo's winning design.
Anne Fulenwider, left to right, Kaley Cuoco, Nina Garcia, Zac Posen and Heidi Klum judge the seventh challenge
Get the latest including tips, techniques and special offers straight to your inbox.