Sew Social Project to Benefit Quilts for Kids Foundation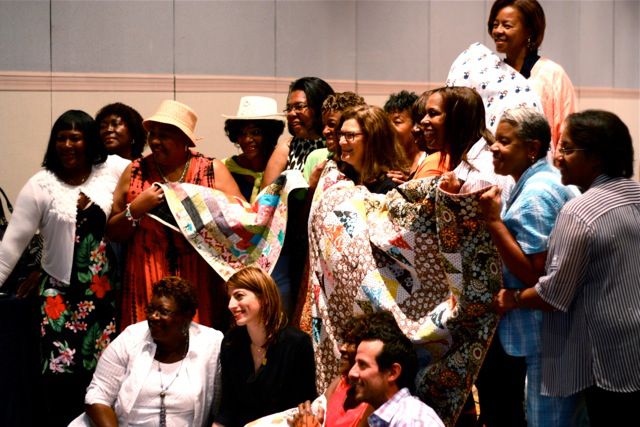 While it can be hard to find time to reach out and help others, here's your chance to perform a good deed while being creative at the same time.
ABOUT THE SEW SOCIAL PROJECT
Camelot Fabrics and the Mothers of Professional Basketball Players (MPBP) organization have joined forces to launch a brand new charity project, known as the Sew Social Project. From now until December, these two organizations will donate as many quilts as possible to the Quilts for Kids Foundation, which aims to bring comfort to children dealing with abuse or life-threatening illnesses.
To launch the Sew Social Project collaboration, Camelot Fabrics, the MPBP, and Quilty magazine creator, Mary Fons, gathered on August 4th for an exclusive quilting party in Orlando, FL. Participants worked together to create centerpieces for lap quilts using artwork, family photos, and unique messages, which were later transferred onto fabric.
HOW YOU CAN HELP
In combination with the launch, Camelot Fabrics has built a microsite to allow supporters to create their very own virtual quilt blocks, which will be converted into actual lap quilts. Both these and the quilts made by the MPBP will be donated to the Quilts for Kids Foundation.
For more information on the Sew Social Project, you can access their press release here and watch their launch video. You can also learn more about the Quilts for Kids Foundation at Quiltsforkids.org.
What kinds of sewing-related charity projects have you participated in over the years? Have you already taken part in the Sew Social Project? If so, share your experience with us below!