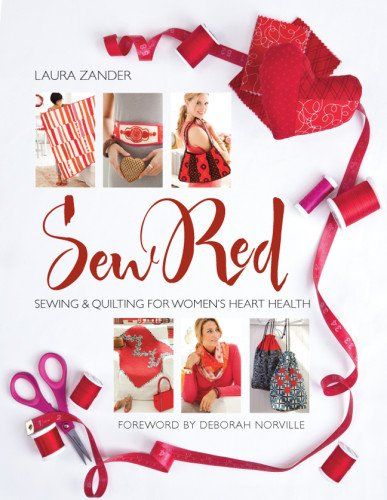 JOIN THE FIGHT
Sew Red: Sewing & Quilting for Women's Heart Health (Sixth&SpringsBooks, 2013) by Laura Zander is not only full of fun patterns to sew, but it's also an appeal to women to take charge of their heart health and prevent heart disease, the number one killer of women in the United States. Included with the patterns are stories of personal experiences involving heart health from the well-known designers who have contributed their patterns to create the book, including: Amy Butler, Kaffe Fassett, Linda Lee, Nancy Zieman, and many more.
WHAT'S INSIDE?
There are over 20 different patterns each from a different author/designer. Also included are tips, resources, and recipies to keep your heart healthy!
COMMENT TO WIN!
What do you do–or what do you plan to do–to keep your heart healthy? Leave a comment, and you will be eligable to win! The deadline for your comments is November 27, 11:59 p.m. EST, and the winner will be choosen the week of the December 2. Good luck and stay healthy!