3 Techniques for Stitching to a Dart Point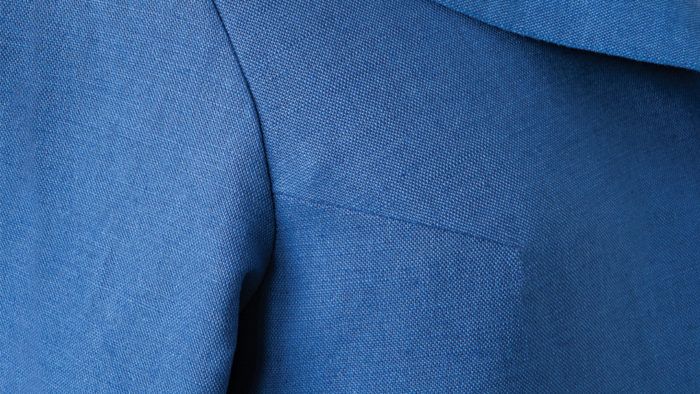 In "Teach Yourself to Sew: Dart Smarts," Threads #170 (Dec. 2013/Jan. 2014), Sandra Miller shares some fabulous secrets for achieving great-looking darts. All the fuss over dart points is for a reason—to avoid the dreaded dimple on the garment's right side. "I think the most common path to the dimple is to sew happily along the dart, then suddenly realize the point is close and veer dramatically to get there," says Sandra. Here are three ways to reach the dart point for smooth results.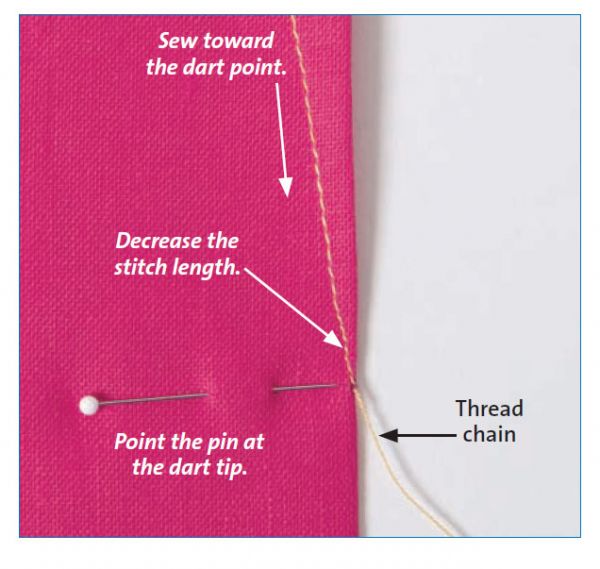 Method 1: With a 2.5-mm stitch length, sew from the dart's widest section toward the dart point. When the stitching is 1⁄4-inch from the dart point, shorten the stitch length to 1.5 mm. Sew to the point and continue stitching off the fabric edge. Stitch "in the air" for 3⁄4-inch, then cut the thread chain. The chain survives laundering surprisingly well. However, use care the first time you try this method. Some sewing machines don't handle stitching off the fabric well.
Method 2: As with the first method, sew toward the dart point with a 2.5-mm stitch length, and reduce the stitch length to 1.5 mm for the last 1⁄4-inch. Stitch precisely to the fold; at the last stitch, stop and raise the needle and the presser foot. Pull the fabric about an inch away from the needle. Reposition the dart value under the needle, lower the presser foot, and stitch 1⁄4-inch in the dart value. Trim the threads. The stitching at the point will remain secure.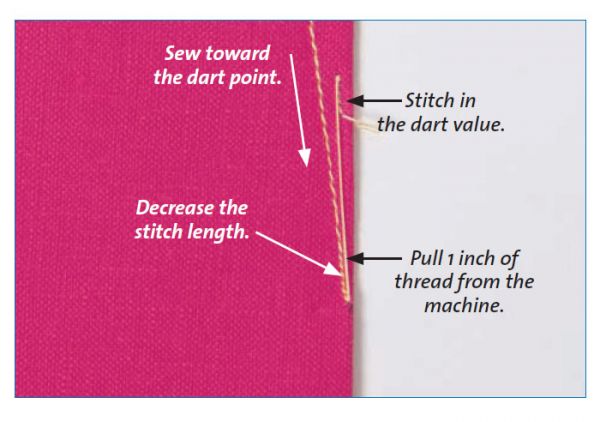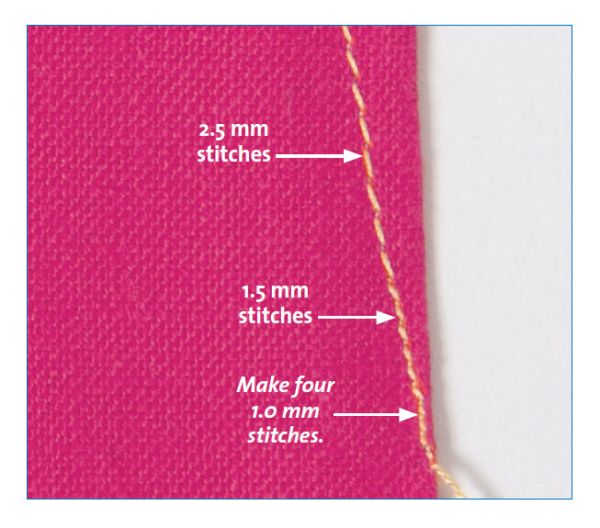 Method 3: This is a favorite technique for light, smooth, tightly woven fabrics, such as cotton shirting, that tend to show every stitch imperfection. As before, use a 2.5-mm-long stitch to the last 1⁄4-inch from the dart point, then shorten the stitch length to 1.5 mm. Stitch to a thread away from the fabric fold at the dart point. Reduce the stitch length to 1.0 mm. Take four more stitches straight along the fold, just a thread from the fold (this can take practice). Stitch in the air or in the dart value to secure the threads and finish.
Will you try any of these methods? If you have any other techniques for reaching the dart point, please share them below in the comments section.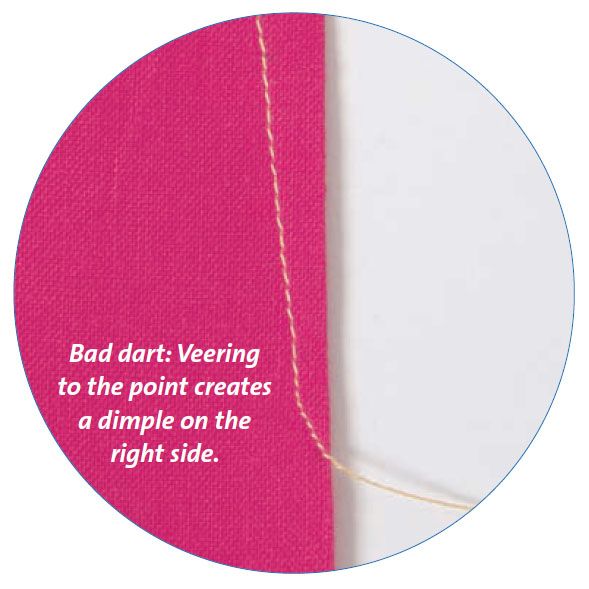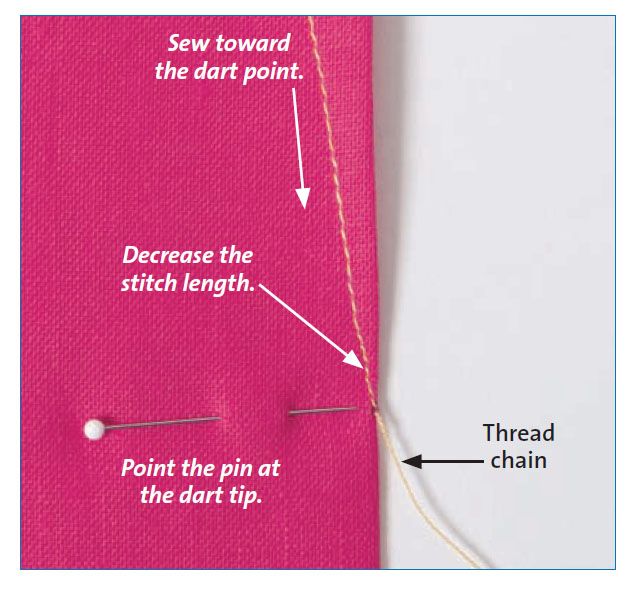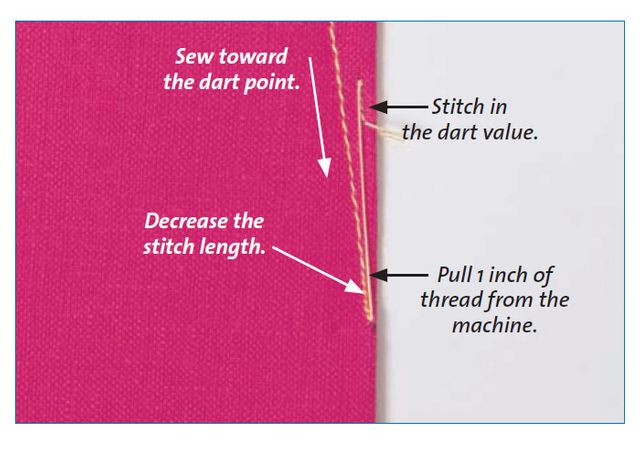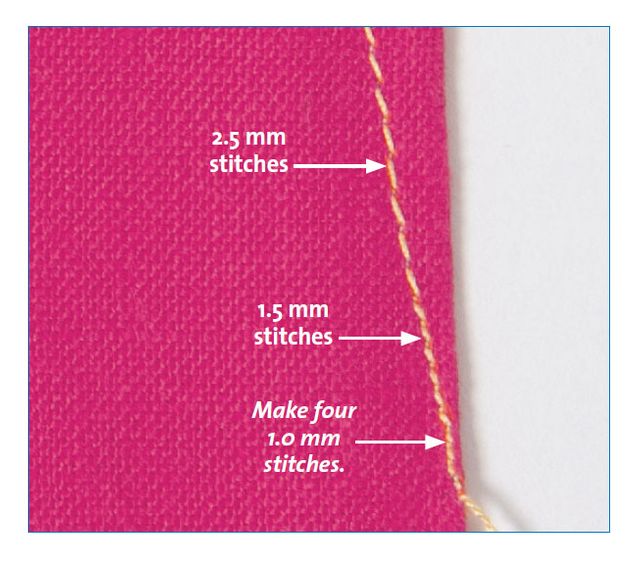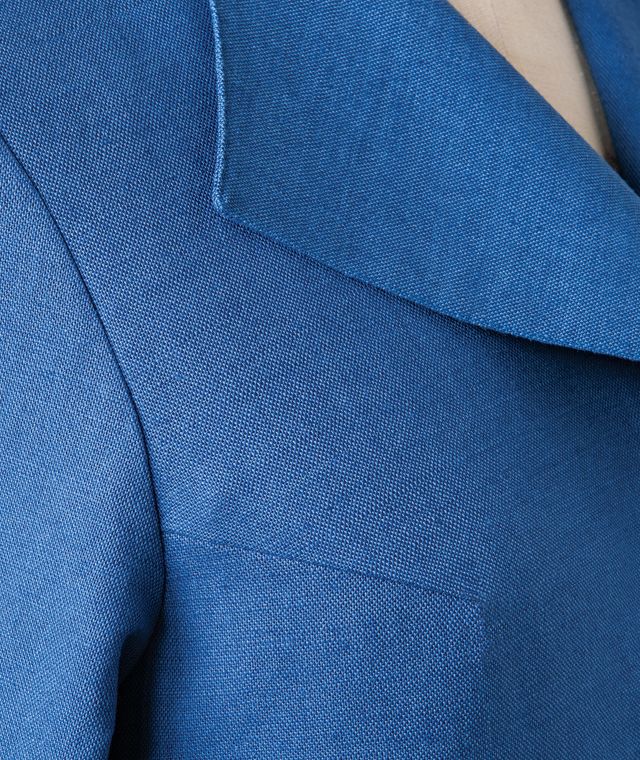 A precisely sewn dart shapes a garment almost invisibly.