Do you sew for charity or support a sewing-related charitable group?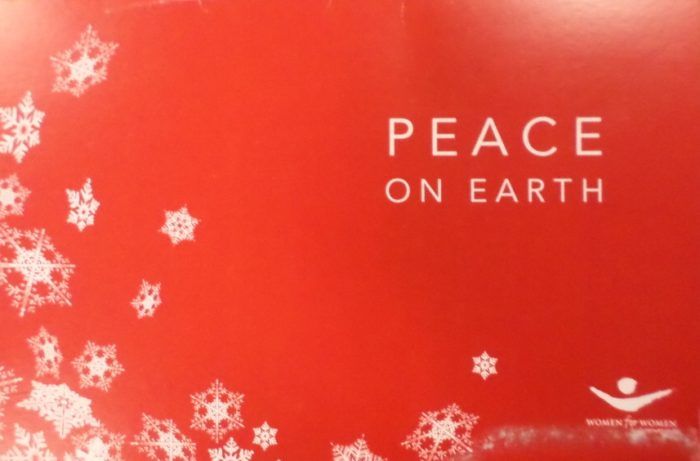 WOMEN FOR WOMEN INTERNATIONAL
This morning I opened a touching holiday card from my daughter. The card's message said: "Erica Mohr gave a symbolic gift of A Sewing Machine in your honor to Women for Women International." The sewing machine will be provided to a woman in Afghanistan, Kosovo, or DR Congo to help her become self-sufficient, perhaps with a small home tailoring business. Women for Women International supports women in war-torn regions with financial and emotional aid, job-skills training, rights education, and small business assistance so they can rebuild their lives. In addition to sewing machines, other gifts can be donated including fabric, classes, livestock and many other items. The card brought tears to my eyes. Too often I forget how blessed I am to be able to sew in a dedicated room with a state-of-the-art sewing machine and serger, a large (larger than it should be!) fabric stash, and just about every conceivable sewing notion at my fingertips. The card made me pause and think about how fortunate I am.
SEW GREEN
Our Threads Editor, Sarah McFarland, supports SewGreen, a not-for-profit organization located in Ithaca, New York, near where she grew up. SewGreen operates a reuse/resale store for sewing textiles and supplies donated from the community. Proceeds after expenses go to support youth jobs and education. They also offer affordable sewing classes for all ages. SewGreen is participating in the 10th Annual Ithaca Alternative Gift Fair, which provides a way to make charitable donations in honor of friends and relatives. Sixty local not-for-profit organizations are represented at the fair, with over 300 gifts designated for specific purposes.
SewGreen's gift options are:
– $5 for a free take-home sewing kit for a child from a lower-income household.
– $5 to support a sewing scholarship for a kids' sewing class or camp, so that no one is left out.
– $10 to pay for a teen to attend free open sews every week at SewGreen.
– $15 to pay for an hour of sewing instruction or on-the-job training for an at-risk teen.
– Open-ended: any amount, to support SewGreen's youth jobs and free programs.
While the fair will close after December 31, SewGreen accepts donations throughout the year to assist with their ongoing mission.
BUCKBOARD QUILTS
While working on this blog, I received an email from a reader, Judy Howard. After 37 years owning a quilt business called Buckboard Quilts, she is reducing her stock in a charitable manner. She has 150 antique quilts and over 500 art quilts available. She is not personally accepting any payment for the quilts. Instead, quilts, books, and all of the other items from her shop can be purchased by making a donation to any charity that supplies food for the needy. Her website lists many possibilities, but you can also make a donation to your own local food pantry. I am touched by her generosity to those in need and the creative way she is providing for others less fortunate across the country.
DO YOU SUPPORT A SEWING-RELATED CHARITY?
These are just 3 examples of ways we can help those less fortunate. But there are hundreds of other charitable activities happening all across the country and around the world. I don't think a single day goes by that I don't receive information at Threads about a sewing group making quilts, clothing, or other items for charitable purposes. It is heartwarming to read about these activities. What charitable sewing activities have you supported with time, talent, or financial support?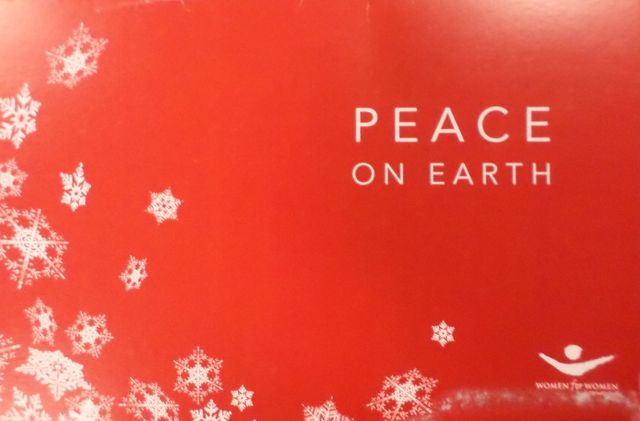 The front of the card from my daughter.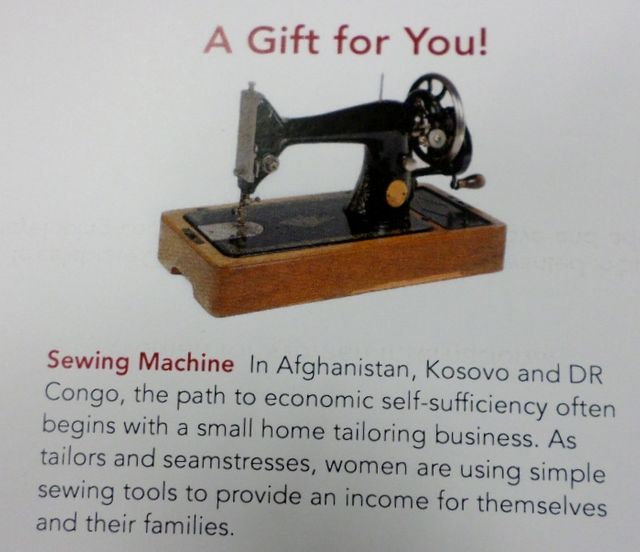 Part of the card's message.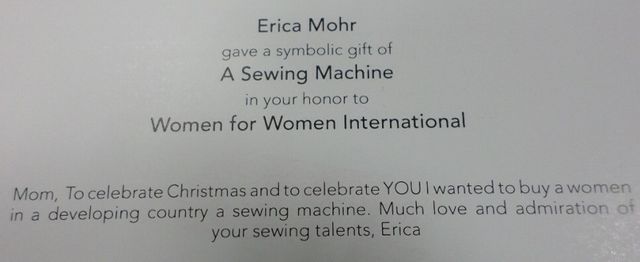 The rest of the card's message.
Judy Howard's quilt sale. In addition to antique quilts, there are many other quilts, books, and other items available.