New fashion industry-oriented online education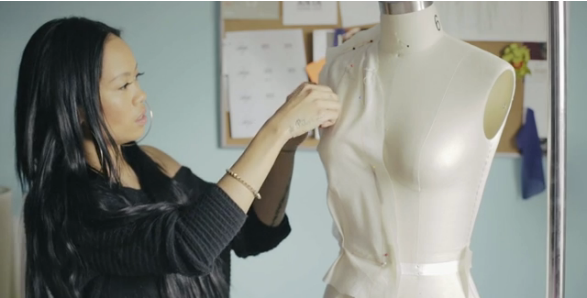 There are now many websites that offer online videos to teach home sewers (and other crafters) new skills, but until recently, none were geared toward those interested in entering the garment manufacturing or fashion design industries as professionals. Enter Skillshare.com's School of Fashion & Style and University of Fashion, created by a veteran fashion educator and designer.
Skillshare bills itself as a global learning community offering education in real-world skills taught by a variety of practicing professionals. Anyone can apply to create a Skillshare video class for local or global viewing. The classes are relatively inexpensive and once purchased you have ongoing access to them. Classes are project based, so each class includes a project guide along with the video. Student-to-student interaction for collaboration and feedback is expected and encouraged as part of the learning process.
Skillshare's School of Fashion & Style offers classes such as Garment Construction: Introduction to Draping, taught by Project Runway winner Anya Ayoung Chee; Make Your own Clothing: Introduction to Garment Construction, taught by designer and Project Runway alumni Joshua McKinley; Custom Bridal: Design the Perfect Gown for You, taught by bridal designer Desiree Hartsock; and various other fashion design-related topics, including using computer aided design to create garment flats, designing T-shirt graphics, and getting a fashion line to market. Fashion and style classes are added frequently. To check out the fashion education offerings, visit Skillshare.com.
University of Fashion, created by former Fashion Institute of Technology and Academy of Art University San Francisco professor Francesca Sterlacci, was designed to inspire and educate students, teachers, the "fashion curious", and home sewers. It's well suited as preparatory education for students planning to enter university-level fashion design programs, as well as for those who simply want to refine their technical skills for personal use. There are thorough lessons on draping, pattern making, sewing, fashion art, product development, and the "fashion connections" series of lectures designed to bring the fashion industry to the student.
University of Fashion is subscription-based; a monthly subscription is $19.95 and a yearly subscription is $145. Both subscription plans include unlimited access to the comprehensive collection of fashion design videos presented by some of the best fashion industry pros and educators, step-by-step video transcripts, free lesson guides, an e-newsletter, and industry discounts. Visit UniversityofFashion.com to check out the offerings, including some free videos.
Do you enjoy participating in online sewing and fashion education? What's your favorite site for video classes?