Magazine Giveaway: Threads #171 (February/March 2014)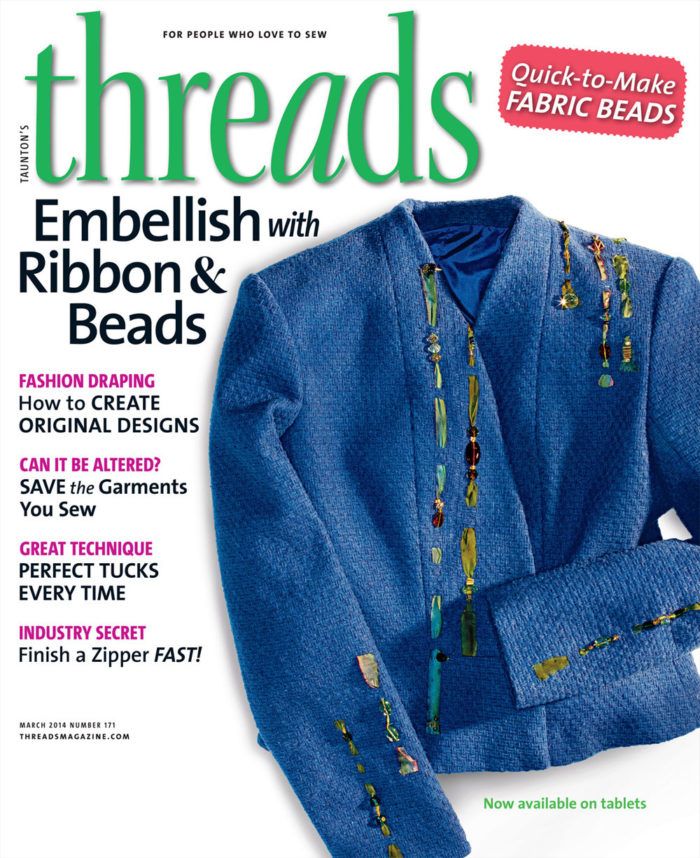 WHAT IS YOUR FAVORITE SEWING BOOK, AND WHY?
In our current Threads issue (#171, March 2014), there are many fantastic articles to give you some new sewing ideas. The cover story "Beaded Ribbon Weaving" is about how to embellish your garments with unique ribbons and beautiful beads. The technique displayed in the article teaches you how to weave the ribbon right through the fabric so you are completely free to create any design you desire with your embellishments. Other articles in this issue include draping methods, altering garment tips, and how to zipper by machine. We also asked our contributing authors (Paula DeGrand, Annie O'Connor, Angela Wolf, and Jacque Goldsmith) what their favorite sewing book is and why. Their variety of answers may help you find the right book for you!
CONTIBUTORS RESPONSES
Each of our contributors has a favorite book for their own reason, but all of them use it to improve their sewing. One relies on her favorite book as a reference for jacket techniques; one uses a dictionary to improve her knowledge of industry terms of seams and garment types; one uses her favorite for inspiration of new things to challenge herself with; and another depends on hers because it's easy to understand and is well organized by technique. All of their responses demonstrate that everybody has their own reasons to have their picks.
WHAT ABOUT YOU?
Tell us what your favorite sewing book is and why in a comment below before the deadline (02/18/14, 11:59 p.m. EST), and you could win a copy of this issue! A winner will be randomly selected and announced on 02/19/14. Good luck!