In this excerpt from Teach Yourself to Sew Season 4, Threads Executive Editor Judith Neukam gives you the scoop on seams.
Teach Yourself to Sew was created with beginners in mind, but sewers of any level can use these tutorials to brush up on their skills. You can find more excerpts from this season by visiting Teach Yourself to Sew Season 4 or visit our store to purchase season 4.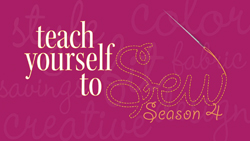 Watch season 4 now!
---

Click here to purchase the video series Teach Yourself to Sew, Season 4 on DVD.
Get the latest including tips, techniques and special offers straight to your inbox.