Vogue Patterns: Spring 2014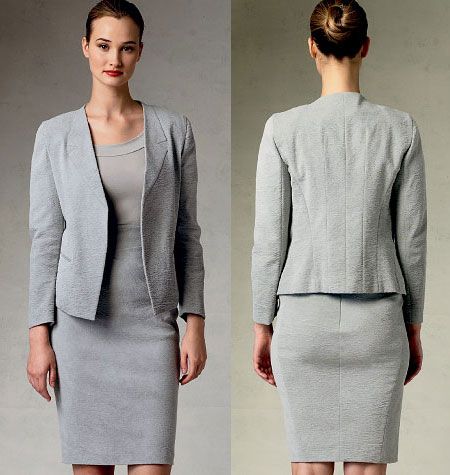 Pack away those winter clothes and jump into the spring season with these new spring patterns from Vogue!
DONNA KARAN COLLECTION
Look professional at work in a high-waisted skirt, top, and jacket from Vogue pattern V1389.
All pieces in this pattern are fitted. The unlined jacket has applied lapels, shoulder pads to cover, princess seams, welt-pockets, three-pieced sleeves, a shaped front hemline that is longer in the back. The skirt has a raised waist and front and back darts. The front extends to the upper and side back, and it has an invisible back zipper. The pullover top includes neck and sleeve bands. The front extends to the side back, has a stitched hem which is longer in the back. The skirt and top are close-fitting and have no side seams.
Recommended fabrics for views A and B are stretch crepe, stretch denim, or wool jersey. The recommended fabric for view C is a rayon/spandex or cotton/spandex. Quarter-inch shoulder pads are required for view A. B needs a nine-inch invisible zipper and a hook and eye.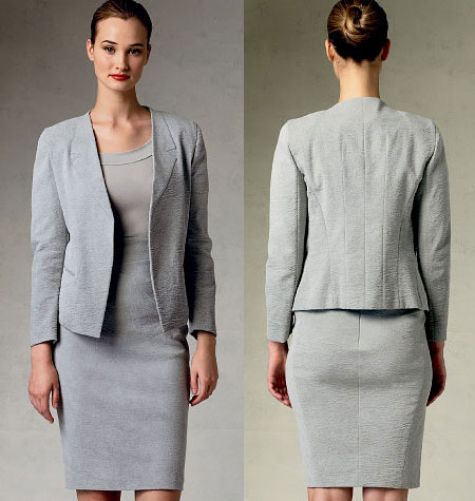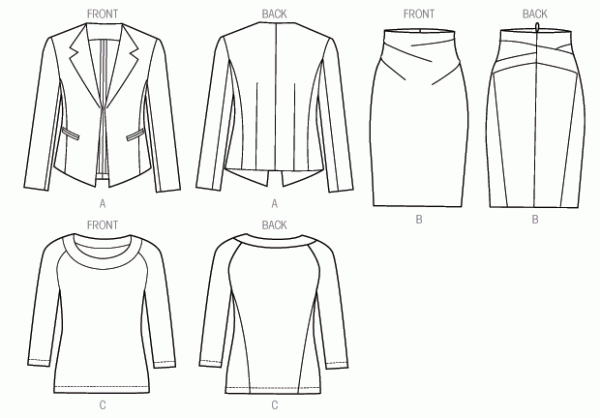 EASY BREEZY SPRING SKIRT
Enjoy your spring season with this gentle, free-flowing skirt from Vogue pattern V8981.
This pattern includes a lined skirt with an elasticized waist and a very narrow hem. Skirts A and B include an underskirt and shaped hemline. The wrong side shows in both views. Suggested fabrics are georgette, voile, or lace. For the lining, china silk or charmeuse is reccomended. Notions needed for all skirts are one yard of 1-1/4 inch elastic for sizes XS, S, or M, or 1-1/2 yards for sizes L, XL, and XXL.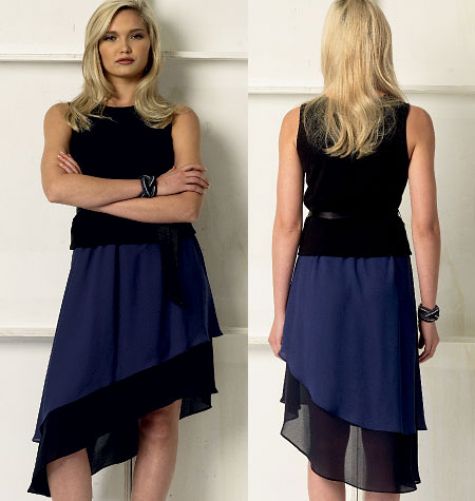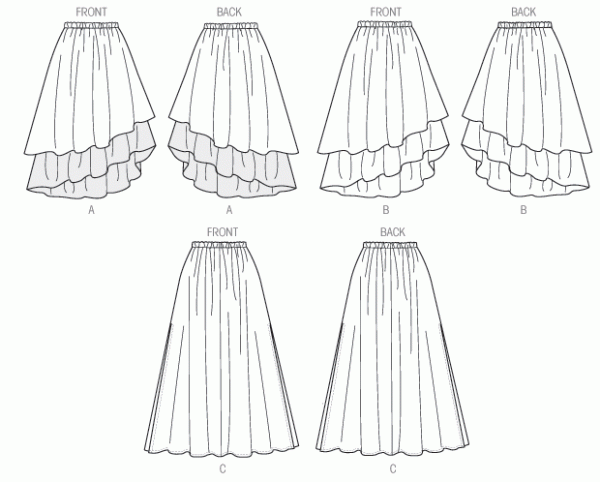 MARCY TILTON
Spruce up your wardrobe with this original dress by Marcy Tilton from Vogue pattern V8975.
This pattern includes a very loose-fitting pullover dress that's close-fitting through the bust. Its seam detail forms draped pockets and a shaped hemline that's longer in the back. View A includes bias binding for both the neckline and the armholes. View B includes a separate neck band. View C is a loose-fitting, unlined jacket that has dropped shoulders, a purchased drawstring for the neckline. The front and back are cut-in-one. There is also a side panel, no shoulder or side seams, and side front slits. Views A, B, and C include a stitched hem. The wrong side shows in the front hemline.
Recommended fabrics for views A and B are two-way stretch knit of rayon/spandex or cotton/spandex. A stretch mesh is recommended for view C. View C requires 1-1/2 yards of 1/4-inch or 1-3/8 inch ribbon.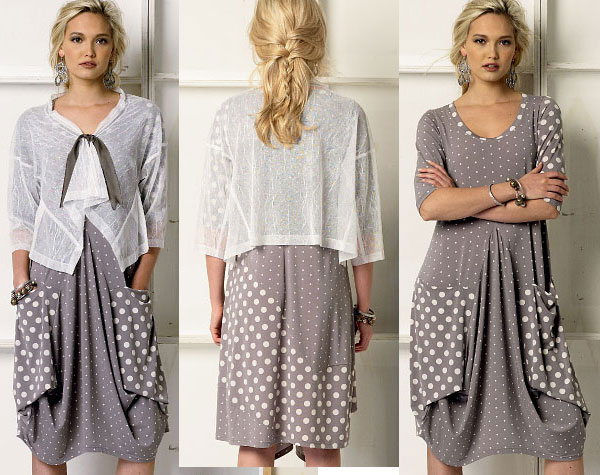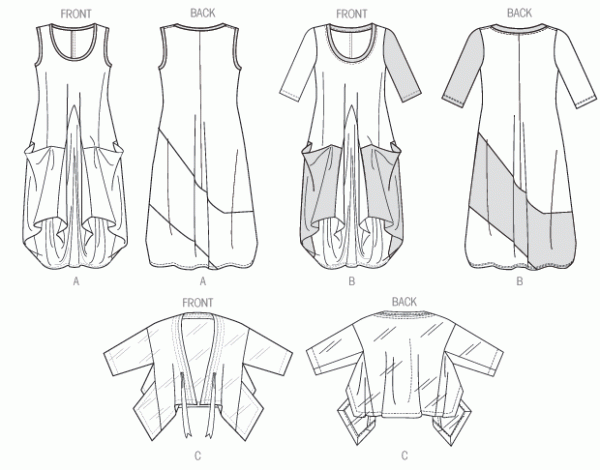 EASY TO MAKE TUNIC, DRESS, AND PANTS
Vogue pattern V8985 is the perfect outfit for your day off from work or when you spend casual time with friends.
Each garment in this pattern is loose-fitting. The pullover tunic or dress have mock bands, an elasticized, seamed waist, and side slits. View A includes a self tie, button tab, and long, roll-up sleeves. View B has sleeve bands, and view C offers a pair of slightly tapered, elastic-waist pants.
Recommended fabrics for these patterns are light-weight linen, chambrey, crepe de chine, or light-weight broadcloth. One yard of 1/2-inch elastic is required for views A and B and 3/4-inch elastic for view C.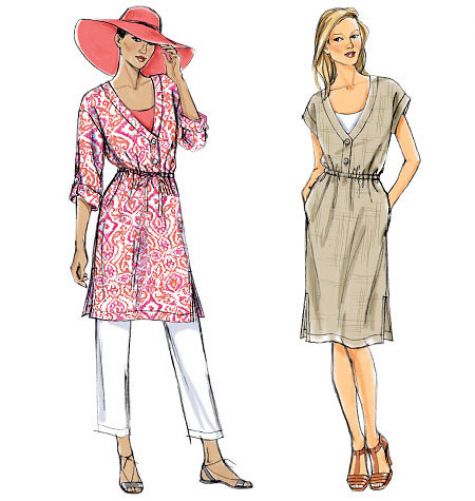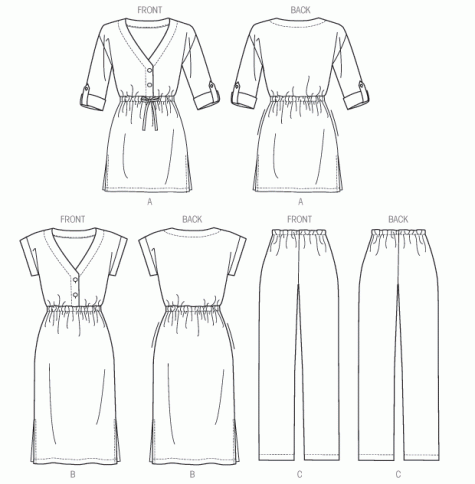 ANNE KLEIN SUIT
Walk into work with style in this two-pieced suit from Vogue pattern V1388 by Anne Klein.
This pattern is fitted, interfaced, and lined. The jacket has a collar, collar band, lapels, shoulder pads, princess seams, flaps, welt pocket, back vents, and two-piece sleeves with a button vent. The pants are semi-fitted, tapered, and cuffed. The pants also feature a waistband with binding, side front and back welt pockets, and a fly-front zipper with button closure.
Recommended fabrics for this suit are men's suiting, linen, or crepe. Notions needed for the jacket are 1/2-inch shoulder pads, one 1-inch button, and six 5/8-inch buttons. The pants require a 7-inch zipper, one 5/8-inch button, and a hook and eye.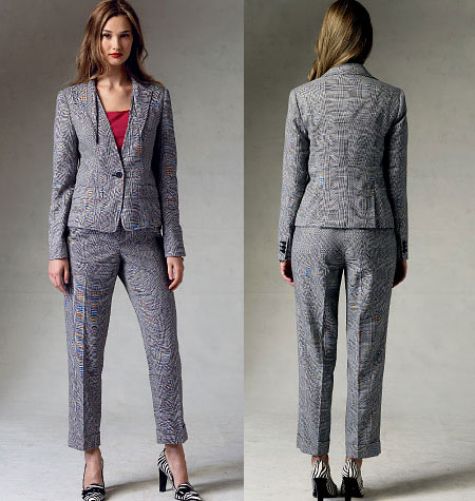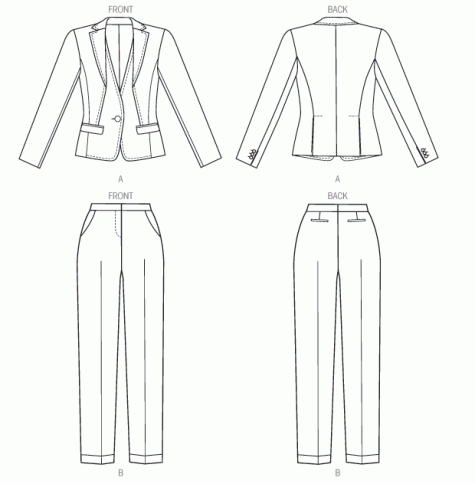 WHAT WILL YOU MAKE?
What do you plan to make for yourself or for others this season? Please leave a comment to tell us about your sewing plans.