Mimi/New York's Debut Collection for Fashion Week!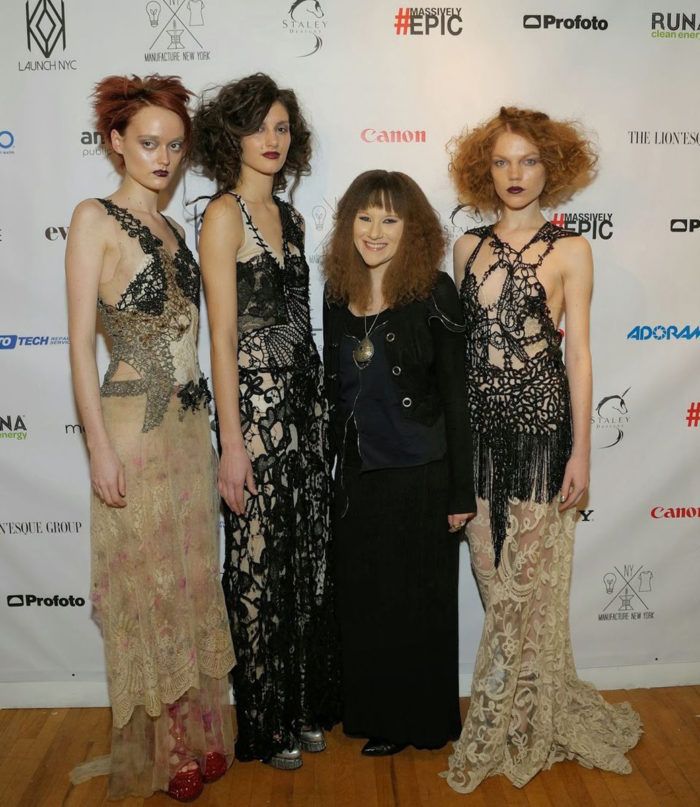 For our regular readers, you will remember the beautiful gowns by Mimi Prober, featured on the cover of Threads #166. Here's a link to the blog post, as well. I'm happy to update you on her next step to success!
For those who might have missed the article, here's a little background: Mimi Prober is a New York City-based artist and designer. She founded Mimi / New York where she creates unique, sustainable, one-of-a-kind couture garments using recovered antique textiles.
Her collection has been featured in several publications (including Threads) and highlighted in "Made in New York: Fashion Forward," an exhibition at the South Street Seaport Museum in downtown Manhattan. The exhibit was a cutting-edge installation produced by the Museum of the City of New York, showcasing a selection of artists who design and produce in New York City.
Mimi is also the current listed special guest designer for the Emmy award-winning series "Secrets of New York", dressing host Kelly Choi in a one-of-a-kind sustainable couture collection piece handcrafted from antique textiles.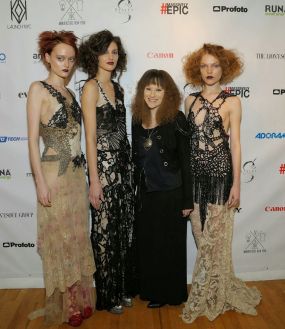 I recently attended a fashion show, where Mimi Prober debuted her new couture collections–-"Metamorphosis" and "These Hands"–-at Launch NYC during New York Fashion Week.
'METAMORPHOSIS'
Each hand-constructed piece in Mimi / New York's 'Metamorphosis' collection was executed and achieved using Mimi's sustainable philosophy and couture techniques; inspired by the literal transformation of the forgotten fragments, these treasured antique textiles have been given a new modern form.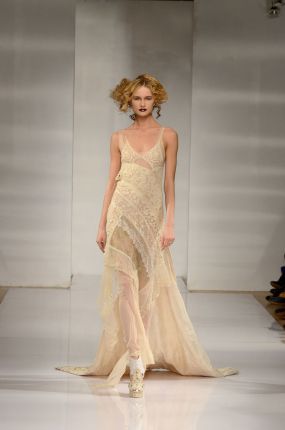 I'm showing highlights of the collections here.  If you would like to see the entire show, you can watch a video of it here.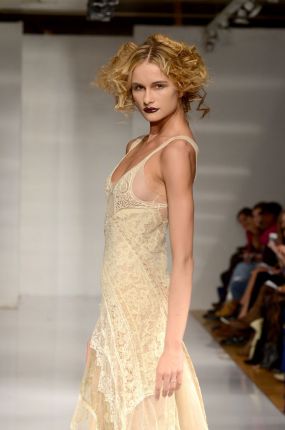 The first piece is a panel gown with detachable 19th-century silk velvet brocade train, constructed using antique textiles from the late 18th century to early 20th century, embroidered with early 20th-century silk thread and signature chainstitch detail.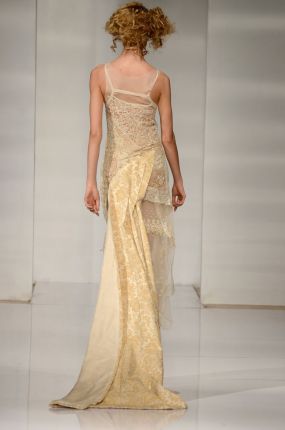 A word about the shoes:
The shoes for Mimi's gowns were created by Zack Lo.
Zack Lo was born in Ilan City, Taiwan, and educated in the United Kingdom. He resides in the United States. His shoes are sculptural, outlandish, astonishing, and beautiful–the perfect complement to Mimi's gowns.
You can learn more about him by going to his web site: zacklo.com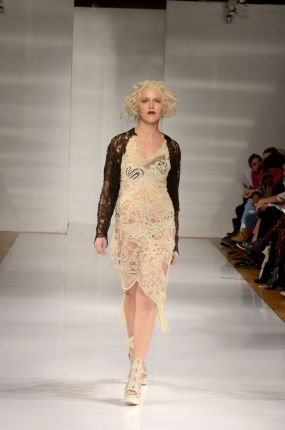 Next, she shows a short, asymmetrical, draped dress, which was constructed using lace dating from the 18th century to the early 20th century, embroidered with early 20th-century silk thread and signature chainstitch detail, with a removable jacket constructed from 19th-century black Battenberg lace.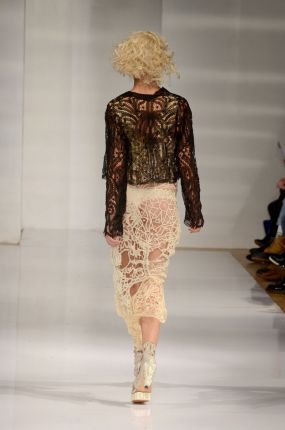 'THESE HANDS'
Expanding on the philosophy of the 'Metamorphosis' collection; the sustainable couture collection 'These Hands' focuses on integrating antique textiles that carry a specific story, history, or provenance that can be passed down and shared with our generation, into a new vision, while honoring each hand that created the art.
The evolution of this collection is inspired by a group of lace textiles that were acquired, which contained a note of provenance crediting these historic fragments to a girl who crafted this lace by hand throughout the course of her life, beginning in 1787, when she was just 10 years old. 
This connection to the original artists who created these textiles further developed an interest in exploring the artisans who created the individual piece, or their original wearers, and documenting their specific history.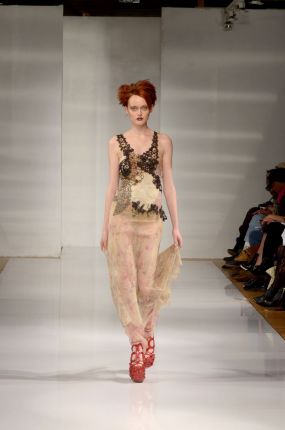 Part 1 of 'These Hands' will debut in February 2014, while Part 2 is expected to be presented in September 2014.
'These Hands' – Inspired Silhouette
'These Hands' encompasses an inspired silhouette developed from the documented inconsistencies in nature and its connection to our own skeletal system.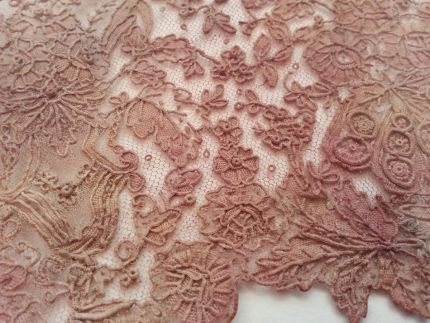 'These Hands' – Color Selection and Organic Dying
Black and the various shades of ivory are the natural found forms of these antique textiles. Mimi achieves individual color tones using organic hand-dyeing methods from natural resources. In this collection, individual textile tones and artistic patterns were created from eco-dyeing bundling methods using dried flowers, leaves, and other natural materials to create a one-of-a-kind artistic dye pattern that represents the unexpected and unique properties of the natural elements themselves.
This photo is a detail that shows the subtle effects that this technique can achieve.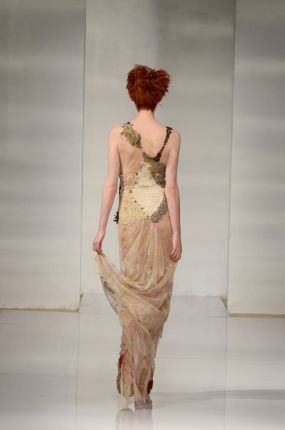 This gown is made of a 19th-century ivory silk lace, naturally dyed for an organic watercolor effect; featuring 18th-century embroidery in the form of flora and fauna, ivory bodice with embroidered corded branches and silk velvet petals, and 19th-century cut steel, copper bullion, lavender, and ruby stone beadwork.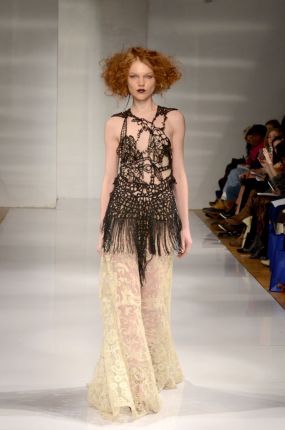 Here's a harness dress with 19th-century jet beadwork with beaded fringe panels and beaded bustle; underdress gown of early 20th-century antique lace, and signature chainstitch embroidery detail.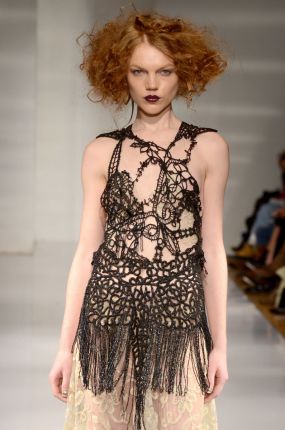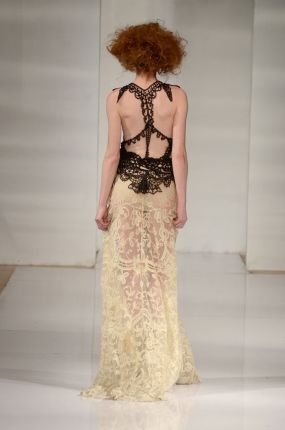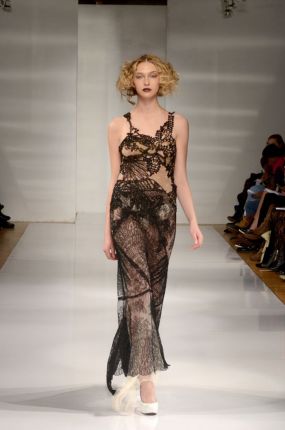 This is a really spectacular black silk 19th-century Chantilly lace gown with naturally dyed watercolor-toned antique lace (from the 19th century and early 20th century) and 19th-century jet beadwork overlay.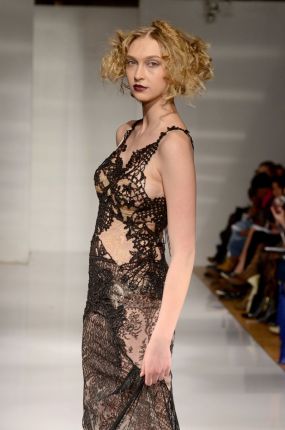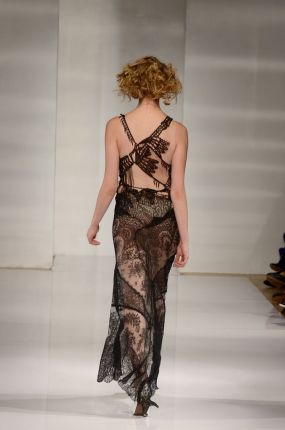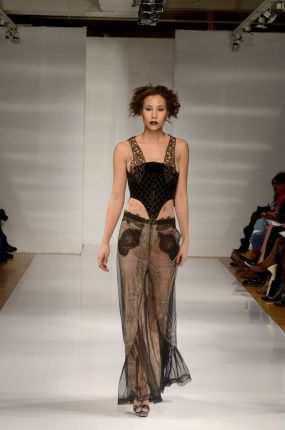 A 19th-century black silk velvet cut-out corset with cut steel and silver bullion beadwork; early 20th-century black cotton tulle skirt with steel beadwork and 19th-century Chantilly lace applique sewn with early 20th-century silver embroidery thread and signature chainstitch detail.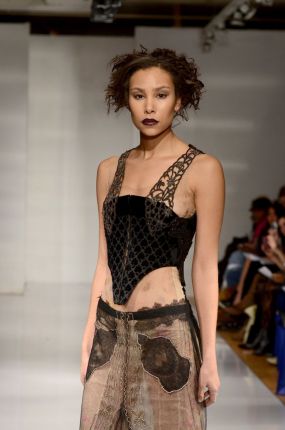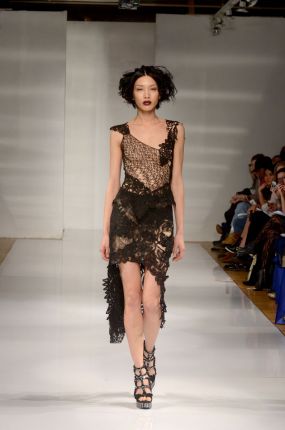 This was my favorite from the collection:  an asymmetrically draped 19th-century black silk and cotton lace skirt featuring 19th-century jet beadwork with pyramid detail and with a top featuring 19th-century open-knit black lace and jet beadwork.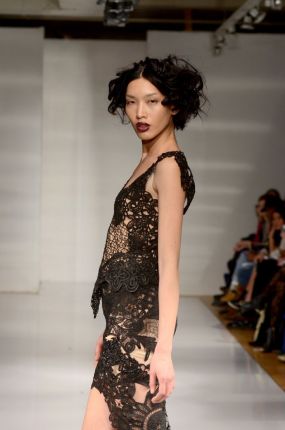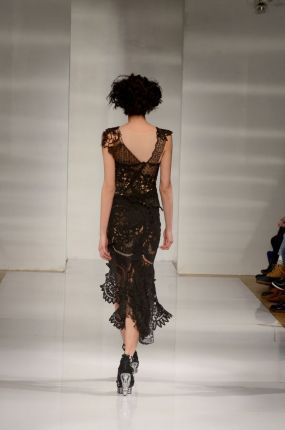 It's wonderful to see such a talent gaining a following.
She's gotten some good press surrounding this collection. Here are posts about her work from Marie Claire, ecouterre.com, and eluxemagazine.com.
Remember, dear readers, you saw her in Threads magazine first!