Tri-state Contestants Sought for American Version of "The Great British Sewing Bee"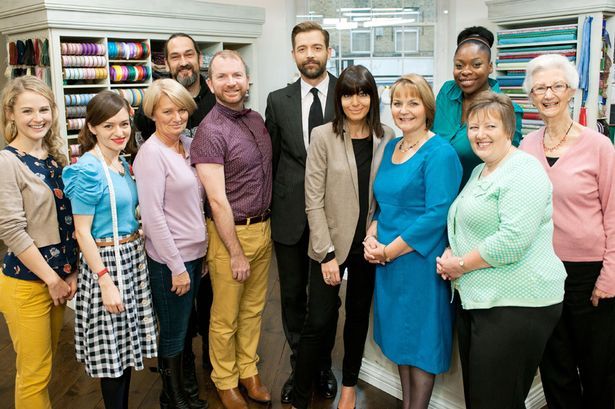 Calling all New York City-area amateur sewers: Try out for the pilot of a new sewing challenge show!
If you fell in love with The Great British Sewing Bee, the smash-hit BBC2 program that crowned Britain's Greatest Home Sewer, here's a chance to become involved in a potential American version!
Love Productions USA, a branch of the production company that produced The Great British Sewing Bee, has announced a casting call for home sewers in the tri-state area: New York, New Jersey, and Connecticut.
Here are the details from the casting call document: 
Men and women who are passionate about making their own cutting-edge creations are sought to take part in a pilot for a new amateur sewing competition television series. 
Love Productions USA is soon beginning production on an exciting US adaptation of the The Great British Sewing Bee for a major US cable network.
If the pilot is picked up, each week on the show, a group of all-new amateur sewing enthusiasts will face off in unique challenges that put their sewing and design skills to the test. Expert judges, made up of fashion-industry heavyweights, bespoke tailors, and sewing professionals, will scrutinize every creation and name each week's winner.
If you've never seen The Great British Sewing Bee, you have to check it out. It is just darling. The contestants competed in sewing challenges, and they weren't judged for how great their garments looked on a runway, but how well the garments were sewn and how well they fit. Season 2 episodes are premiering now on BBC2.
It is a delightful show, and you can watch footage from The Great British Sewing Bee online.
Are you a fan The Great British Sewing Bee? What are your thoughts on sewing competition TV series? Will you or someone you know audition for this pilot?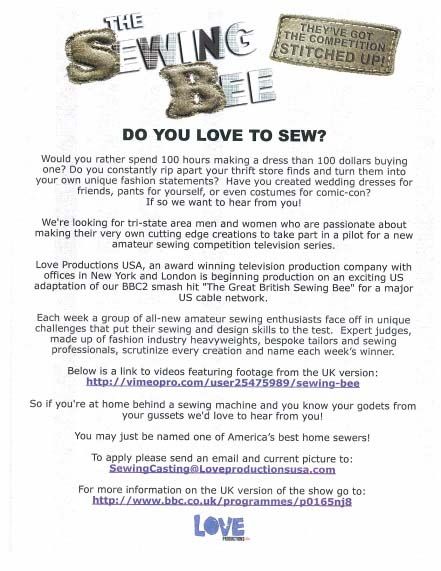 Here's a copy of the casting call sheet for the pilot of an American version of The Great British Sewing Bee. Note that the production company is only looking for tri-state area residents at this time.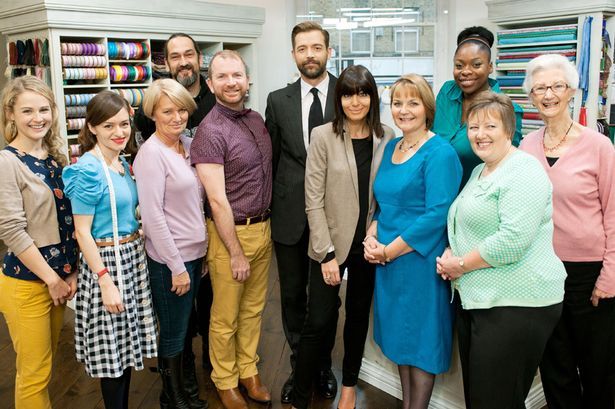 Contestants and judges from The Great British Sewing Bee, a British television series that sparked renewed interest in home sewing, and generated a Christmas special, a second season, and a book.