Under the Gunn, Episode 8: "It's an Unconventional Beach Party"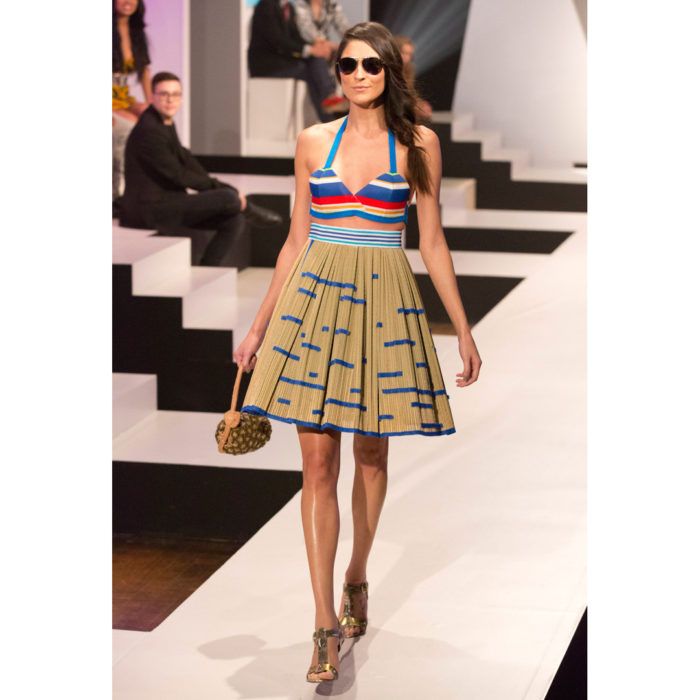 In last week's episode, Natalia finally got the chance to make the knitted dress she had been dreaming of, that is until time managed to catch up with her. Likewise, after seeing what Mondo had to say about his half-sewn garment, Sam decided to start over last-minute. Can you guess which one of these talented designers was able to make a comeback?
The setting for this week's episode was a lovely California beach. With surrounding umbrellas, beach balls, a volleyball net, and more, it was pretty evident from the get-go that this would be an unconventional challenge. Designers were given 10 minutes to grab as many materials as possible and one full day to make a California beach-inspired look.
For the second week in a row, Georgina Chapman was the guest judge. Both of Anya's designers were safe, meaning another mentor would end up with only two team members by the end of the episode. While the judges agreed that Stephanie and Michelle's outfits did not incorporate enough of the challenge's materials, Stephanie was ultimately sent home. Sam and Asha, on the other hand, made the top two designs. Both presented fashion-forward looks that were well-executed. Once again, the judges left the verdict up to their mentor. Mondo decided that since Sam was able to bounce back from such a tough beginning, he deserved to win. Sam was also awarded the season's second Benefit Cosmetics $1,000 prize for having the most fun and free-spirited look, as decided by the judges.
On to the designs…
The Top:
Sam's winning design (team Mondo), made from a bamboo beach mat, beach chair, pineapple, and volleyball net:
Asha's design (team Mondo), made from straw hats, woven table liners, palm leaves, and leis:
Oscar's design (team Nick), made from straw fans and a beach mat:
The Bottom:
Stephanie's losing design (team Nick), made from melted leis:
Michelle's design (team Mondo), made from inflatable rafts:
Natalia's design (team Nick), made from rafia and a beach umbrella:
The rest of the designs:
Shan's design (team Anya), made from a beach umbrella and an inflatable raft:
Blake's design (team Anya), made from a woven table liner and straw hats:
More often than not, I would say that I like the unconventional challenges. Not that I think I'd be good at them, or that I really see the point (especially when the judges only want to see functional garments), but it's always so interesting to watch how creative the designers can be with their given materials. That being said, although I think Sam did a spectacular job with his outfit, I was more impressed by Asha's creation. In just one day, I couldn't even imagine creating such a meticulous look.
What did you think about this episode? Are you a fan of the unconventional challenge? Did you think Sam deserved to win? Please share your comments below!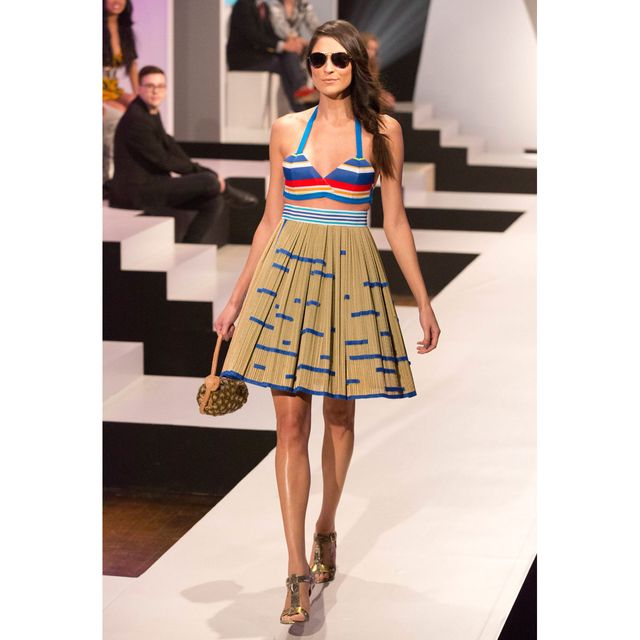 Sam's winning design proved to have great proportions that would be flattering on many women.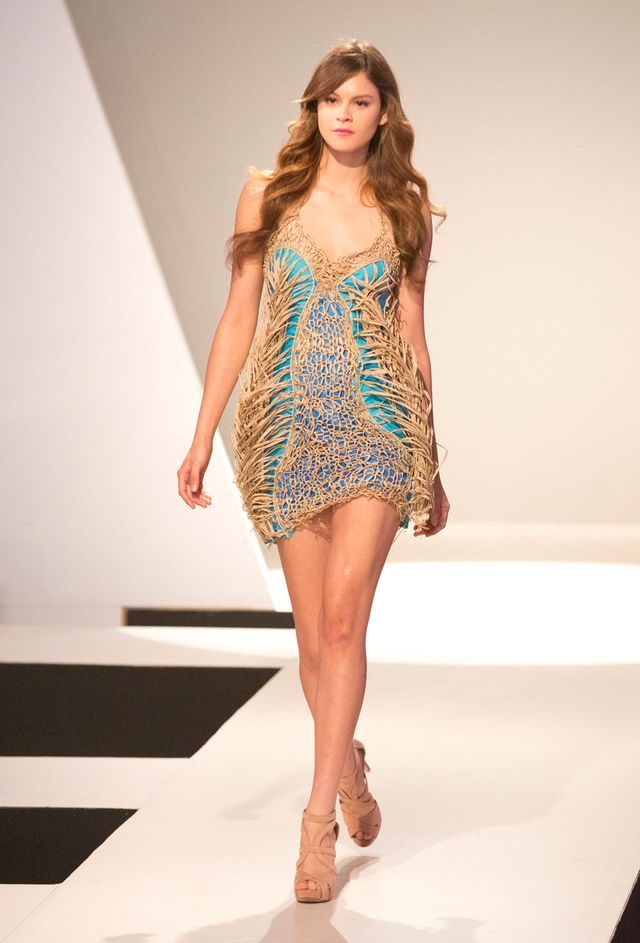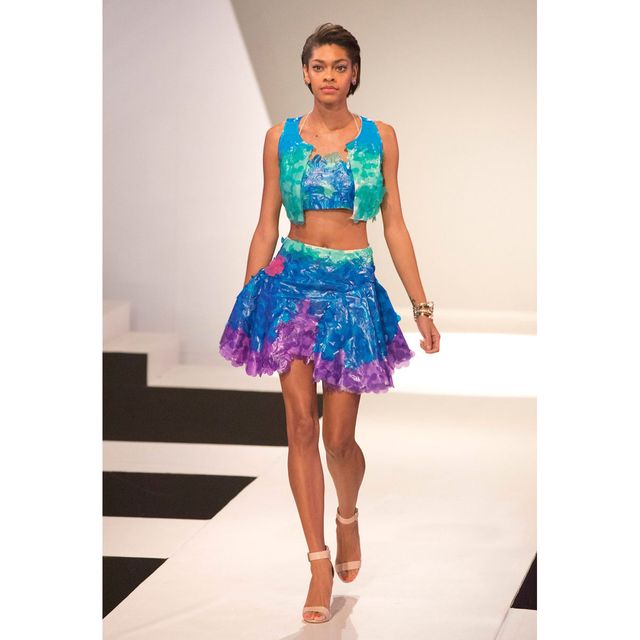 The judges believed Stephanie's look didn't push the envelope. They said it was too crafty and not sophisticated enough.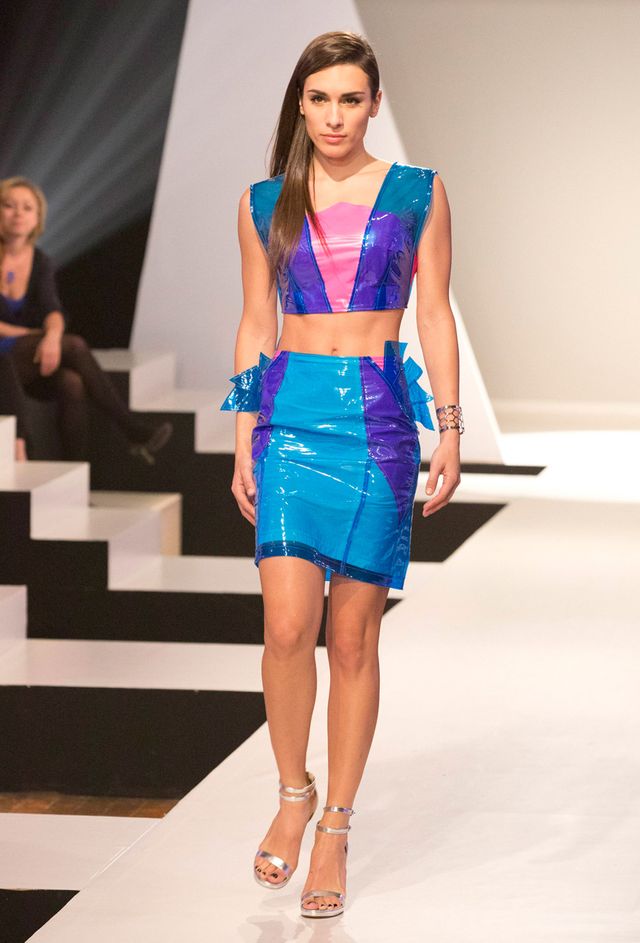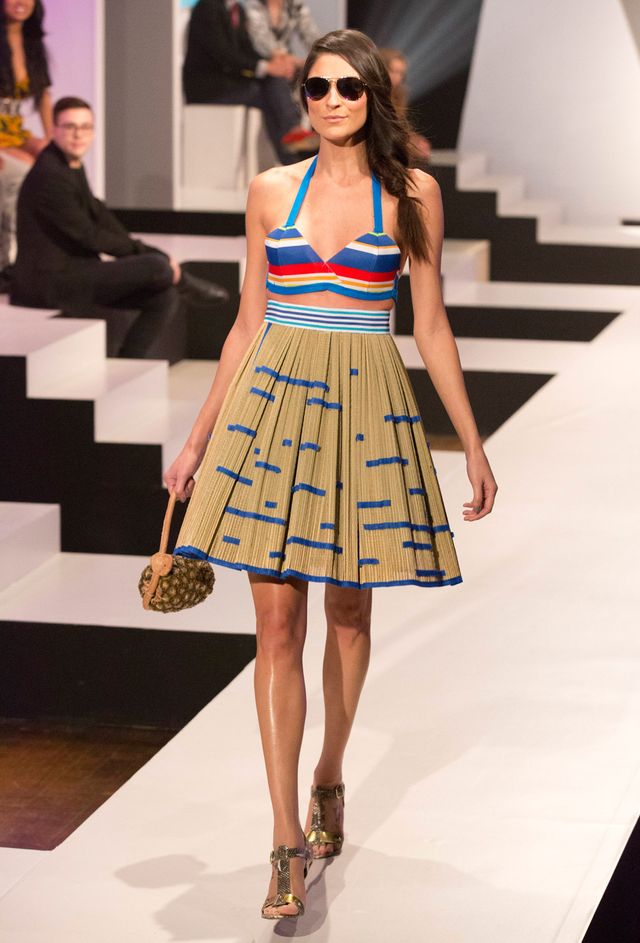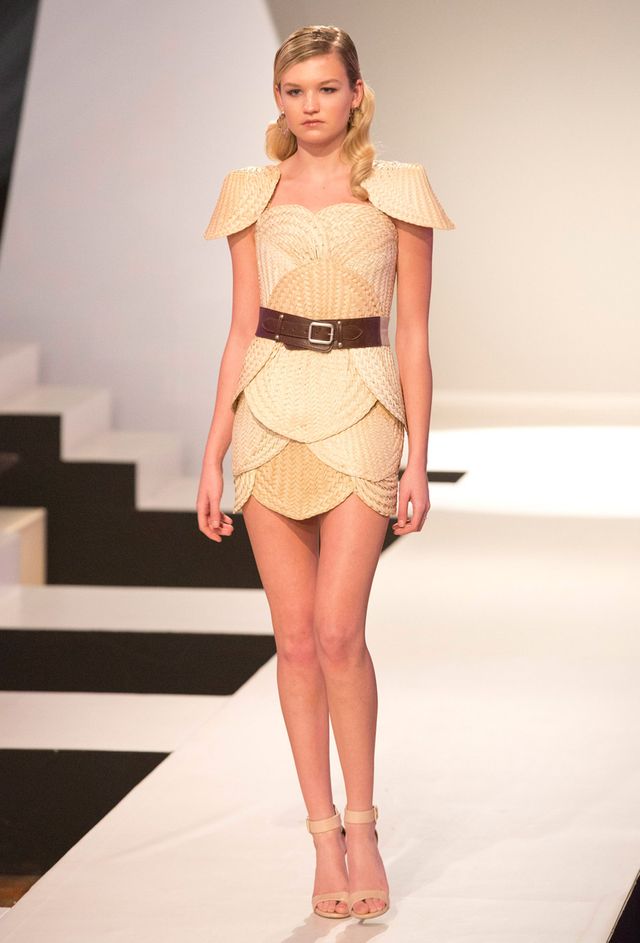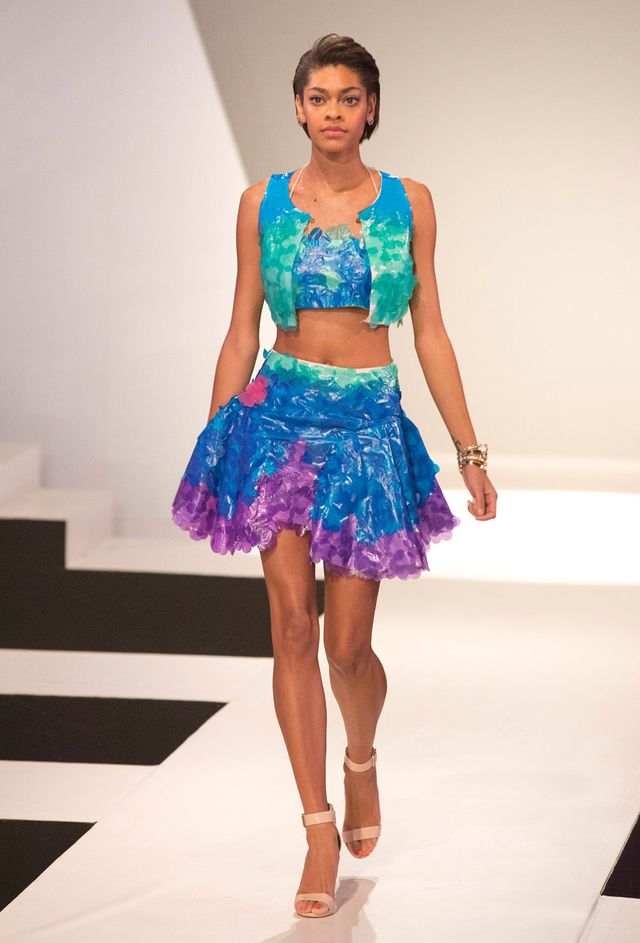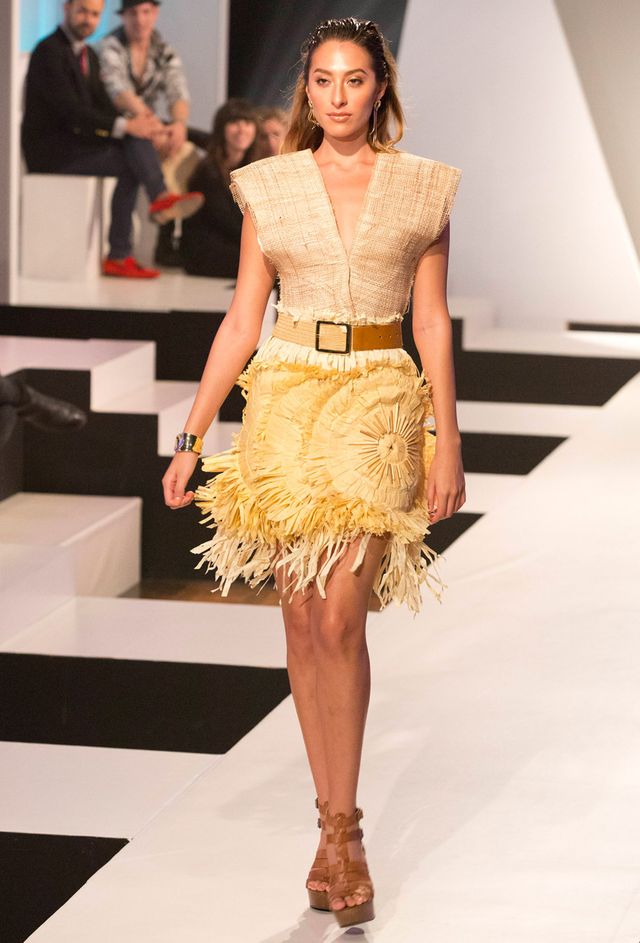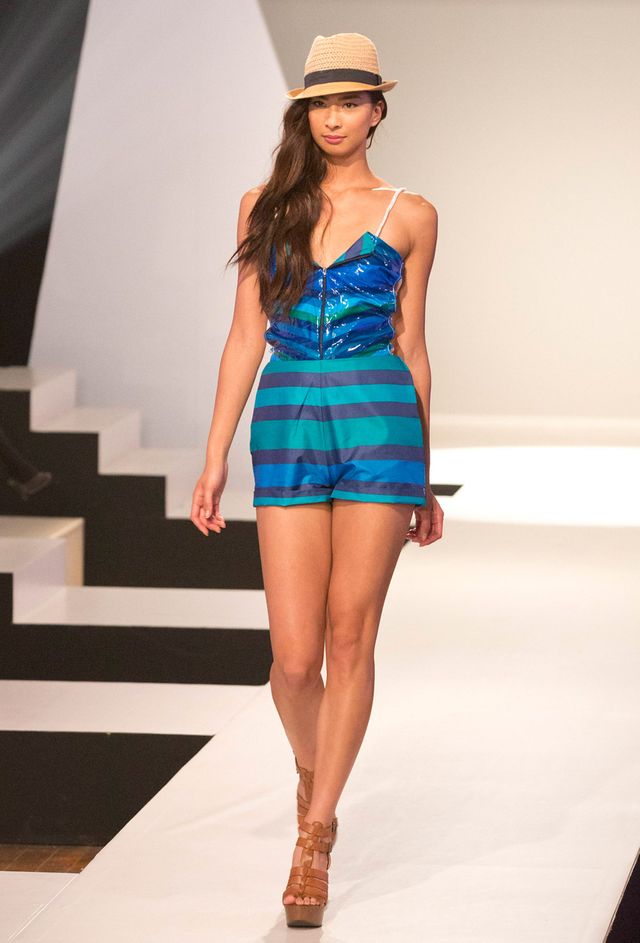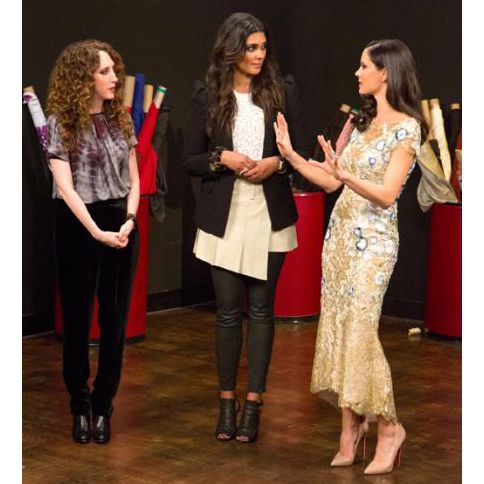 (From left) Jen Rade, Rachel Roy, and Georgina Chapman discuss this week's designs.