Chat with Mary Ray on All Things Fabric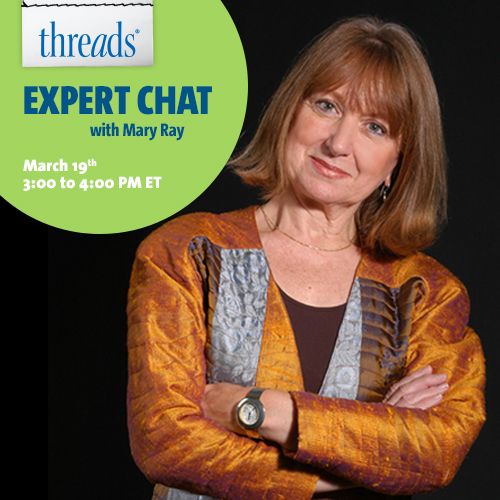 Fabric shopping can be an exhilarating or an overwhelming part of the garment creation process. Any fabric lover can attest to the countless hours that can be spent scouring the aisles looking for the perfect fabric. Whether you're a pro at fabric shopping or a novice, you'll have the opportunity to ask Threads Contributing Editor Mary Ray all of your fabric questions!

WHEN: 3 p.m. to 4 p.m. ET on March 19, 2014
WHERE: Expert chats are held on the Threads Facebook page.
CHAT GUIDELINES:
You must have a Facebook account to participate.
Visit Threads on Facebook during the indicated time and look for the official chat post, which will be pinned to the top.
Leave your questions in the "comments" section of the chat post, and Mary will reply directly to you.
Please refresh your web browser often to see new questions and replies.
Due to time constraints, we ask that you keep your questions brief.
Get your fabric questions ready. See you then!
LIKE our Facebook® page or subscribe to Threads weekly newsletters and never miss an expert chat.