Marimekko Madness Contest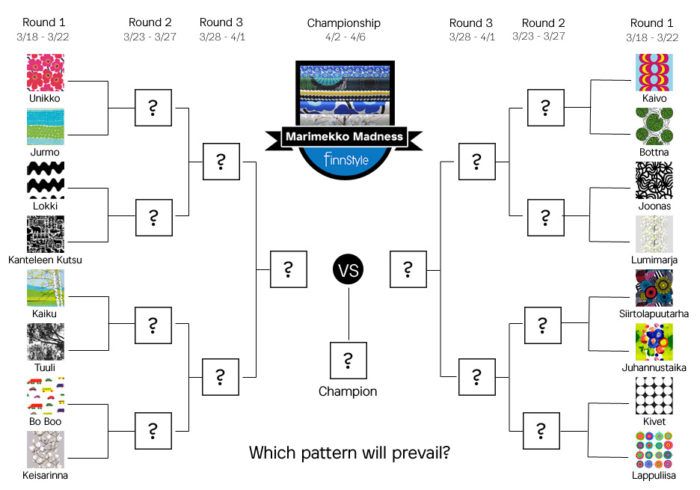 COMPETITION TIME!
FinnStyle has created a March Madness "Print Edition" contest to see which print conquers all the rest! For more than 60 years, Marimekko has been introducing the world to its lively patterns. FinnStyle has picked the 16 most popular designs and matched them to go against each other to determine the ultimate print. And it's up to you to determine who wins!
HOW IT WORKS
Once you've registered online, you can vote once a day between March 18 – April 6. Just by registering in that time frame, you'll be automatically entered for a chance to win a $100 FinnStyle gift card! The schedule of the competition is as follows:
Round 1: March 18 – 22
Round 2: March 23 – 27
Semifinal: March 28 – April 1
Final: April 2 – 6
Winner Announced: April 7
For more information click here.
JUST FOR FUN
Gather up some friends and family and use this bracket as a mini competition. Then compare your results with the winning print of the Marimekko contest and see who was spot on.