Inside the Life of Iconic Fashion Designer Elsa Schiaparelli
As a surrealist fashion designer working with unusual shapes and fabrics, Schiaparelli let the world see that it was fun to design.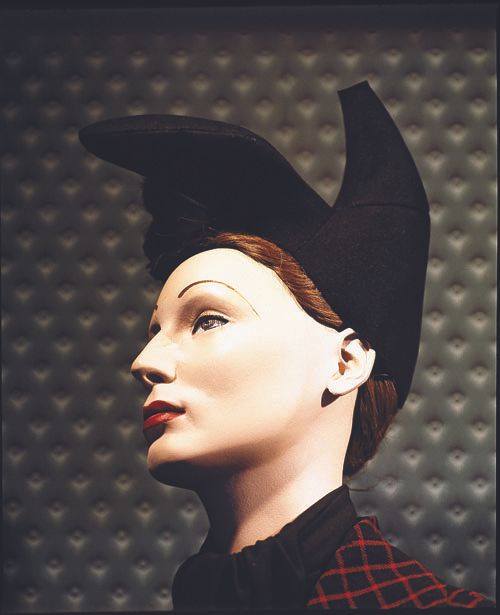 This detailed and fascinating account of the life of Elsa Schiaparelli first appeared in "Born to Shock," by Ilya Sandra Perlingieri, Designer Techniques Vol. 1.
In the 1920s and '30s, Elsa Schiaparelli blazed a new trail in fashion. She was an iconoclast, spirited and innovative. Despite her lack of training in sewing or design, Schiaparelli set off shock waves that are still being felt more than 100 years after her birth. Elsa Schiaparelli (skap-a-rell-ee) entered the fashion world in the '20s through a chance shipboard meeting with Gaby Picabia, who knew the great French designer Paul Poiret. Poiret's luxurious designs (many lavishly embroidered) were the epitome of what the "new woman" of the early 20th century wore. Inspired by Oriental opulence and his passion for the theater and ballet, Poiret designed loose and flowing styles: swirling turbans with sprays of feathers, high waistlines, kimono tunics, harem pants, and hobble skirts. He created a look that was the complete opposite of the tightly corseted hourglass figure of 1900.
Right Place, Right Time
Schiaparelli's combination of luck and talent was enhanced by the cultural and economic climate of Paris in the '20s. She was at the center of the artistic explosion that had started at the turn of the century; she could tap the imagination and skill of many Parisian avantgarde artists.
Where art had been staid and artists complacent, now there was an electricity in the air. Dada and surrealist artists were challenging the status quo. Often, they were out to shock-a word that became synonymous with Schiaparelli. The Exposition des Arts Décoratifs et Industriels Modernes of 1925 in Paris gave the name Art Deco to a design style characterized by bold, streamlined, rectilinear forms and the extensive use of plastic. Surrealism, a juxtaposing of ordinary, everyday images in an unnatural way to create fantastic effects, began as a literary movement; then, through painters and other artists, it gradually became part of the new direction in fashion.
Schiaparelli's ties to the surrealists opened haute couture to enormous possibilities. Surrealist painter and Dada exponent Man Ray, who did much of Schiaparelli's photography, got his start in fashion photography with Paul Poiret. A 1927 bra advertisement sums up his surreal approach: The classical Greek statue of Venus de Milo is juxtaposed with the half torso of a mannequin displaying the commercial product. Fashion photographer Horst P. Horst, with whom Schiaparelli also worked (photo on facing page), often included trompe l'oeil effects (optical illusions on flat, painted surfaces that fool the eye into seeing great depth) in his photos and considered his work "done in the spirit of fun." Eventually Schiaparelli would commission Raoul Dufy, Salvador Dali, artist-writer Jean Cocteau, and Marcel Vertès to design prints for her well before designer prints were common.
By surrounding herself with the best artists, Schiaparelli was able to combine their talents with her own innovative fashion ideas. Even the great Balenciaga said "Schiaparelli was the only true artist in Fashion." She was also in the right place at the right time.
First Designs
Women of the Jazz Age and the Roaring Twenties were looking at new directions for their careers and clothing as more options opened to them. They were tired of the simple, boyish look of the early '20s. And, despite (or because of) the stock-market crash of 1929 and the subsequent gathering war clouds in the early '30s, women were abandoning themselves to frivolity in fashion. Two fashion designers led the way: Elsa Schiaparelli and Coco Chanel.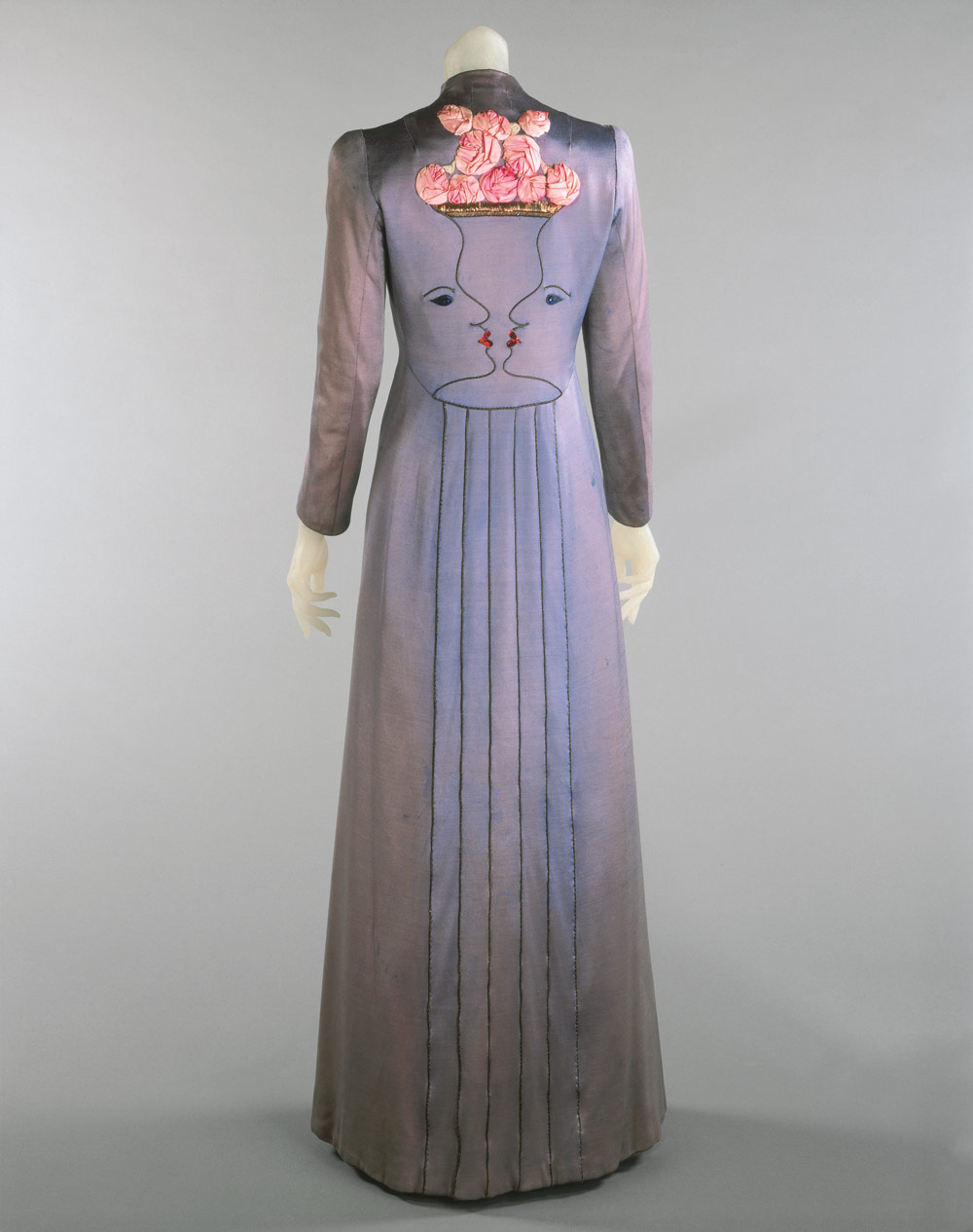 Schiaparelli had a real sense of  fun and an unconventional approach to embroidery. Artist Jean Cocteau designed this visual pun profiles-and-urn motif for her 1937 blue rayon and silk-jersey coat. The embroidery, by Maison Lesage, is in couched metallic gold threads, satin-stitched details, and appliquéd pink silk roses, which are folded and taked.
Chanel's styles were simple and elegant, yet they were practical with a masculine cut. She did much to promote the New Sportswear look that she'd helped create.
Schiaparelli, on the other hand, approached fashion playfully. In 1927, she showed her first handmade sweaters. They had Art Deco designs with matching jewelry and accessories. These custom-made knits used a new stretch-wool fiber, which, when knit, hugged the figure. Some of the sweaters had metallic threads worked into the designs for a sparkly effect.
Essential to the success of these sweaters was Schiaparelli's discovery of Aroosiag Mikaëlian, an Armenian refugee, who did spectacular knitting. Schiaparelli hired her "temporarily," and together they devised a technique of knitting with two colors to give a trompe l'oeil effect. The first design "Mike" did for Schiaparelli was a black sweater with a large white scarf worked around the neck and bow-knotted in front. She followed these with sweaters with knit-in images of handkerchiefs, ties, buckles, and belts. Next, Schiaparelli ventured to shock her customers by knitting a skeleton into a sweater design. It did shock, but it sold- and was a precursor of today's punk.
The Challenge of Synthetics
The fashion world was experiencing severe economic changes. As raw materials, especially silk, the mainstay of French haute couture, skyrocketed in price in the late '20s, garments became more expensive to produce. The textile industry was looking for other kinds of fibers and discovering new manufacturing processes.
Schiaparelli took an avid interest in finding solutions. She didn't have a rigid way of viewing things, and her natural curiosity and innovative ideas helped pave the way for the production of new textiles. She traveled extensively to see how other countries produced their textiles.
Schiaparelli's most important contribution to solving the problem was her collaboration with Charles Colcombet, the head of a silk manufacturing company in Lyons, France. Colcombet had pioneered synthetic alternatives to silk. Schiaparellis was the first haute couture designer to make a fashion statement with synthetics. With her creative input, Colcombet's company developed most of the new synthetics to be used for haute couture. Rayon crepe became a pinafore evening dress and coat; cellophane (made with a secret formula developed by Colcombet and called "Rhodophane") was turned into a "see-through" glass cape (the forerunner of many of today's see-through fabrics). It also became silver and black evening hats and a cocktail suit of cellophane velvet. Rhodophane textured to resemble tree bark was made into a square-shouldered jacket. Other ideas included waterproofed, washable raincoats of linen taffeta, and rayon crinkle crepe. In fact, Schiaparelli's consistent commitment to innovative approaches to fashion revolutionized the textile industry.
Natural fibers were also abundant in Schiaparelli's designs, and often unexpected: wool instead of silk for eveningwear, lace with leather, wool crepe with polka dots and wool plaids for eveningwear, evening capes of lamé wool tweed (with metallic fibers woven in). Her treebark crepes and velvets were forerunners of the crinkly cotton crepe and crushed velvet seen today.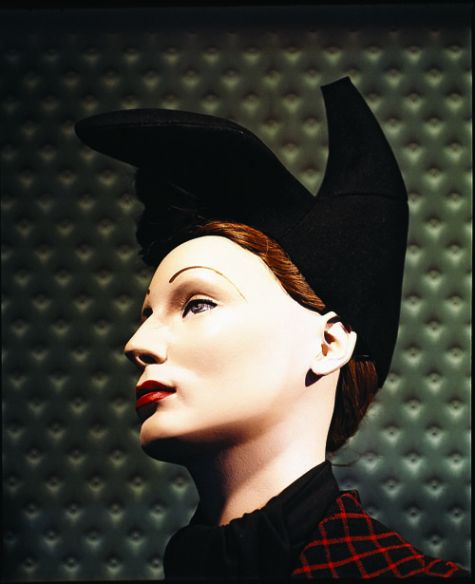 Designer Fabrics
As a surrealist fashion designer working with unusual shapes and fabrics, Schiaparelli let the world see that it was fun to design. An inverted shoe became a hat; she designed lounging "pajamas" (called palazzo pants in the '60s) and dresses with the skirts shaped like parachutes. A business-suit jacket had seven large rectangular pockets with buttons that looked like drawer handles. Inspired by Dali's "Venus de Milo with Drawers," it was called the Desk Suit. Her playful buttons came in every conceivable shape: animals, flying-trapeze artists, spinning tops, fish hooks, lollipops, safety pins, and paper clips.
By the 1930s, Schiaparelli had incorporated her playful approach into fabric design. Sketches by Dali, Vertès, and Cocteau were translated into silk-screened designs (the earliest examples of what we now call designer fabrics) and embroidery. Dali created a design with torn pieces of peeled tree bark that looked like rips in the cloth. It became the long, silk, cream-colored crepe dress with fitted bodice and split train shown at bottom right. A huge, "cooked" red lobster with parsley was painted across an evening dress (designed by Dali). It was another element of punk fashion, decades early. Vertès designed an allover animal print with swans, rabbits, bicycles, and prancing cows for a sleeveless evening gown of bright-blue crepe with matching hood and gigantic balloon sleeves in shocking pink. Jaunty Edwardian gentlemen sported beards on another Vertès-print dress splashed with vivid colors.
These bright, playful, and sometimes outrageous prints were the antithesis of what other designers were creating. Most haute couture designers in the '30s, including Coco Chanel, Madeleine Vionnet, and Jean Patou, who also exported their designs to America, were using small floral prints, polka dots, stripes, plaids, and lots of solids, mostly in natural fibers.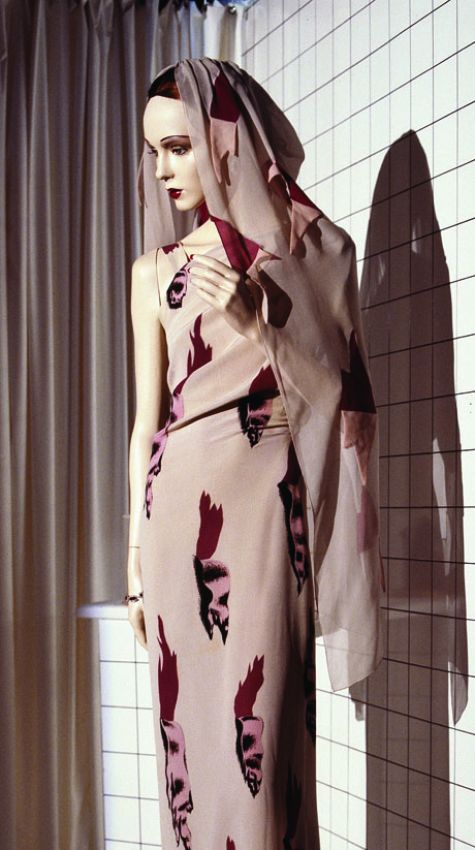 Haute Couture and Embroidery
In addition to pioneering designer prints, Schiaparelli was in a league by herself when it came to lavish embroidery in haute couture. Of course, there is historical precedence for magnificently embroidered clothing, in 16th-century Elizabethan England and 18th-century France, for example. Poiret, too, had numerous embroidered garments in his collections.
Schiaparelli was fortunate to have extremely talented embroiderers to decorate her garments. She worked closely with Albert Lesage, of Maison Lesage, who specialized in exquisite embroideries for haute couture. Schiaparelli's bolero jackets, another of her hallmarks, were frequently covered with embroidery.
In 1938, Maison Lesage did the embroidery for a stunning black silk-velvet cape that Schiaparelli had designed. This simple design is offset by lavish embroidery. The silk crepe lined cape has a large black velvet button at the left shoulder. The right front flares out considerably to leave room for the opulent embroidery. The decorative detail, Neptune in his chariot (at right) was inspired by the bronze sculpture of Neptune in the Palace of Versailles garden.
Jean Cocteau's graphic style was perfectly suited to Lesage's delicate, linear embroideries. His sketch of a woman's profile, arm, and hand was translated into a woman's face and flowing hair embroidered on the right front bodice of a coarse, light gray linen jacket (see photo on page 14). The jacket itself is cut elegantly simple: collarless, overlapping in the front, tapered sleeves, with the back bodice slightly fitted but still cut rather squarely. The lady's long golden hair, cascading down the right sleeve, is profusely embroidered in a combination of gold and clearglass bugle beads interspersed with gold paillettes. The hair strands are outlines in couched bronze-wrapped cording.
Embroidery as a decorative element in Schiaparelli's fashions became a great deal more than mere surface design. Frequently there was an allusion to myth or fantasy or the illusion of jewels that turn out to be glass or magnificently worked satin stitches or couched gold threads. Many of these embroideries became themes for her seasonal collections.
During Schiaparelli's heyday in the '30s, she presented special-theme collections twice a year. In February of 1937, she showed her Music Collection. Summer dresses featuring prints of bees and birds were decorated with buttons shaped like musical instruments. Dresses had sheet music in couched gold thread for the bars with gold and silver satin-stitched musical notes. Others had musical bars made of ribbons "with roses for notes on white silk crepe."
The next year, Schiaparelli produced four collections, including the Circus, in February, featuring acrobats, trapeze artists, and animals galore (photos on facing page). A pink twill jacket, darted and fitted with tapered sleeves, had buttons shaped like trapeze artists.
The embroidered bolero was a Schiaparelli hallmark. A white satin "ringmaster" bolero had tiny gathers at the sleeve cap and red cuffs and matching band at the bottom of the bodice front. Two sets of four white satin-stitched horses reared up on each side of the bodice front. Another short-sleeve bolero had elephants, done in gray silk using short and long satin stitches, standing on their hind legs on a row of barrels.
Schiaparelli's Later Years
Even as a child, Elsa had listened to a different drummer. Her intellectual and aristocratic parents had raised her in the cultural and artistic richness of Rome. Elsa considered herself very plain, especially in comparison to her older sister, Beatrice. One day she "planted" morning glory, nasturtium, and daisy seeds in her eyes, ears, and throat so that she would "blossom" into a beauty. An emergency visit from a doctor saved her from suffocation. That desire to compensate for her perceived plainness and her love for the vivid beauty and color of flowers reappeared in her shocking and vibrant designs. Before the outbreak of World War I, she and her father visited Tunisia, where she saw the gorgeous Oriental fashions, jewels, rich colors, and silver embroidery that she would also incorporate in her clothing designs. As a young woman, she visited Paris and New York before settling in the mid-1920s, after a brief marriage, with her daughter in Paris.
Schiaparelli's understanding of the '20s and '30s was her forte. She translated that understanding into a unique fashion statement, synthesizing the new trends in textiles, art, and design and often pioneering ideas that became trends.
Although she had many contradictory personality traits-she was difficult, autocratic, extremely reserved, shrewd, yet humble-she was fair and a very good boss. Her success in business was due in part to her knack for attracting the best talent in fashion. By 1934, she had a staff of 400. Through their insistence on excellence, these extraordinary embroiderers (including those from Maison Lesage), tailors, and seamstresses turned their craft into an art.
"She had a keen insight into their capacities, respected them as artists and human beings, and tacitly signed a moral contract with them that neither she nor they ever dishonoured or broke," according to Palmer White. She may not have complimented them, but she was supportive of their needs.
Schiaparelli was generous to her staff long before it was mandated by any laws. Her wages were higher than those of other couture houses. There were paid vacations, extremely low-cost purchases of house designs, and in the event of illness, even hospital beds were available. When other designers, including Chanel, were having problems with personnel, Schiaparelli did not have them. Many employees stayed with her until the business closed.
In the 1940s, although Schiaparelli continued to design, the fashion scene changed drastically. During World War II, Schiaparelli was actively involved in her business; but when the Germans occupied Paris, she turned her house over to the Quakers for the benefit of refugees. She came to America and lectured on fashion, attempting to raise America's consciousness to the needs of the innocent people ravaged by war. Fashion was the second most important industry in France. Schiaparelli, the most wellknown name in fashion, did much during the war to promote independent French fashion abroad.
After the war, in 1947, the mood was somber; fashion took an entirely different direction. Backed by the wealthy Boussac cotton firm, Christian Dior made fashion history with his "New Look." Schiaparelli's fashions were out of tune with the time, and her styles weren't selling well.
For a while, she was assisted by the young Pierre Cardin, who was just getting his start. Later, Hubert de Givenchy joined Schiaparelli and stayed with her until he went into business on his own.
As innovative as Schiaparelli had been for 20 years, by the late '40s and early '50s, her career was over. She was persuaded to show her final collection in February of 1954. She spent her last years between Paris and the house she bought in Tunisia. She died on November 13, 1972.
Occasionally, a creative and innovative voice appears that transcends the fashion of the times. Elsa Schiaparelli was that voice. The echo is still heard in fashion.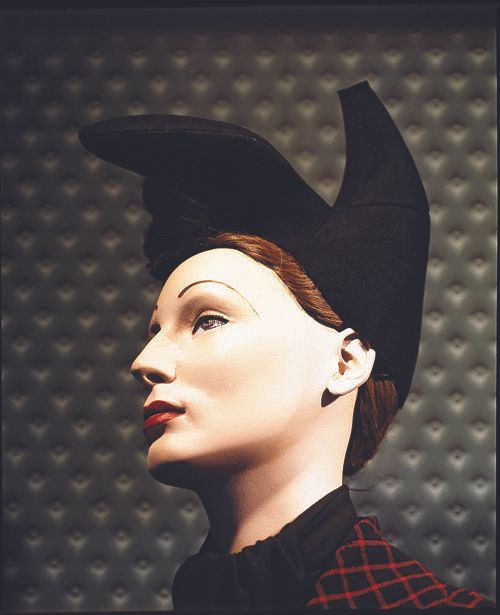 Schiaparelli's ultimate surrealistic joke: A shoe turned upside down makes a hat. This one is black felt. Salvador Dali designed textile prints for Schiaparelli.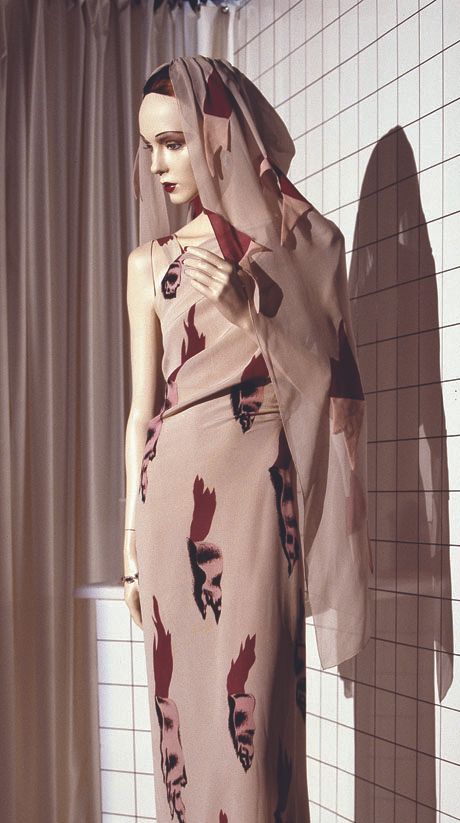 The trompe l'oeil torn-cloth design is echoed in the cut, linked, and reverse-appliquéd veil.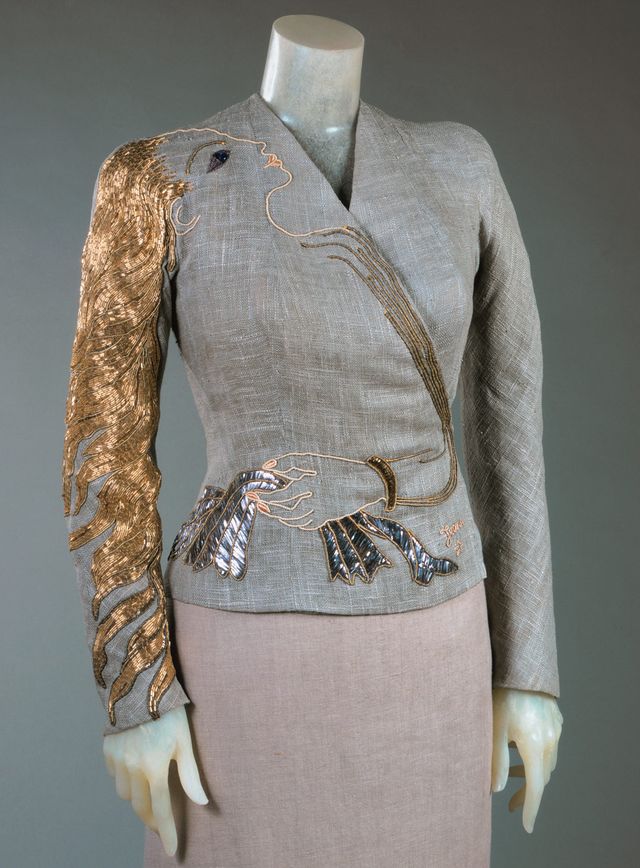 Schiaparelli turned writer Jean Cocteau's 1937 drawing into a linen dinner jacket, which was embroidered by Maison Lesage in gilded metallic thread, beads, and paillettes.