How to Trim a Neckline Like Yves Saint Laurent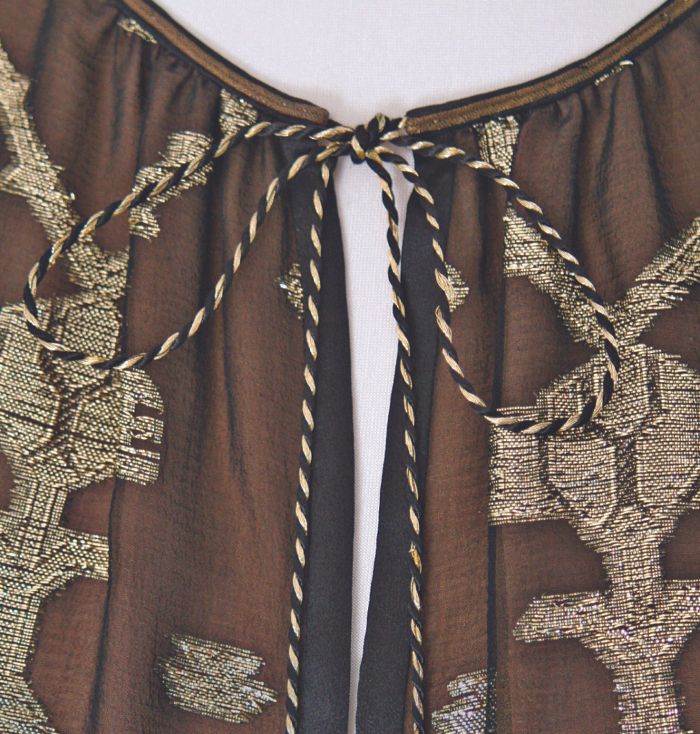 Couture expert Claire Shaeffer shows how to trim a neckline using a technique from Yves Saint Laurent in this excerpt from "Homage to Yves Saint Laurent" Designer Techniques Vol. 1.
The detail on a chiffon blouse, shown above, is from YSL's Russian collection. The neck edge is finished with a narrow (3/16-inch) silk charmeuse bias binding, a narrow metallic braid is sewn to the binding, and a tie is added.
Prepare the bias strip
To begin, cut a bias strip about 1-1/4 inches wide and as long as the neckline circumference. Press the strip, stretching the bias slightly. Trim the seam allowance from the neck edge on the seamline. To avoid stretching the neck edge, baste it to a duplicate paper pattern.
Attach it to the neckline
1. With right sides together and raw edges aligned, stitch the bias strip to the neckline with a 1/4-inch seam allowance. Trim the seam allowance evenly to 1/8 inch and the bias strip ends to 3/8 inch past the center-front opening edge, as shown.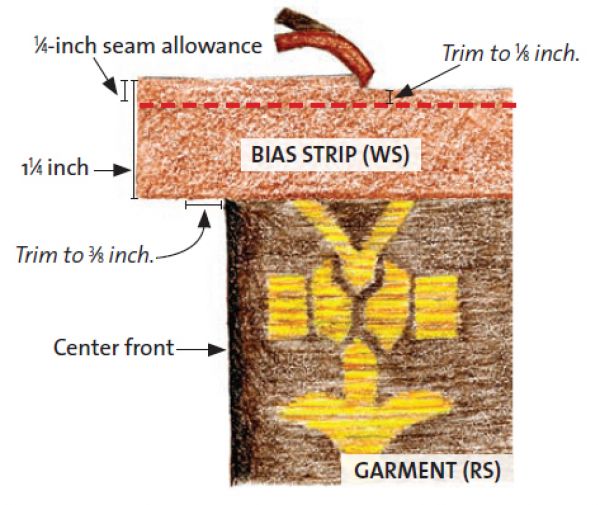 2. Add a braid to the neckline. Turn the bias strip up. Place the braid over the bias strip a scant 1/16 inch, only a few threads from the seam; baste it in place. Measure and mark the bias strip 3/4 inch from the seamline; trim.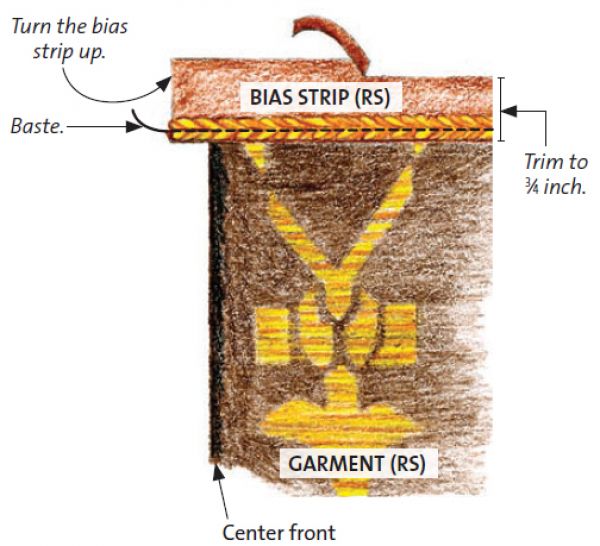 3. Wrap the strip ends, including the braid, to the wrong side at the center front. Sew the end edges to the wrong side permanently with catchstitches, as shown at right. Permanently sew one tie end over the braid to the wrong side. Repeat on the other side.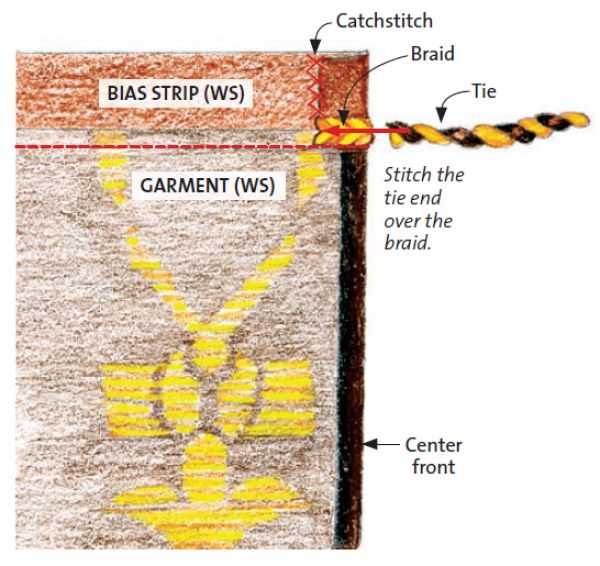 4. Wrap the bias strip over the neck edge to the wrong side. Only a few threads of the strip will show above the braid. Fold under the bias edge so the folded edge barely covers the seamline on the wrong side. Pin and baste it in place. Note: If the bias strip is too wide, trim as needed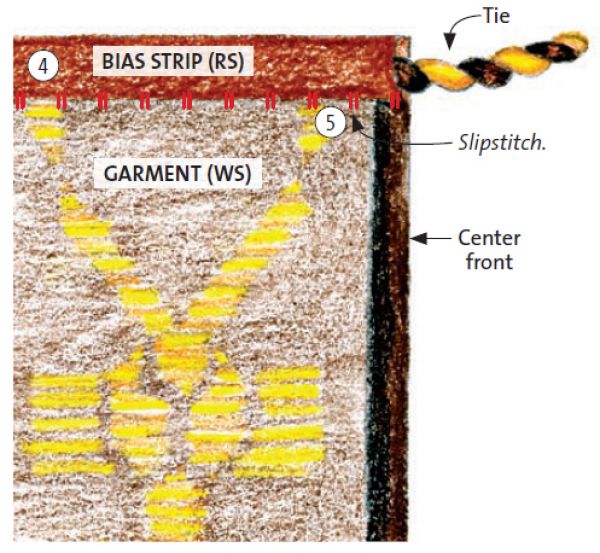 5. Sew the bias strip permanently inside the neckline with short slipstitches. Then attach the braid permanently with short running stitches in the center if it is very narrow or at the top and bottom if it's wide enough.
Designer Techniques Volume 2 is is available for iPads, iPhones, and Windows based devices. It features even more couture construction techniques from other designers to help take your sewing skills to the next level.