Mary Ray Answers Your Questions on Facebook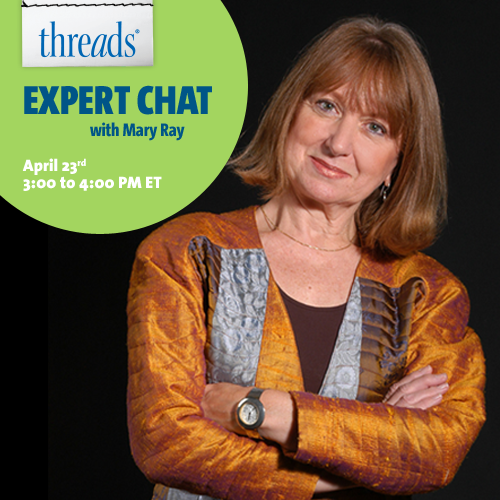 Any experienced sewer can attest to how important it is to have a strategy in place before making the first stitch on any sewing project. However, no matter how much planning has been done, even the seasoned sewer comes across an occasional obstacle close to the finish line.
If you need guidance on how to plan your sewing projects or would like some troubleshooting tips to help conquer unexpected problems, visit Threads on Facebook from 3 p.m. to 4 p.m. ET on April 23 for a Q&A with sewing expert Mary Ray. Be sure to take advantage of this hour-long chat and have your sewing questions ready. See you then!
WHEN: 3 p.m. to 4 p.m. ET on April 23, 2014
WHERE: Expert chats are at the Threads Facebook page.
CHAT GUIDELINES:
You must have a Facebook account to participate.
Visit Threads on Facebook during the indicated time, and look for the official chat post, which will be pinned to the top.
Leave your questions in the "comments" section of the chat post, and Mary will reply directly to you.
Please refresh your Web browser often to see new questions and replies.
Due to time constraints, we ask that you keep your questions brief.
LIKE our Facebook® page or subscribe to Threads weekly newsletters and never miss an expert chat.