Q&A: Vintage Pattern Preservation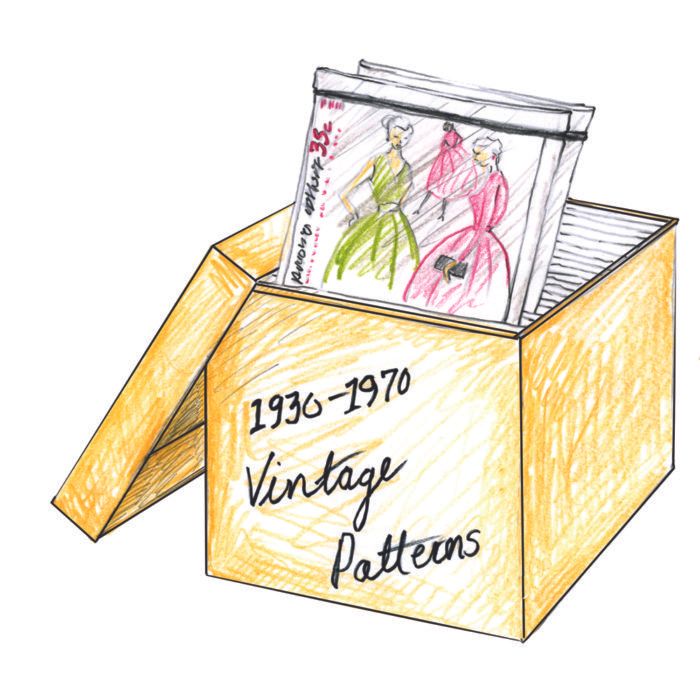 READERS' QUESTIONS – EXPERT ANSWERS
Q: I have several vintage patterns that I would like to save. What is the best way to preserve and store a pattern?
—Tracy Carson, via Facebook
A: Alexandra Reynolds, proprietor of the vintage pattern company EvaDress, answers:
Vintage and antique patterns are made from thin tissue paper and are, therefore, very delicate. Old pattern tissue degrades over time, especially when stored in contact with items that react chemically with the tissue, such as other papers or boxes.
There are many materials and supplies available to help you archive important or treasured patterns; you can find what you need at FamilyArchives.com and ArchivalMethods.com. Before storing a vintage or antique pattern, you should clean the pattern envelope and any instruction sheets using an archival groom stick, which removes dust and other foreign materials without damaging the paper. Then you can package everything for storage.
Wrap each pattern piece separately in acidfree, archival-quality tissue paper to keep it from coming into contact with the pattern envelope, instruction sheet, and other pattern pieces.
Place the wrapped pattern pieces inside chemically inert plastic sleeves. You can store the pattern envelope in the plastic sleeve, as well, but it must be placed outside tissue-wrapped pattern pieces. Store the plastic sleeves containing the patterns out of direct light in archival-quality boxes. This process ensures your vintage patterns are preserved for many years.
This post was originally featured in the Q&A department of Threads #173 (June/July 2014).
---
Do you have a question? Send it to us and we'll find an expert's answer.
via mail: Threads Q&A, PO Box 5506, Newtown, CT 06470-5506
via email: ThreadsQ&[email protected]
via the Contact the staff page to submit your entry