Book Giveaway: "Patternmaking Made Easy," Third Edition by Connie Crawford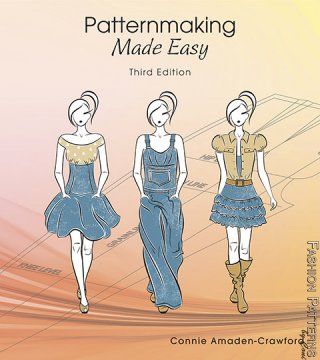 WHAT YOU CAN WIN
The "Notions" department of Threads issue no. 172 features Connie Crawford's new book: Patternmaking Made Easy, Third Edition (Amaden-Crawford, LLC, 2013). The book offers an easier, simplified method of pattern drafting to design your own clothes. With the guidance provided by Connie, you can create thousands of different outfits that fit beautifully, customized to your personal taste!
LEARN THE TECHNIQUES!
Connie's book is a fantastic reference guide for designers, professional pattern makers, costumers, and cottage industry designers, or for a sewer who wants to explore pattern-drafting techniques. This edition includes new and up-to-date designs with completely updated and enlarged illustrations, highlighted in color to detail each pattern-making step more precisely. The text outlines the pattern-making process in a clear, accurate, and comprehensible manner.
HOW YOU CAN WIN!
What clothing style do you like to make the most, and why? Leave an answer in the comment section below for a chance to win! Leave your comment by midnight ET on May 16, 2014, to be considered. The winner will be randomly selected during the week of May 19 and notified online and via email. Good luck!