The Winner of Threads issue no.173 is…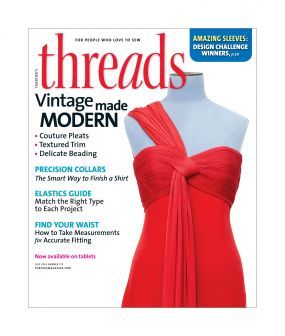 Congratulations to sapientsaphead who was randomly selected as the winner for our recent magazine giveaway. Sapientsaphead will receive a free copy of Threads no.173 (June/July 2014). She replied to the same question our contributors were asked, "If you could do it again, what would you change about your sewing education?" She responded, "I wish I would have been braver – fear of failure has led me to not try as many things as I wanted to." You can read her complete answer in the original Magazine Giveaway Blog.

Threads 173 is full of great articles including:
"Ombre Visions" by Patricia Robinson
"The Figure-eight Stitch" by Clair Shaffer
"Precision Collar Band:" Louise Cutting
"ASDP Challenge: Inspired Sleeves" by Judith Neukam
"Sculpt With Pleats" by Susan Khalje
"Tyvek in Fashion" by Linda Lee 
You'll also find tons of helpful information in our departments such as Tips, Notions, Embellishments, Quick to Make, Pattern Review, and More!
Congratulations again to sapientsaphead from the entire Threads staff!