More New York Garment District Fabric Shops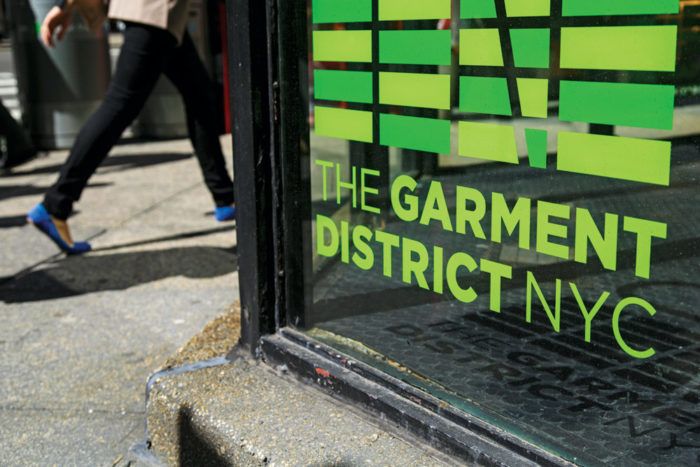 New York City's Garment District is home to so many great fabric shops, we couldn't include all of author Annie O'Connor's top choices in her "Sewing Destination: New York City" article, Threads #174. Here are some more shops to explore during your next trip to NYC's Garment District. We've added a few noteworthy shops outside the Garment District, too.
Garment District Fabric Shops
Guide Fabrics
262 West 38th Street
(between 7th Avenue and 8th Avenues)
212-575-8855
GuideFabrics.com
Open Monday to Friday
This wholesale/retail interfacing and lining company resembles a busy warehouse, but if you need a lot of interfacing, this shop is a good choice. Predominantly stocked with polyester, Guide Fabrics carries a variety of interfacing styles–fusible and sew-in, woven and knit. It also carries a few other fiber types, as well as lining. Be prepared to buy in quantities of 5, 10, or 25 yards. You may also place an order online, however you first need to register on the website as a member. Orders go out the same day, so you can get your purchase in a hurry.
C & J Textiles
230 West 38th Street, 7th Floor
(between 7th and 8th Avenues)
212-354-0040
Open Monday to Friday
When you're greeted by a receptionist as you enter, you may feel out of place–but don't! You too can shop in this showroom-style fabric store. Though C & J caters to wholesale and the "New York professional," all shoppers are welcome. Carrying only silk and silk-blend fabrics, C & J's prices are fair to the product, and the quality is good.
Steinlauf & Stoller
239 West 39th Street
(between 7th and 8th Avenues)
212-869-0321
SteinlaufAndStoller.com
Open Monday to Friday
When it comes to notions, this long-standing store carries a bit of everything. It looks small, but you'll be surprised by how much the shop really offers. I asked a seasoned employee why sewers keep coming back to Steinlauf & Stoller and he replied, "Because we know how to put, where to put, and what to put." Staff pride themselves on being knowledgeable about their products and are happy to help you find exactly what you need.
Fabrics & Fabrics
270 West 38th Street, 3rd floor
(between 7th and 8th Avenues)
212-391-7777
Fabrics-Fabrics.com
Open Monday to Friday
This shop was originally named Lace Star, and you have to look for both names on the storefront when visiting. The previous name is still on the doorbell and a large "Lace Star" sign greets you as you exit the elevator. This tranquil store is larger than you may expect, and every turn reveals another aisle of fabric. Neat and organized, with rows of lovely fabrics spanning the entire color wheel, Fabrics & Fabrics carries a variety of materials but specializes in lace, beaded materials, chiffon, and similar beautiful things. You will often see brides shopping here as well as designers and students. The staff says the store focuses on well-made materials in various widths and fabric types, including novelty fabrics.
For more information on shopping New York City's Garment District and to help narrow down your itinerary to include your top picks, do your research before going. This site may help you plan your trip: GarmentDistrictNYC.org
Outside the Garment District
AKN Fabrics and Textiles
1239 Broadway, Suite 507
(between 30th and 31st and Streets)
888-606-0256
AKNfabrics.com
Open Monday to Saturday
African wax prints, cut in well-priced 6-yard lengths, are piled floor to ceiling in this fifth-floor shop. The narrow aisles of colorful fabrics with motifs of every size are a feast for the eyes. Selections of Holland/Dutch wax prints, lace, and embroidered fabrics are also available.
Gotham Quilts
40 West 37th Street
(between 5th and 6th Avenues)
GothamQuilts.com
212-220-3958
Open Tuesday to Saturday
On the edge of the Garment District, this store specializes in quilting cottons. The prints skew more modern with geometric, novelty, and New York-themed motifs among the offerings. Science-themed prints have been the most popular lately, as more people sew face masks, says co-owner Andrea Deal. Gotham Quilts also is the only Bernina dealer in New York—if you need a new machine to turn all fabrics you've purchased into garments or accessories. Double-check the website for hours and the store's return to quilting and basic garment-sewing classes.
Mendel Goldberg Fabrics
72 Hester Street
(near Allen Street)
MendelGoldbergFabrics.com
212-925-9110
Open Sunday to Friday
This venerable family-owned New York store has been in operation since 1890. Its renowned collection of European fabrics includes bouclés, laces, and wool textiles. The shop is well worth a visit for those who appreciate or do high-end and couture sewing.
Have you shopped at any of the fabric shops listed? If so, which have you visited and what was your experience? Are there any others not listed you would suggest?