A Visit With a Savile Row Tailor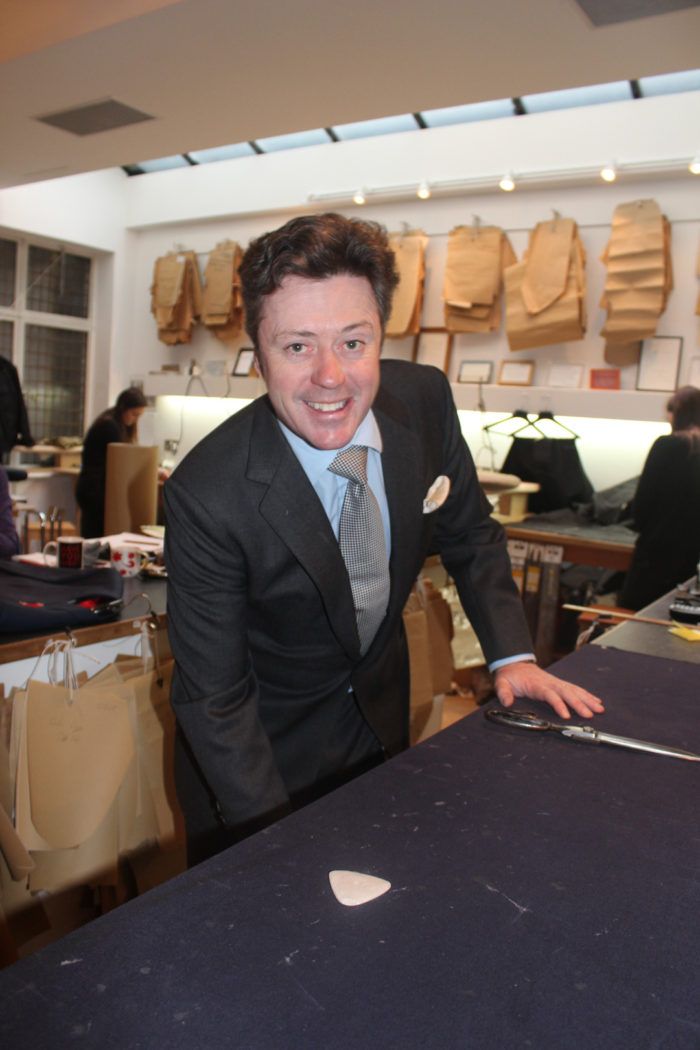 When I was in London recently, I visited tailor Richard Anderson. Richard began his career at Huntsman, one of the most prestigious tailors on Savile Row. When the original owners sold the company, the new owners changed the standards and began cutting corners, Richard said, so he and two other employees left Huntsman in 2001 to establish Richard Anderson Ltd.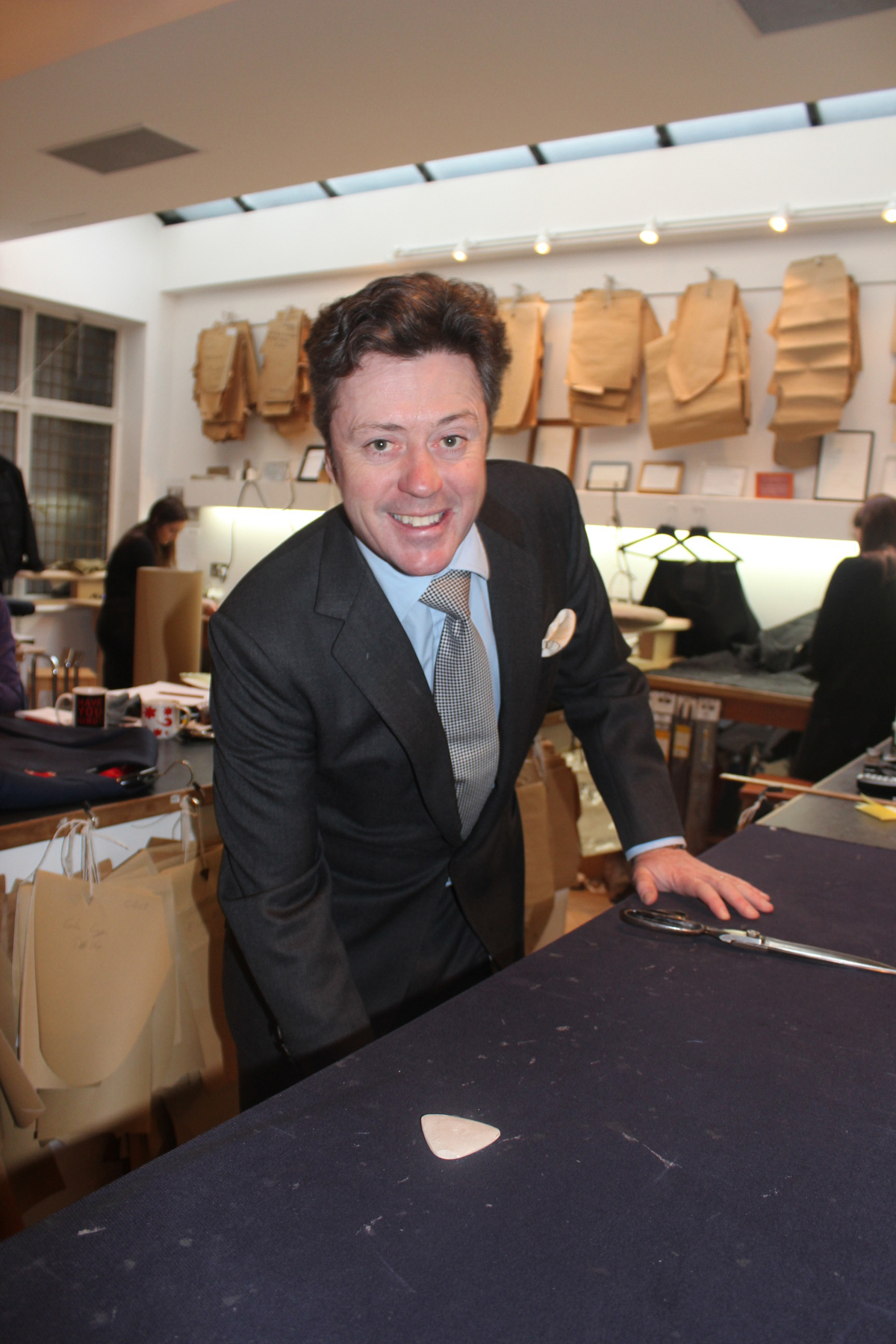 Richard, shown in his workroom, is very personable. I always enjoy visiting with him, and I always learn something new.
Richard is a cutter: He measures the customer and drafts the pattern. He uses the rock-of-eye method (not a couture term), meaning that he looks at the customer's figure and posture, then takes that into consideration when he makes the pattern. Once the pattern is made, it's given to the striker who chalks it out on the cloth. Then it goes to one of the tailors.
ONE TAILOR'S METHOD FOR MATCHING PLAIDS
During my visit, we discussed his method for matching plaids. He begins at a garment's center back, because the plaids must match the collar. Then he moves to the front. The plaids don't match on the shoulders because the back shoulder seam is about 1/2 inch longer than the front. The vertical plaid placement on the sleeve is determined by its relationship to the plaid pattern on the front; it may not be in the center of the plaid pattern at the top of the sleeve.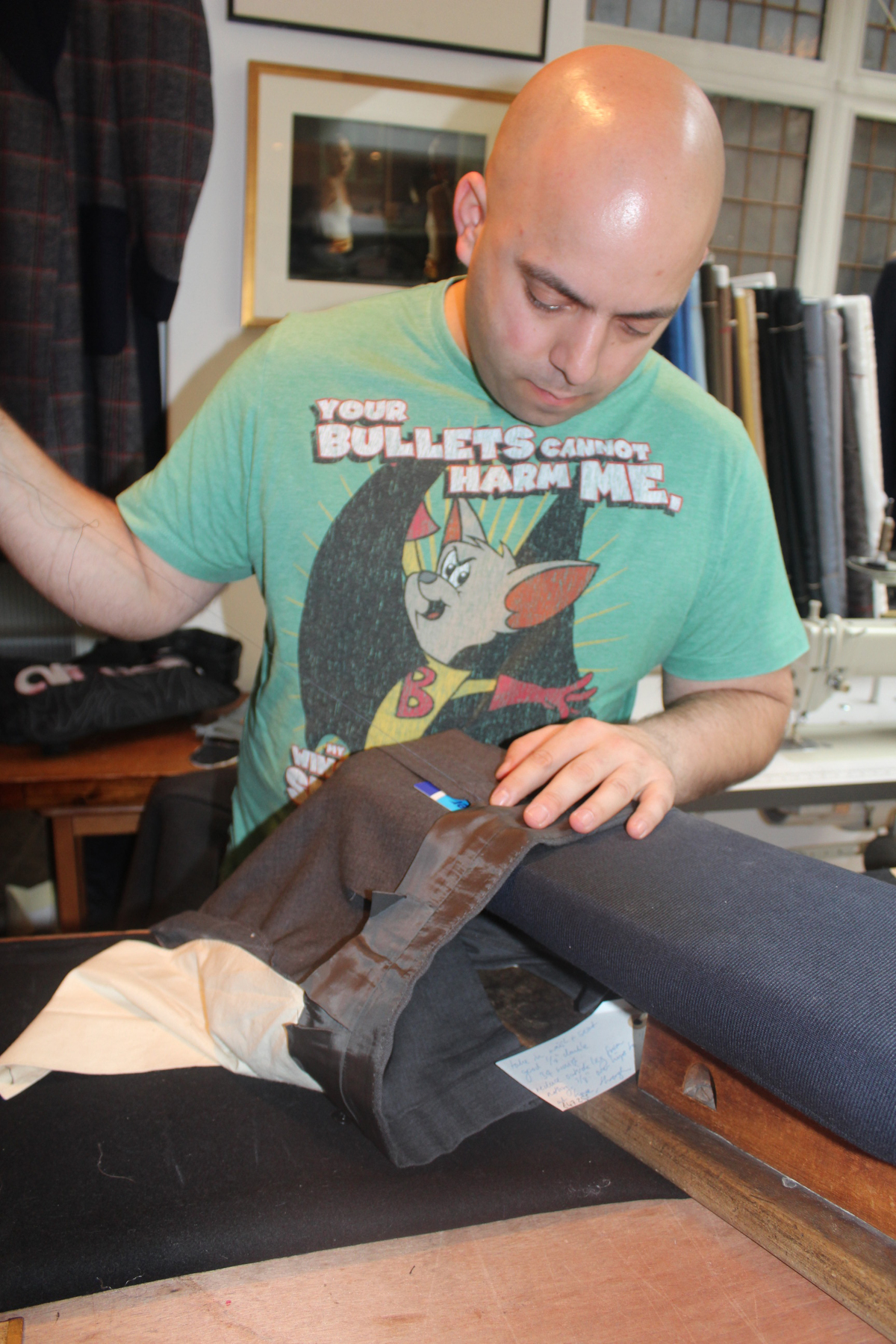 Notice the Oyster (metro) card he's using as a separator to avoid catching the underlayer of the pocket.
I was particularly fascinated with the matching of the plaids on the sleeves, since they match on the front and back seams.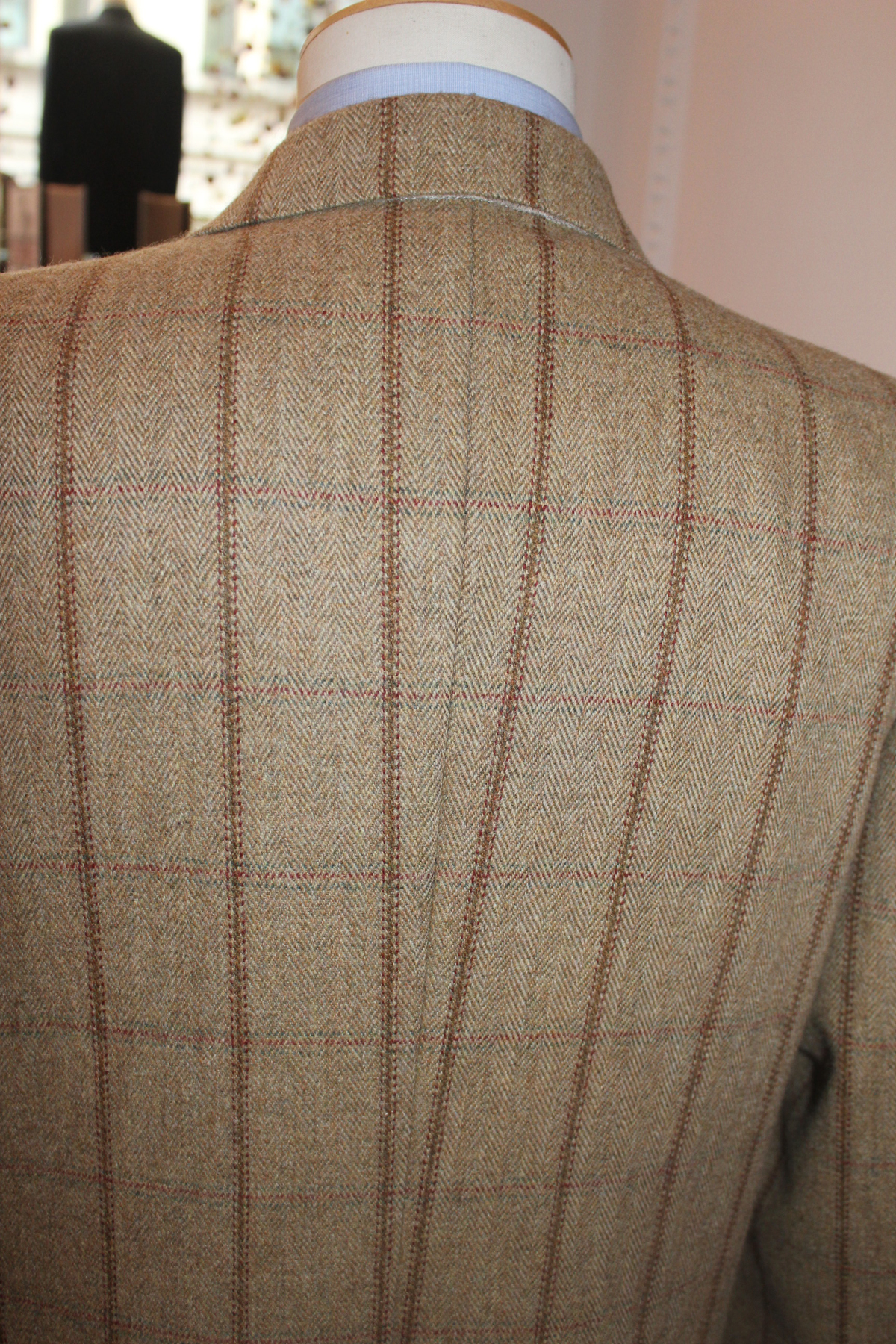 Richard showed me a jacket that had had the first fitting, known as "the baste."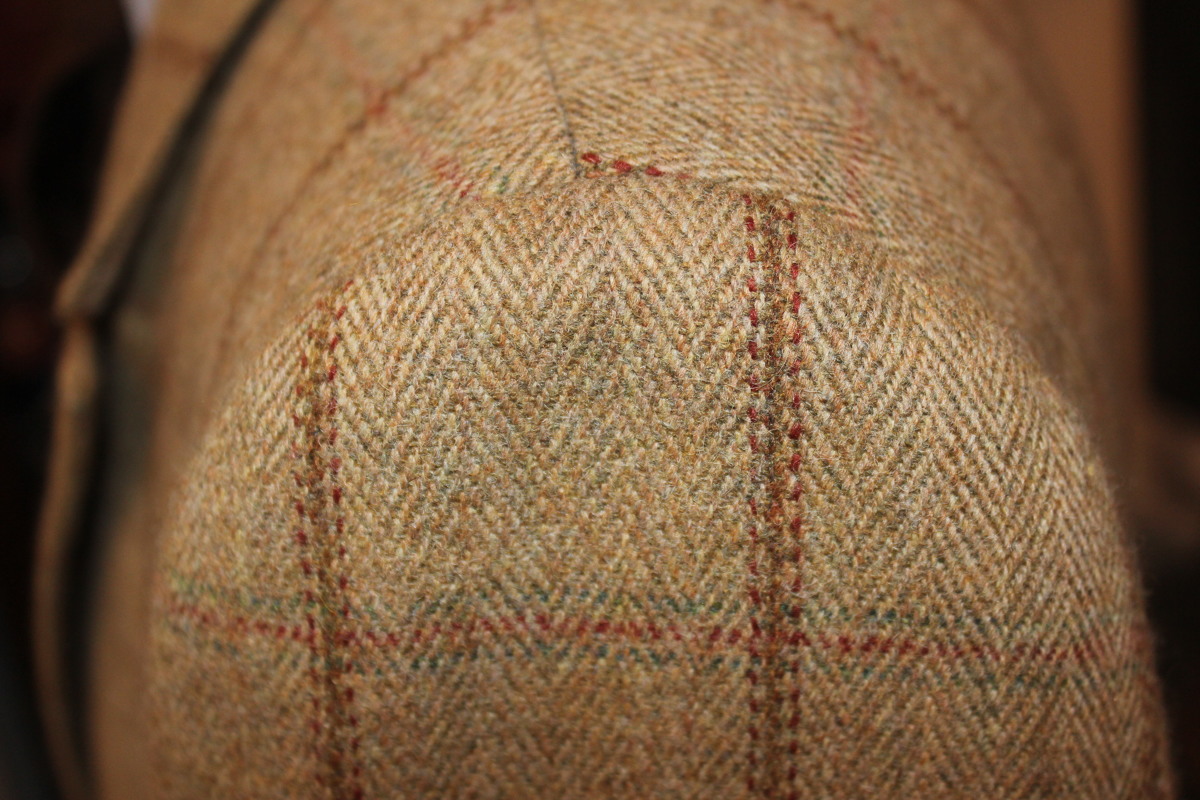 The plaids don't match at the armscye, and the pitch is wrong on the sleeve.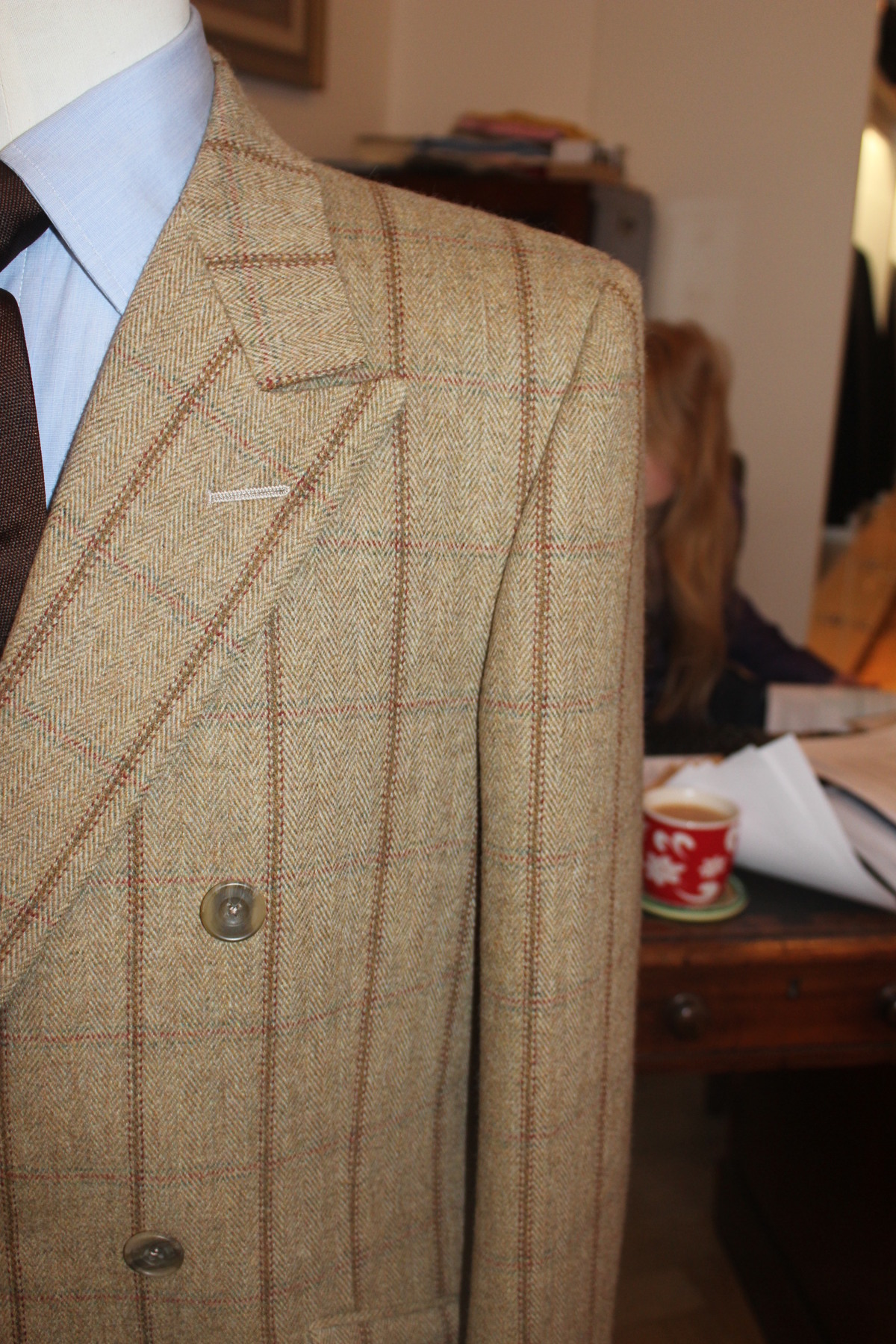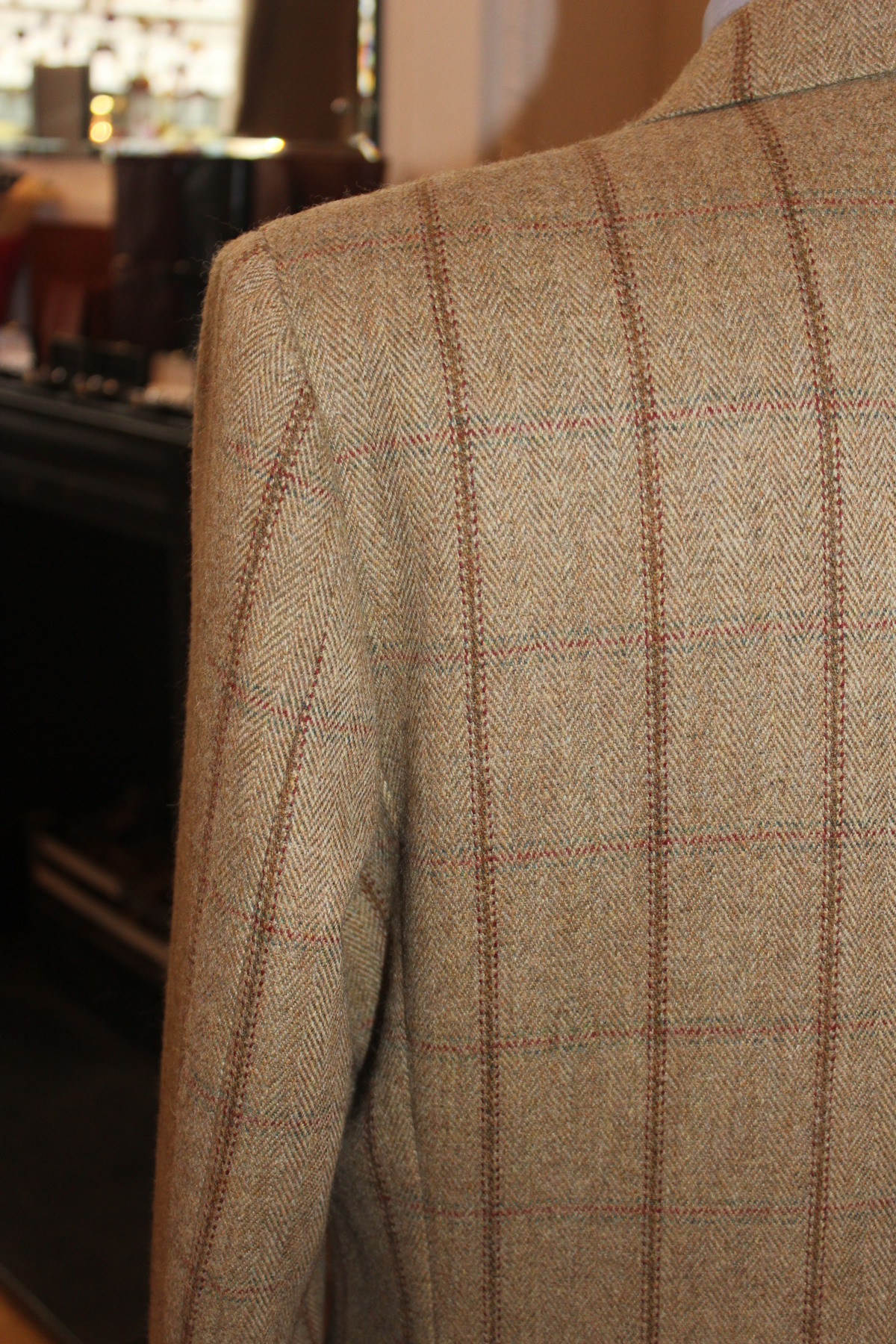 The sleeve front should just touch the wrist lightly and not stand away from the wrist.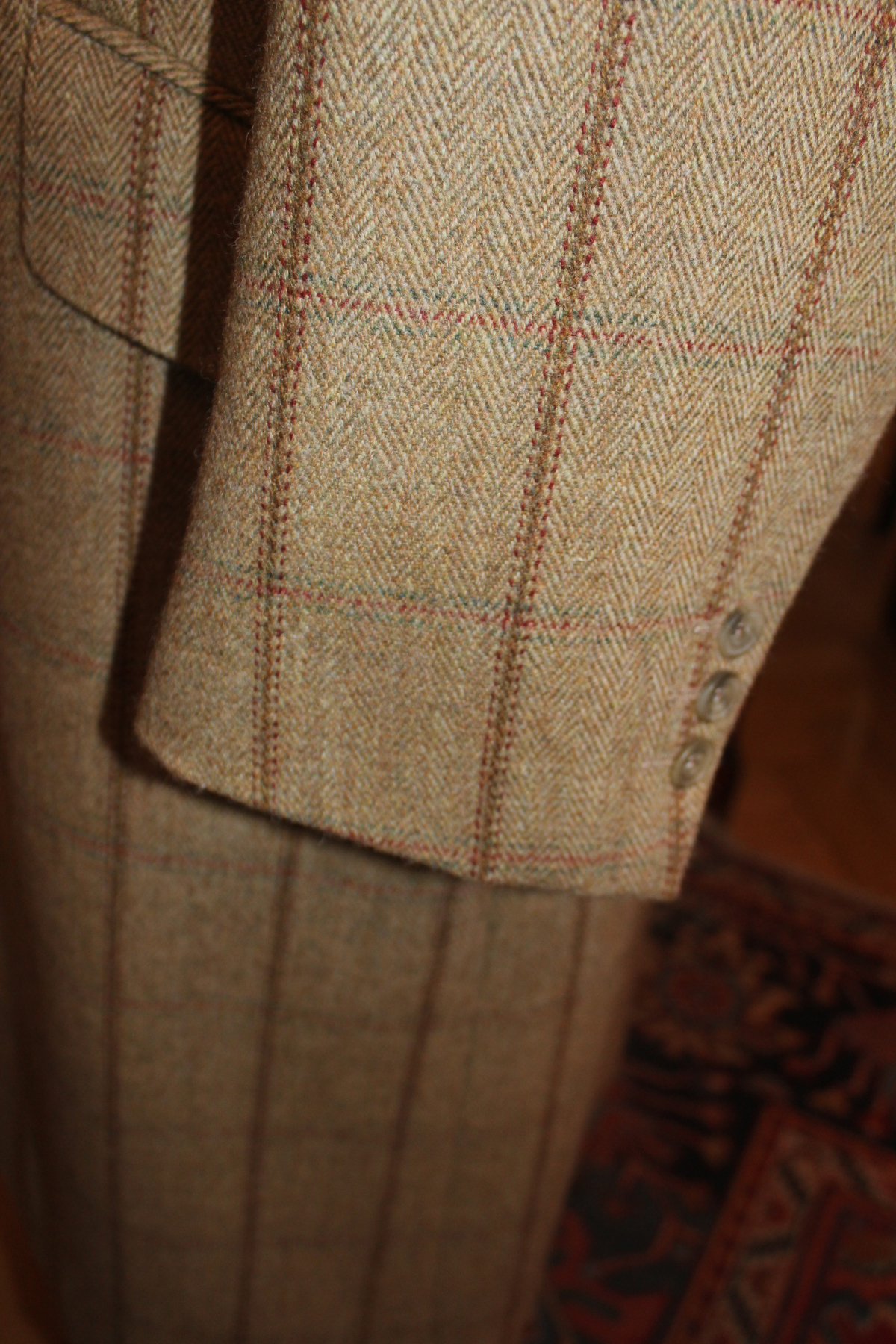 This could be corrected easily because the sleeve has been cut with a 4-inch hem, and the vertical seams are 2-1/2 inches wide at the wrist and about 1 inch wide at the top.
After the baste, the jacket is ripped apart. In couture, this is called, "mis à plat." It is one of the differences between couture and made-to-measure construction. Depending on corrections, the jacket will be basted or machine-stitched for the next fitting.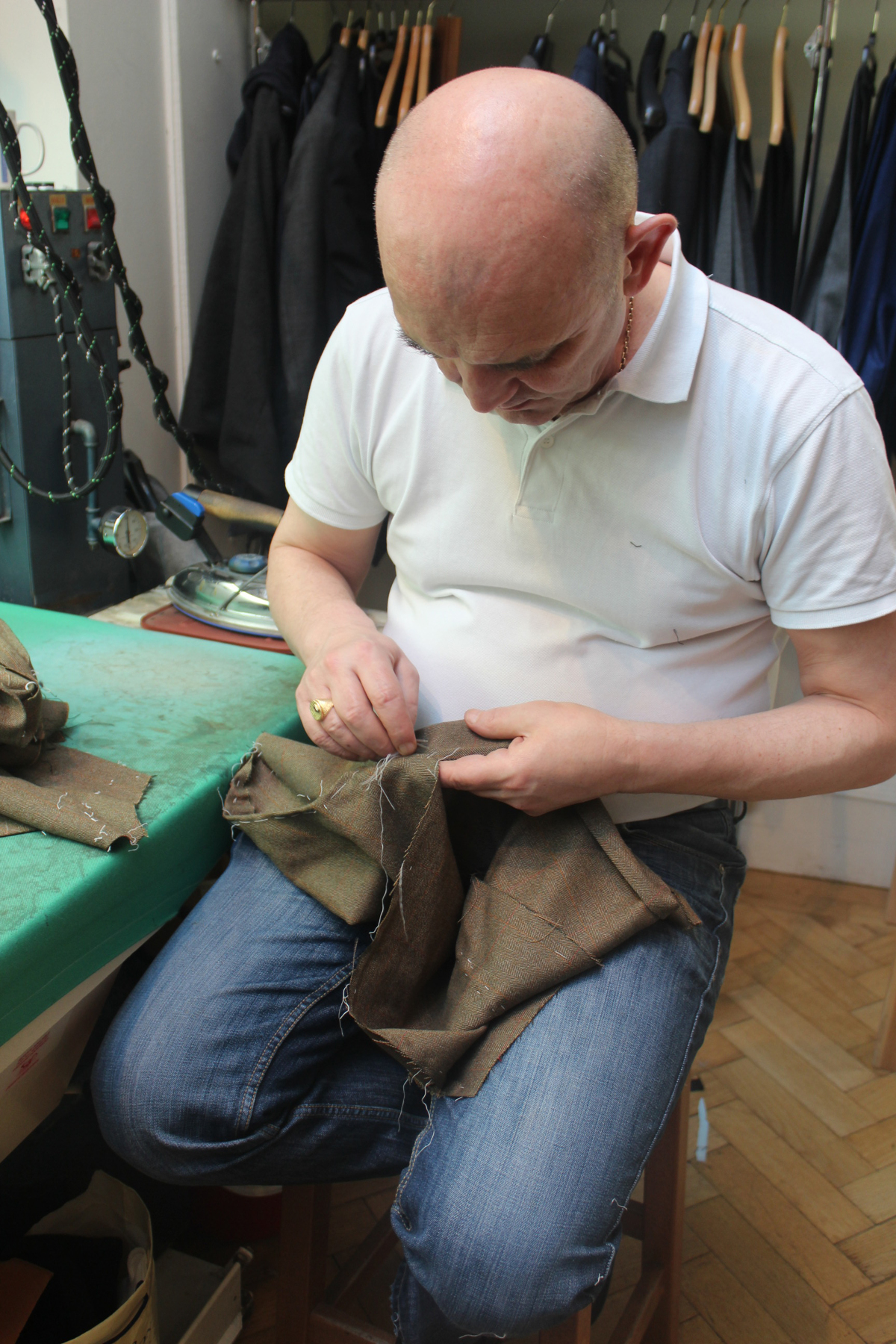 All bastings stitches are removed after the baste.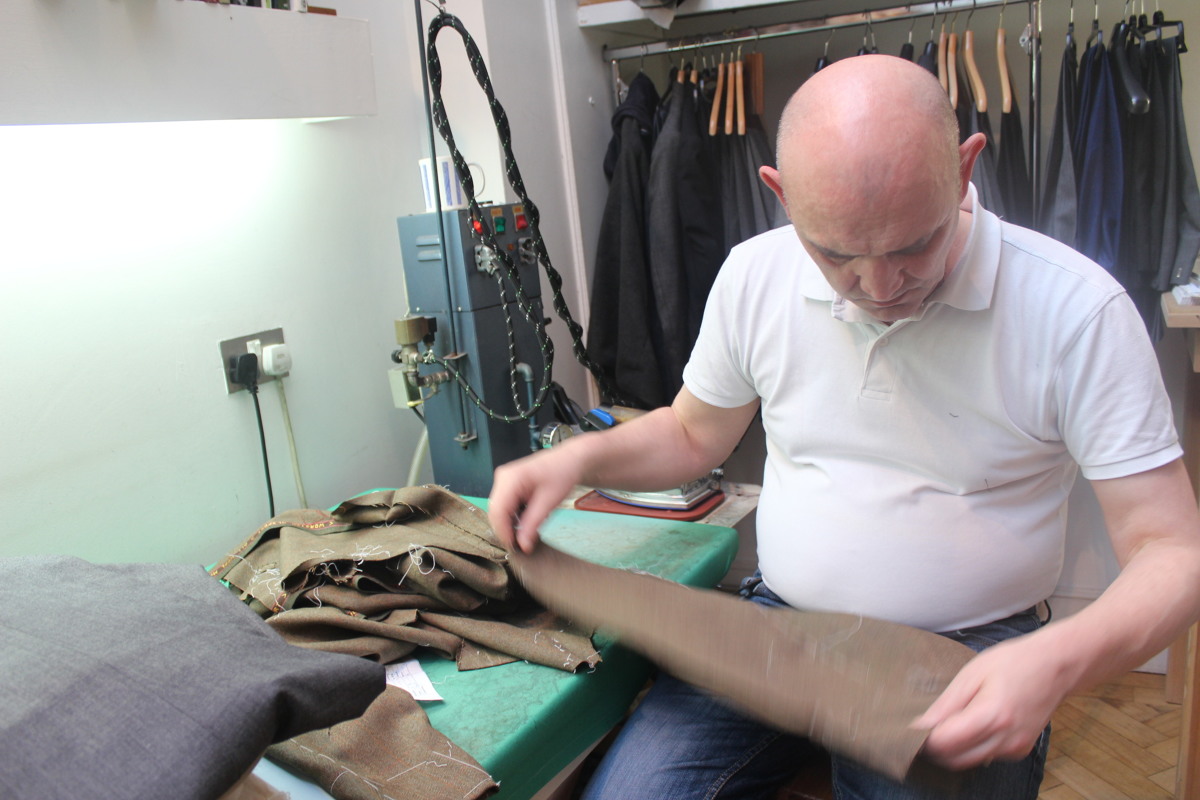 For more information about Richard, visit the website RichardAndersonLtd.com or read his book Bespoke: Savile Row Ripped and Smoothed (Simon & Schuster UK, 2009).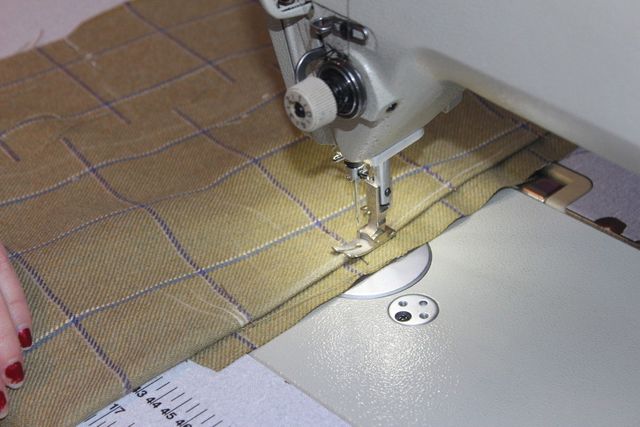 A fabric strip is machine-stitched to the dart to balance it out and help prevent a ridge from forming.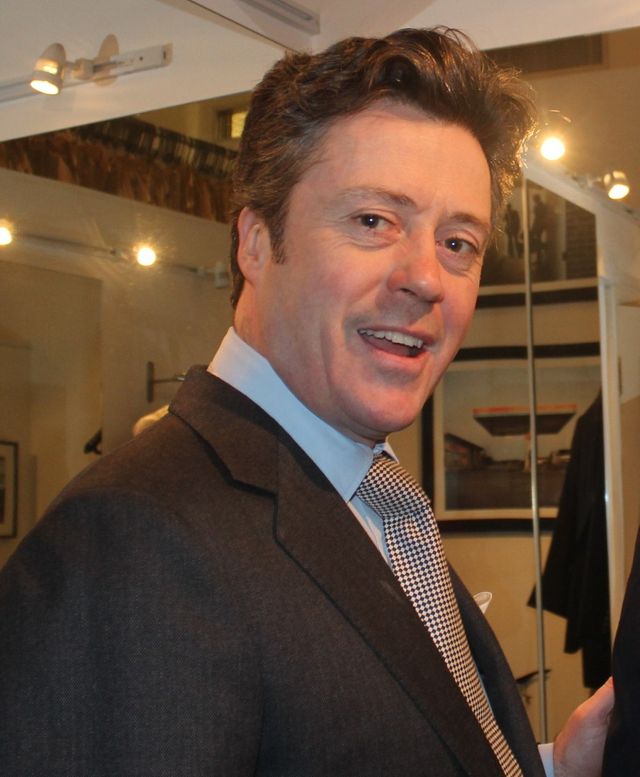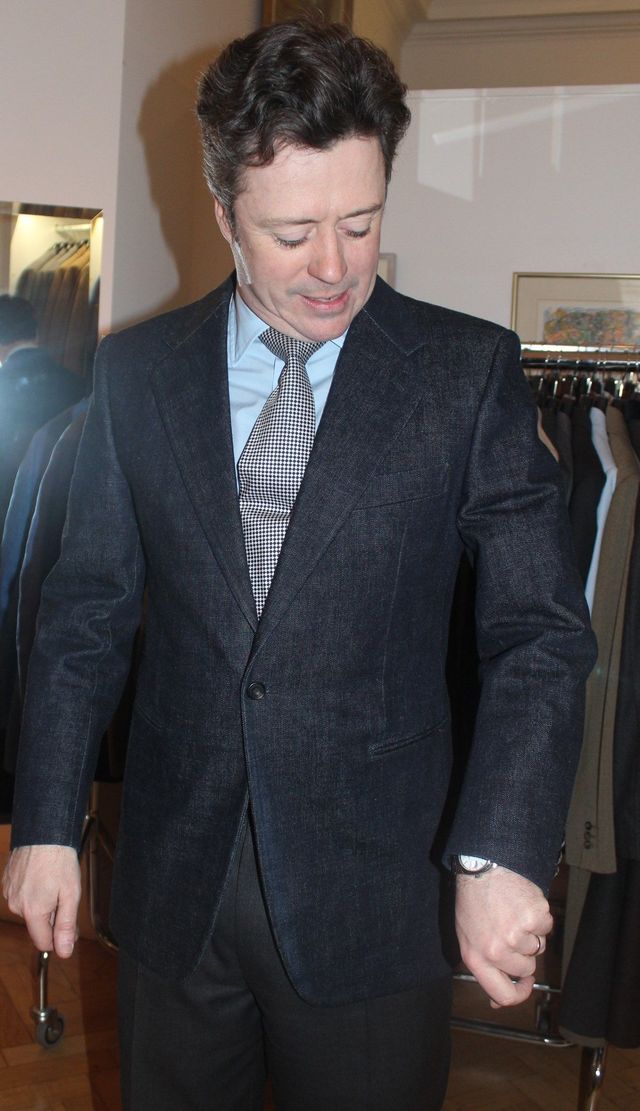 Richard models a beautiful casual jacket made of Japanese denim.