Tip: Store Fabric Neatly in Less Space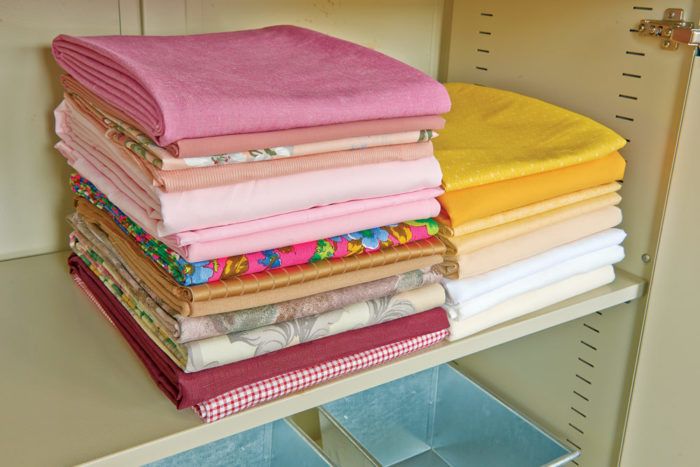 This reader tip was originally featured in Threads #174 (Aug./Sept. 2014).
I've saved a huge amount of storage space in my sewing room by folding my fabric stash using a template as a guide. I cut 10-inch-wide by 12-inch-long (the depth of my shelving) templates from stiff plastic, rounded the corners, then smoothed them using an emery board. My folded fabric lengths are now all the same width, with crisp folds that are easy to stack. After the fabric is neatly folded, I remove the template. Then, I use the template to slide the folded fabric on top of the stack. Using two templates, (one above and one below the folded fabric) I can easily add or remove a length from the middle of a stack without disturbing the other fabrics.
—Trish Mansfield-Devine, Saint-Siméon, France
How do you store your fabric? Will you use this storage method?
---
Submit your tip
At Threads magazine, we're always in search of smart tips, tricks, and solutions to help you sew smarter, better, and faster. Send us your great ideas for a chance to be featured in the magazine's Tips department.
Tips can be emailed directly to Threads or mailed to Threads Tips, P.O. Box 5506, Newtown, CT 06470.
We pay for any tips published in our magazine.